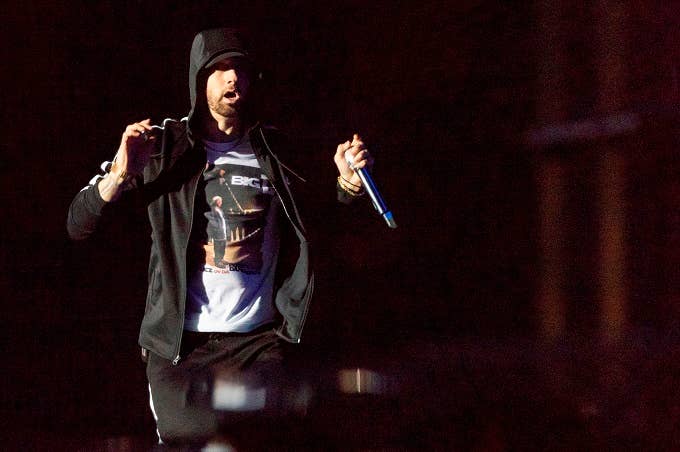 Eminem is the world's most famous wearer of that one cap that guys who own Punisher t-shirts wear. Even so, his rant at Netflix for canceling the Jon Bernthal-led series came as a surprise. 
"DEAR @NETFLIX, REGARDING YOUR CANCELLATION OF THE PUNISHER, YOU ARE BLOWING IT!!" he wrote in an all-caps post to Twitter.
In spite of his anger, he kept things civil. He closed his tweet with "SINCERELY, MARSHALL."
The Punisher, along with Jessica Jones, was the last Marvel TV series made as part of Netflix's deal with the comics giant. The shows got the axe as Disney —which owns Marvel— is working on launching its own streaming service. The news of The Punisher and Jones' cancellation came after the other offshoots of the Defenders (Daredevil and Luke Cage) were also ended. 
Eminem is a Punisher fanboy, but he hasn't gone full-on Stan about the show being unceremoniously dumped from Netflix. However, he does have a deeper connection to the series than the average nerd rager. Eminem teamed up with The Punisher in the comics to take down Barracuda and a stand-in for Tipper Gore's Parents Music Resource Center (the folks behind the parental advisory sticker we've all been ignoring for decades).
While Eminem went the all-caps letter-writing route, the internet found a way to sum it all up in a single image.