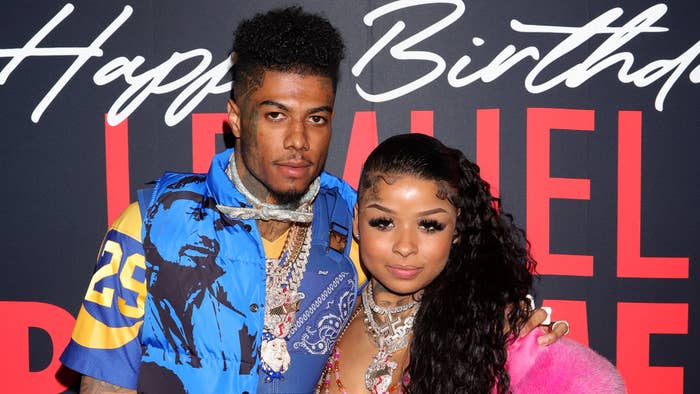 After Chrisean Rock gave birth to a baby boy live on Instagram on Sunday, Sept. 3, Blueface addressed his relationship status with her and refused to acknowledge the birth of his child.
"Social media is all entertainment for me guys nothing I say or do has anything to do with rock I broke up wit her 3 months ago I moved on it's time for you guys to move on to I'm with someone else now I been posting my Bm non stop for 3 months now I'm all about Jaidyn now," he wrote in a tweet shared late on Sunday. The Jaidyn he's referring to here is Jaidyn Alexis, with whom he also shares a child.

"Please keep me an rock out the same conversation respect my BM #1 that's what it is an that's what it's gone be I will never go back to that," he wrote in a second tweet. "I know what's best for me respectfully."

In a third post, he suggested he would offer money to anyone who could find a picture of Alexis with another man.

Over the weekend, Chrisean Rock gave birth to her first child, Chrisean Malone. Blueface did not appear during her live-streamed birth but previously suggested that he was not the father. During an episode of their Zeus reality show Crazy in Love, he took a paternity test proving otherwise. The child is his third overall.
Instead of attending the birth, Blueface opted to party with Jaidyn, seemingly confirming their relationship.
Blueface and Rock have been romantically involved since 2020, but their relationship has been through countless public ups and downs since. Both of them have accused the other of infidelity and domestic violence.
Last month, Blueface was stabbed in an incident at a gym in the San Fernando valley. A man dressed in a white tank top and jean approached the rapper and got into it with him when a trainer at the gym, David Kaminsky, got between them. During the altercation, Blueface threw several punches but was stabbed in the leg by the man, who fled the scene.