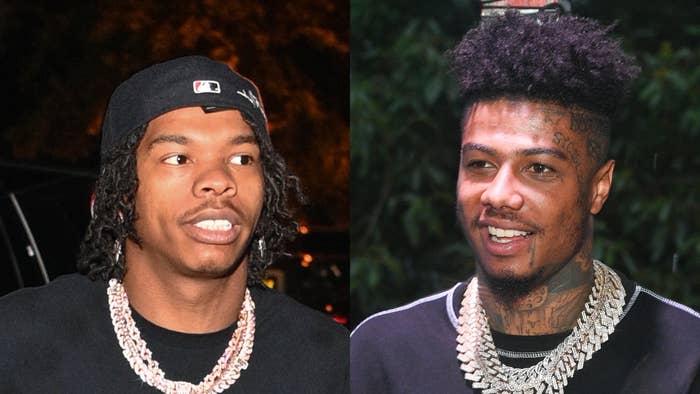 Lil Baby's beef with Blueface has taken another turn after both rappers have dissed each other on a pair of songs.
On Friday, the 4PF boss fired the first shot in the latest round of their bout when he shared a video of himself in the club with an unreleased track playing in the background that mentions the West Coast rapper.
At one point of the song, Lil Baby can be heard rapping, "Put a hunnit up a million times, fuck is a blueface?"
The video eventually made its way to Blueface, and he proceeded to drop a new song on Monday titled "Baby Momma Drama," where he dissed Lil Baby and claimed the rapper was trying to hook up with Chrisean Rock.
"Lil Baby thought he knew me/How you let another grown man feel up on your booty?" Blueface rapped in reference to the photo of Michael Rubin hugging Lil Baby from behind this past summer.
Blueface continued, "Couldn't be me, boy, I am not a hoochie/You n***as really industry, I am really in the streets/Squabble up, line it up/Still beefing with enemies."
The beef between these two apparently goes back to February when Blueface felt a way about Rock revealing that Lil Baby complimented her when they first met. Blueface also released alleged text messages that saw Baby refer to Rock as "sexy."
Chrisean tried to explain that Baby was acting as sort of a "big brother," but the "Thotiana" rapper wasn't buying it at all and proceeded to drag Lil Baby on Twitter.
"Met my bitch one time talm bout he 'big brother,'" Blueface tweeted. "You ain't no son to me the truth could never be a dis…I run this shit on sy be mad if you want to bitch post my messages I'm bleeding anything come thru my Territory without checking In welcome to death row."
He continued tweeting, writing: "You in her DMs I'm in this bitch ... Anything that makes rock boom I'm all for it even if I gotta look bad."