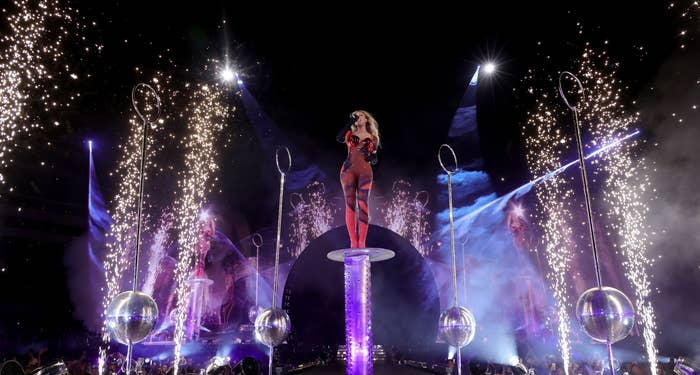 Beyoncé's Renaissance Tour dazzled fans around the world and wowed at the box office.
Queen Bey's global excursion earned $579 million, according to Variety, with 2.7 million concertgoers attending 56 dates in 39 cities.
In terms of Billboard Boxscore—which "has charted the biggest tours in the world" for "nearly four decades" and has a top 10 comprised solely of white, male artists—this places Beyoncé's latest run as the seventh-highest-grossing tour on the chart, making her the only woman, only Black artist, and only American solo act to enter the ranks.
Billboard noted in an August check-in that the list doesn't yet officially "mention newly launched 2023 treks by Beyoncé, Metallica, Taylor Swift, and more." Estimates have Swift's still-in-progress Eras Tour landing at over $1 billion—or more than double that—but we won't know for certain until she wraps up next year.
Beyoncé also set a new precedent by accomplishing this feat in merely 56 concerts, while virtually everyone else in the top 10 took at least 100 shows to stack up similar sales. The Rolling Stones are the only act remotely close to Bey in this respect, making $547 million across 58 gigs. At No. 1 and No. 2, Elton John ($939.1M) and Ed Sheeran ($776M) needed 330 and 258 dates to hit their totals.
On the European leg, Bey earned $154.4 million across 21 gigs, selling more than 1 million tickets. The tour's five-night residency at Tottenham Hotspur Stadium in London made history as the most times an artist has performed at the venue since its 2019 opening. She played for 238,000 fans across the shows.
The 32-time Grammy-winner made $16.5 million each night she performed at the MetLife Stadium in New Jersey in July, according to Touring Data. The tracking outlet reported at the time that Bey's overall ticket revenue across her tours had hit $1.5 billion.
Rumors of the 42-year-old adding South American and Oceania dates have been circulating online. Although it's all speculation for now, a continuation of the Renaissance World Tour would further boost its standing.
Just moments after Beyoncé left the stage at her final show in Kansas City, she revealed that she'd be bringing the tour experience to movie theaters with the trailer for Renaissance: A Film by Beyoncé. The film is set to be released in the U.S., Canada, and Mexico on Dec. 1. A global release date will be announced in the following weeks.