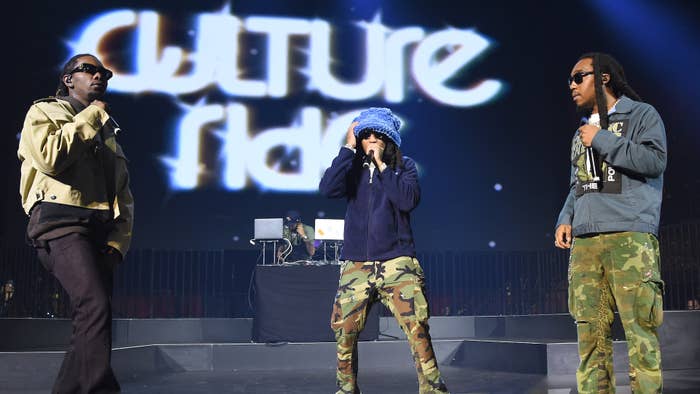 Quavo is remaining tight-lipped about the Migos breakup rumors.
While leaving LAX on Thursday, the 31-year-old rapper was pressed about the rap trio's current status. A TMZ cameraman asked Quavo if he and fellow member Offset were on good terms, and whether there was any truth behind their reported split.
"What's going on with the band at this point?" the photog asked. "A lot of people are concerned the band is breaking up, right? Anything you can say?"
Quavo refused to answer the question, claiming he had nothing to say. He did, however, mention his and Takeoff's upcoming single "Hotel Lobby," which they'll release under the "Unc and Phew" moniker. The track, which doesn't feature the fellow Migos member Offset, will hit streaming services at midnight Friday.
Rumors of Migos' breakup started making the rounds online on Wednesday after social media users noticed Offset and his wife, Cardi B, were no longer following Quavo and Takeoff on Instagram. Fans also noted that Quavo wasn't following Offset, leading some to believe the two had some kind of falling out.
Takeoff, on the other hand, is still following Offset and Cardi. It's unclear exactly when all of the unfollowing occurred. 
Rumors of Migos breaking up began to swirl at around the time that Takeoff and Quavo announced the release of "Hotel Lobby" as Unc And Phew, an apparent reference to the rappers being related. The uncle and nephew duo also shared a Fear and Loathing in Las Vegas-inspired video teaser for the track that you can check out below. 
Migos released their studio album Culture III back in June of 2021. The album debuted in the No. 2 spot on the Billboard 200 and featured appearances from Drake, Cardi B, YoungBoy Never Broke Again, Polo G, Future, Justin Bieber, and others.