Meek Mill Responds to 2 Chainz Challenging Him to IG Live Hit Battle
In recent days, Instagram has been home to multiple friendly battles between artists.
Getty
Image via Getty/Dimitrios Kambouris/Diamond Ball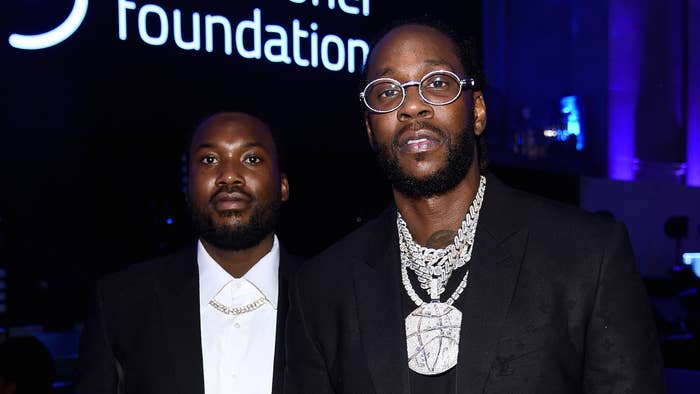 Meek Mill hopped into 2 ChainzInstagram comments on Sunday to let Tity Boi know that he's not prepared to go head-to-head with the rapper on Instagram Live.
"I just wanna watchhhh lol" Meek wrote. "Respectfully bowing out to my brother."
In the post, 2 Chainz sized up his potential opponents before challenging Meek Mill to a virtual hits battle.
"Somebody said Meek, and I thought that would be dope," 2 Chainz said. "So let's do it Meek. Let's do it."
Due to people being stuck at home due to the coronavirus quarantines, multiple artists have been hitting up Instagram Live to play their hits and/or beats in friendly battles. Swizz Beatz and Timbaland helped to popularize the contests. Chainz wants to be part of the series, but he also wants people to recognize that he and his fellow ATLiens have been the hub of hip-hop for years. 
"It's a lot of ducking and dodging on these song battles," an Instagram post to Chainz's account reads. "I ain't seen nobody call out T.I. Jeezy 2 Chainz or Future. THE SOUTH vs. EVERYBODY."
"Or [Gucci Mane]," Chainz added in the caption. "I Saw this statement and I agree and I know don't nobody want no smoke wit our city ! Tip and Luda had the game goin crazy then Gucci and Jeezy , then me and future now qc and ysl but weee alll having more than 20 bangers sooooo who outside of this city want smoke ??"
This started a heated debate in his comments that sparked Chainz to challenge Meek. But after deliberations, it seems like Chainz is going to have to find a new opponent.