Megan Thee Stallion Says Label Won't Let Her Release New Music Over Contract Dispute
Megan Thee Stallion says her label won't let her put out new music after she asked to renegotiate her contract.
Getty
Image via Getty/Scott Dudelson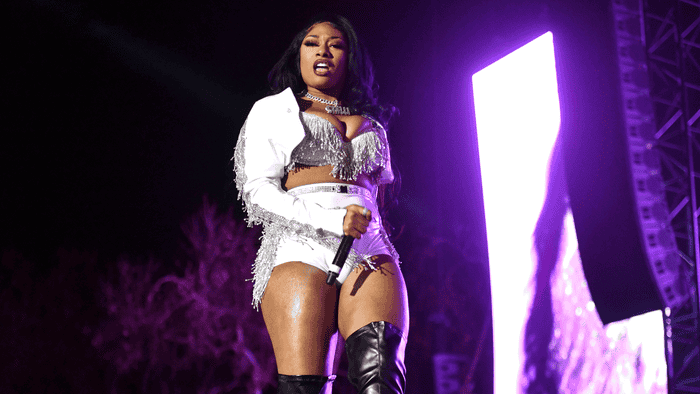 An apparent contract dispute is putting the release of Megan Thee Stallion's next album, Suga, at risk of a substantial delay, according to Megan herself.
As is so often the case, the dispute exists between the artist and their record label, which in this instance is 1501 Certified Entertainment. Stallion signed with the Houston-based indie label back in 2018. 
The rift was revealed on Sunday, when Megan took to her Instagram Live to voice it to the public. She claimed that new music of hers won't be released in the near future because the two parties had a disagreement over restructuring her contract. 
"I didn't really know what was in my contract," she said. "I was young, I think I was, like, twenty."
She goes on to say that when she signed with Roc Nation (to manage her), they had lawyers ask if she was aware what was in the contract she signed, and if not she should check again. 
"I wasn't upset [with 1501], because I was thinking, 'everybody cool, we all family, it's cool, it's nice…let me just ask [them] to renegotiate my contract'" she explained.
That turned out to be an incorrect assumption because, as she put it,  "As soon as I asked them to renegotiate my contract, everything went left."
"So now they telling a bitch that she can't drop no music. It's really just a greedy game," she added.
She appeared to address 1501 by stating that "You mad because I don't want to bow down, roll over like a little bitch, and you don't want to renegotiate my contract."
She said that her decision to sign with an indie label was intentional, as she believed it would give her a degree of control.
She also offered advice to future artists to learn from her mistakes. "Please, it might seem good, it might sound good, but you definitely got to read," she said. "Read all that shit. Don't sign that without no lawyer…and get your own lawyer, with their own opinion."
Just a few days ago Megan revealed that Suga was aiming for a release date of May 2, due to it being her late mother's birthday. It seems like it's anybody's guess now as to what date that release will reside on.
1501 Certified Entertainment has yet to respond to the allegations.
You can see Megan say almost everything that she shared about the matter in the two videos captured by Twitter users below: