Nicki Minaj and Joe Budden Get Into Heated Argument on 'Queen Radio'
Nicki Minaj celebrates the one-year anniversary of 'Queen Radio' with another episode.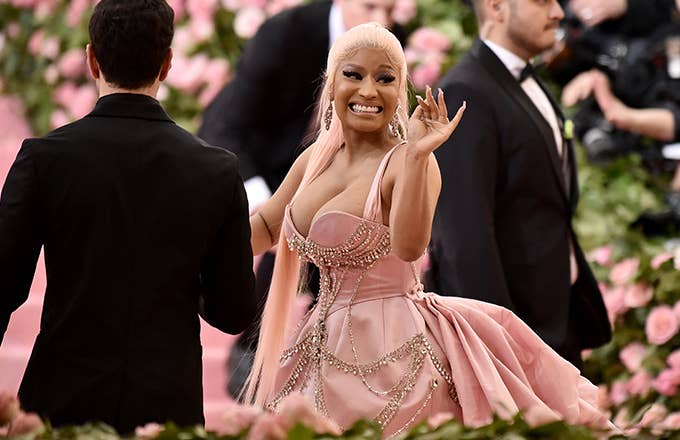 Getty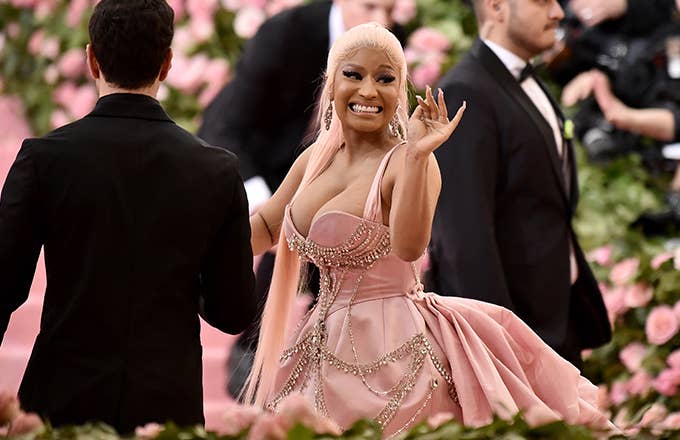 The latest episode of Nicki Minaj's always-entertaining Queen Radio is here. The last episode of the show arrived on July 26, and it saw her bring along her friend and former manager Big Fendi. Before the arrival of Episode 15, Nicki teased that she had a new segment she was going to introduce.
Fresh off the release of her Megan Thee Stallion and Ty Dolla Sign collab "Hot Girl Summer," Nicki delivered another jam-packed episode of the show. It's worth pointing out that Episode 15 marks just over a year since the first episode, which debuted on Aug. 9, 2018.
After a lengthy introduction from DJ Boof, Nicki finally kicked off the show. She celebrated the one-year anniversary of the show and the Queen album with champagne, and unlike some of the episodes she made sure this time she delivered a live episode.
"First of all Megan is not going to be here," she announced at the top of the show. "I am going to call some fans today," she added, before confirming that she did have some special guests. She then proceeded to call out trolls commenting on her Instagram, which she also did on a post before turning off the comments entirely. "And u look ugly even with a filter," she told one fan.
After playing her remix of DaBaby's "Suge," she invited Joe Budden to join her on the show alongside the rest of his podcast team, Mal, Rory, and Parks. "Joe is here to make peace with the Barbz," Budden explained.
"You can control them to do either evil or good," he joked. "He really just said I use the Barbz for evil," Nicki replied. "I just like to let them know when they're doing the most."
Addressing Budden's claim that Nicki's live session with Megan Thee Stallion was planned, the two got into a debate about whether "Hot Girl Summer" was an organic collaboration. "I went on Live to discuss the 'MEGATRON' winners, and when I was on there I saw a lot of people telling me to go on with Megan," she explained. "She basically hinted at the fact she wanted me on the song. [...] When we got off the live I spoke with [her team]."
She said that she loved the song when she first heard it, so it all came together shortly after the Instagram Live session. Nicki then accused Joe of calling her a liar, with him saying that he doubted her because the video was turned around quickly. While he believes her now, she still tried to get to bottom of what he said. "I think that the music industry is calculated," he added, confirming that it wasn't a personal attack on her.
After that the situation regarding "Motorsport," which also featured Cardi B, was brought up when Budden accused Nicki of lying about knowing Cardi was on the song before it came out. "You really think people could put out a song and I don't know who's on it?" she asked. Eventually she got heated enough to cut him off with a song. She then cut off the song, playing back a clip of Everyday Struggle.
From there it devolved into yelling. "You like tearing down women when they can't defend themselves," Nicki said in a shouting match with Budden. To huge laughs, she added, "Thank you for being here by the way." She continued, "Don't call me Fam that's how I know you're mad. FUCK OUTTA HERE FAM." Under his voice Budden replied, "This is why I don't do this, y'all live in some sort of bubble."
When the topic of her new album came up, she teased that someone huge is executive producing it. "You know what Joe, I didn't know how childish you were until today," Nicki said, yelling over what he had to say. Nicki got particularly heated when Budden mentioned drugs, "don't say you ain't never popped a pill," with her calling him a "dumb fuck." "He's so used to thinking he's the smartest person in the room," she added.
"I just want ownership if you said something," she said after she pulled up things he said that he refuted. She completely cut off his microphone, at which point it's suspected that he left. His podcast co-hosts stuck around and said they wanted to try it again, to which she said that will not happen. "Even now I have no issue with Joe," she said. "But people have to take ownership especially when they're part of this culture."
Nicki later showed up to Joe Budden's podcast.
Recently Trina's head A&R of her Rockstarr Music Group called out the rapper on Instagram for not doing enough to support their collaboration "BAPS." She also accused the media in general of pitting other women against her in an attempt to ruin her career. "All the people who went out of their way to hurt me, I hope you pray and repent," she said.
"Right now Trina's camp is accusing me of not doing enough to push her song 'Baps,'" she commented. "I have my own schedule and I also have to worry about what makes not only sense/cents but dollars. And it's not fair that people don't understand that. I would never have someone from my team disrespect somebody that has been nothing but real to me," Nicki said about the situation, per Baller Alert.
"Whoever from your team that got something to say, if they're a man tell then to address it with my husband. Enough. It's getting corny at this point" - Nicki Minaj to Trina

pic.twitter.com/6EnJcYIOtf
During her chat with Ts Madison, she clarified some facts about her getting a marriage license. She says she renewed it again, but her and her boyfriend Kenneth Petty aren't officially eloped yet.
Juicy J appeared on the show and the two they talked about their "Hot Summer" collaboration. Nicki also interviewed Lil Durk. Nicki was featured on Durk's Love Songs 4 the Streets IItrack "Extravagant." 
On top of all that, Nicki said that a remix featuring her on Pop Smoke's "Welcome to the Party" will be arriving later this week.
You can listen to Queen Radio here.