Nielsen Music Releases Most-Streamed and Best-Selling Songs From First Half of 2019
Ariana Grande and Lil Nas X proved to be the chart-topping artists of the year so far.
Getty
Image via Getty/Paras Griffin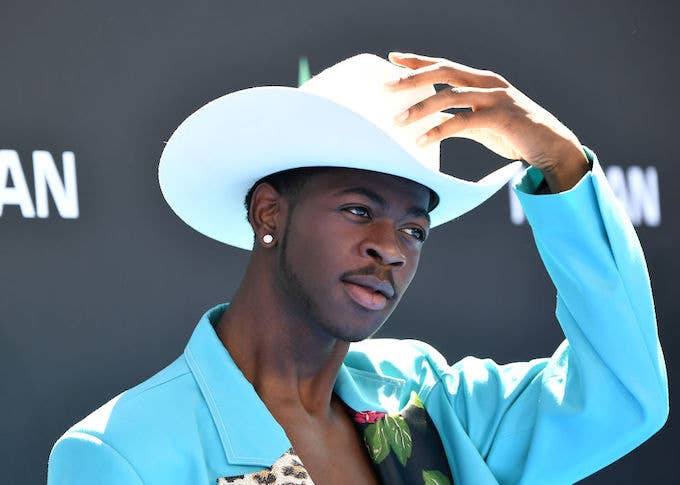 Nielsen Music has revealed the most-streamed and best-selling songs from the first six months of 2019, touting a record 507 billion on-demand streams. Ariana Grande's Thank U, Next, Lil Nas X's "Old Town Road," and Lady Gaga & Bradley Cooper's A Star Is Born soundtrack sit atop the mid-year charts, which saw a 13 percent increase in overall equivalent album units. 
Since the beginning of the year, Grande's chart-topping album Thank U Next was the most popular album in the U.S., accumulating 1.5 million equivalent album units. Billie Eilish's When We All Fall Asleep, Where Do We Go? (1,304,000) and Khalid's Free Spirit (929,000) took the No.2 and No.3 spots.
When it comes down to individual songs, Lil Nas X's viral hit "Old Town Road" was the most streamed song of 2019 so far, which includes on-demand audio and video streams combined. Of all the versions of the song, including the Billy Ray Cyrus-assisted remix, the song earned 1.338 billion on-demand streams—596.11 million of which were audio streams, and 741.88 million were video streams.
Box office success also had a large impact on music sales, with Lady Gaga and Bradley Cooper's "Shallow" from A Star Is Born reaching 684,000 song downloads, 316 million on-demand song streams and one billion audience impressions on the radio to date. Additionally, Post Malone and Swae Lee's Spider-Man: Into the Spiderverse track "Sunflower" took the No.3 spot on the Top Ten Digital Songs chart, and on the On-Demand Song Streams chart, the song came in second only to "Old Town Road." Queen's Bohemian Rhapsody soundtrack from the award-winning biopic also made the list at No. 8. 
Following the death of rapper, community leader, and philanthropist Nipsey Hussle, his catalog of music was widely streamed. There was 2,776% spike in the consumption of his catalog on March 31, the day he was fatally shot. Additionally, his 2018 album Victory Lap saw a 66,000 album-equivalent consumption, landing at the No.2 spot on the Billboard 200 chart. His song "Racks in the Middle," earned 176 million on-demand streams.
Here's a list of select charts on Nielson's Mid-Year 2019 Report:
2019's Mid-Year Top 10 Albums
Ariana Grande, Thank U, Next (1,552,800)
Billie Eilish, When We All Fall Asleep, Where Do We Go (1,304,000)
Khalid, Free Spirit (929,000)
Lady Gaga & Bradley Cooper, A Star Is Born Soundtrack (889,000)
A Boogie Wit da Hoodie, Hoodie SZN (810,000)
Post Malone, beerbongs & bentleys (756,000)
Drake, Scorpion (718,000)
Queen, Bohemian Rhapsody Soundtrack (705,000)
Juice WRLD, Death Race for Love (675,000)
Jonas Brothers, Happiness Begins (663,000)
2019's Mid-Year Top 10 Selling Albums
Lady Gaga & Bradley Cooper, A Star Is Born Soundtrack (404,000)
Jonas Brothers, Happiness Begins (374,000)
Billie Eilish, When We All Fall Asleep, Where Do We Go? (343,000)
BTS, Map of the Soul: Persona (343,000)
Backstreet Boys, DNA (299,000)
Queen, Bohemian Rhapsody Soundtrack (253,000)
Ariana Grande, Thank U, Next (228,000)
The Greatest Showman Soundtrack (181,000)
P!nk, Hurts 2B Human (158,000)
Lauren Daigle, Look Up Child (154,000)
2019's Mid-Year Top 10 Selling Digital Songs
Lil Nas X, "Old Town Road" (958,000)
Lady Gaga & Bradley Cooper, "Shallow" (A Star Is Born) (684,000)
Post Malone & Swae Lee, "Sunflower" (Spider-Man: Into the Spider-Verse) (488,000)
Ariana Grande, "7 Rings" (420,000)
Halsey, "Without Me" (388,000)
Post Malone, "Wow." (381,000)
Jonas Brothers, "Sucker" (357,000)
Lauren Daigle, "You Say" (322,000)
Taylor Swift f/Brendon Urie, "Me!" (322,000)
Ava Max, "Sweet But Psycho" (321,000)
2019's Mid-Year Top 10 On-Demand Song Streams (Audio & Video)
Lil Nas X, "Old Town Road" (1,337,995,000)
Post Malone & Swae Lee, "Sunflower" (Spider-Man: Into the Spider-Verse) (850,194,000)
Ariana Grande, "7 Rings" (776,696,000)
Travis Scott, "Sicko Mode" (623,498,000)
Halsey, "Without Me" (599,335,000)
J. Cole, "Middle Child" (582,748,000)
Post Malone, "Wow." (582,633,000)
Blueface, "Thotiana" (588,277,000)
Marshmello & Bastille, "Happier" (528,640,000)
YNW Melly, "Murder On My Mind" (498,806,000)