To celebrate Black History month and the powerful musical legacy of black women across tons of genres and eras, Spotify and Instagram teamed up to not only create a playlist full of music from Beyoncé, Missy Elliot, Rihanna and more, but an interactive map to show all of the most liked posts from top-ranking artists most frequently playlisted using the term "Black Girl Magic".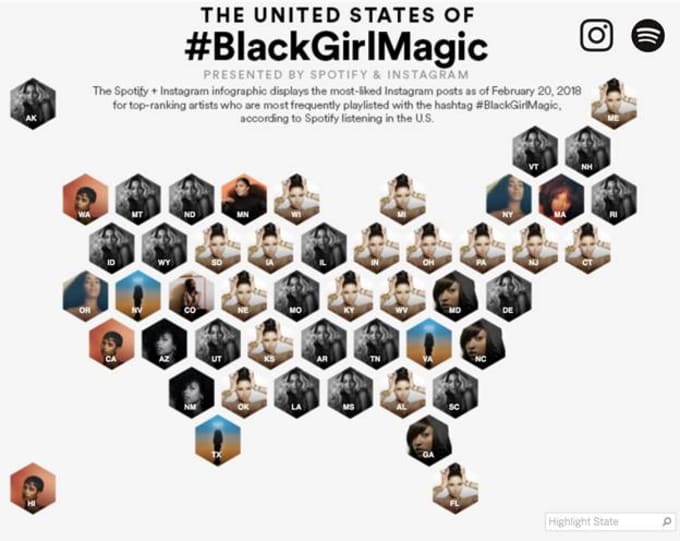 The project was meant to highlight just how important these artists are to both platforms, and to embrace the "power, resilience and beauty inspired by black women in our generation and generations past." The playlist covers a wide range of genres from all across the black diaspora and beyond, including R&B, hip-hop, soca, and afropop from the 90s, early and mid 2000s to today. Spotify also revealed that the U.S. and England lead conversations using the #BlackGirlMagic hashtag most often, followed by Canada, South Africa, France and Nigeria. New York topped the list of cities with the most mentions of the hashtag, and Washington, DC is the city with the most amount of #BlackGirlMagic playlists are being created on Spotify. 
Unsurprisingly, Beyoncé is the most streamed artist on the playlist, followed by SZA, Rihanna, Solange, Kehlani, Nicki Minaj, Janelle Monae, Alicia Keys, Lizzo and India.Arie. The playlist is also part of the streaming service's 2018 Black History Month hub, featuring plenty of other playlists and podcasts that speak to diverse black art with music at its core.
You can view the full interactive map here, and the playlist is now available on Spotify.