The sudden disappearance of Kanye West's The Life of Pablo from some Spotify users' queues is fueling fan speculation about the ongoing competition between streaming music services. Twitter users and members of Reddit's HipHopHeads forum both initially reported the issue. Problems included not being able to find the album at all, being unable to play various songs, and other technical glitches.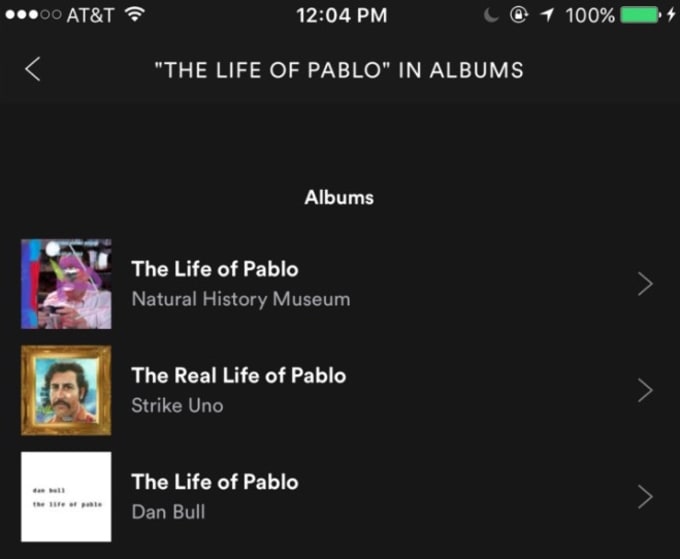 One Reddit user posted a screen capture showing the results yielded by a simple search for The Life of Pablo. Additionally, Twitter user Matt Scheumann had a brief back-and-forth with the verified Spotify Support Twitter feed chalking the issue up to a possible licensing change.
"Sometimes content gets temporarily removed in some regions due to licensing changes," SpotifyCares tweeted. "Hopefully we'll have it up again."
A following reply noted there was no timetable for the album being re-added for impacted users.
West released The Life of Pablo exclusively via the streaming service (and Spotify competitor) Tidal on Feb. 14, 2016. Jay Z, West and a number of other artists are part owners of Tidal. West tweaked individual songs and uploaded new versions of the album after its initial release, leading some to speculate another change was behind the album's disappearance from Spotify. West has called the album a "living breathing changing creative expression."
Whether intentionally or not, West has added to the speculation of possible friction between streaming services by initially tweeting The Life of Pablo would never be available via Apple Music and could only be obtained via Tidal. During a tour stop in Seattle, West later told a crowd at his Saint Pablo tour issues with Tidal, royalties and what he deemed "Tidal/Apple bullshit" canceled any hopes of a sequel to Watch The Throne.
In the meantime, those Spotify users missing Kanye's latest album are left with speculation and fan theories.
Spotify did not immediately return Complex's request for comment.