A Timeline of Frank Ocean's Existence Since His Debut 'channel ORANGE'
We dive into Frank Ocean's moves on four years after 'channel ORANGE.' Complex Original
Image via Complex Original Frank Ocean has a vocal fan base, one that has tracked, with dedication, the four long years they've been waiting for his sophomore album, Boys Don't Cry. On Sunday, the fourth anniversary of channel ORANGE passed, and since there's no new Frank to fill the voice, many of us revisited the new classic. Months after channel ORANGE dropped, Frank began talking about his second album and the work he was putting in, only to leave fans thirsting for details after he went off the grid. Thank God for Lil B, because he's perhaps the last human being to be in contact with the singer, telling us that Frank is in good spirits. Still, we need Frank. And we need Boys Don't Cry. Below is a timeline of Frank Ocean's moves since his masterful debut album channel ORANGE.
July 10, 2012: channel ORANGE, one of the best albums of 2012, is released.
Sept. 15, 2012: Three months after Frank Ocean opened up about his sexuality in an open letter on Tumblr, he gives an emotional performance during his Saturday Night Live debut, singing "Thinkin Bout You" and "Pyramids" with some help from John Mayer.

Dec. 2012: Ocean writes a ballad called "Wiseman" for Quentin Tarantino's slavery-era Western Django Unchained, but it doesn't make the cut to appear in the film or on the soundtrack. "I could have thrown it in quickly just to have it, but that's not why he wrote it and not his intention," Tarantino says in a statement. "So I didn't want to cheapen his effort."
Later in the month, Frank shares the song on Tumblr. The post reads: "django was ill without it."
Jan. 11, 2013: Ocean revisits "Pink Matter" from channel ORANGE with a remix featuring André 3000's OutKast partner Big Boi.
Feb. 7, 2013: In an interview with the New York Times, Frank Ocean speaks about some of his plans for after the 55th Grammys Awards have wrapped. One is to fly to Shanghai, China with some equipment and new ideas for songs. He plans on writing "in remote locations for the next two years."
Feb. 10, 2013: Ocean beats out Chris Brown and Miguel on Grammy night for the Best Urban Contemporary Album award. In an Instagram post, Tyler, the Creator is beyond excited.
Feb. 19, 2013: During an interview with Zane Lowe of BBC Radio 1, he reveals that he's 10-to-11 songs deep into his next project. He explains his sophomore effort will be "another cohesive thing, bordering on a concept record again." He wants to pick up where "Golden Girl," the hidden bonus track on channel ORANGE, leaves off and continue with a beach theme.
June 25, 2013: During a stop on his You're Not Dead tour in Munich, Ocean performs some brand new songs. It seems to be a sign that he is focused on completing his sophomore album.
July 4, 2013: Jay Z's Magna Carta... Holy Grail is released on Independence Day and Ocean appears on "Oceans." The militant track marked the second time he's worked with Jay Z; he previously made appearances on 2011's Watch the Throne for "No Church in the Wild" and "Made in America."
July 9, 2013: Ocean performs a concert at the 02 Academy in Brixton, London, and debuts a new song reportedly called "Pray." He performs another track as well. You can watch some (terrible) cell phone footage here.
July 24, 2013: Ocean takes a novel approach to remixing Migos' "Versace" and writes out a verse on his Tumblr. To this day, there's still no audio, but you can read it here—just cue up the instrumental first.
Aug. 13, 2013: While Earl Sweatshirt is preparing to release his debut album Doris, one of the tracks leaks. "Sunday" features Ocean rapping a verse that contains subliminals aimed at Chris Brown, referencing their physical confrontation outside of a recording studio in Los Angeles.
Aug. 20, 2013: John Mayer appeared on the channel ORANGE track "White," and so Ocean returns the favor by appearing on Mayer's album Paradise Valley. He is a guest vocalist and songwriter on "Wildfire (Reprise)."
Apr. 9, 2014: Another update on the sophomore album! One month after video director Nabil shares a picture of Ocean in the studio with the caption: "Frank in the lab.. Making sophomore album game." The following message, which appeared in a since-deleted Tumblr post, says he's skipping Coachella "to stay in the groove and finish this bitch."
Jun. 6, 2014: The myth of Nas and Frank Ocean's long-rumored collaboration "No Such Thing as White Jesus" returns when the song's producer, Hit-Boy, shares a snippet on Instagram. (It has since been deleted.) The song was originally intended for Nas' 2012 album Life Is Good, but it was lost due to a technical mishap. But miracles do happen, and the hard drive was recovered. No word on the song's release, though.
Jun. 25, 2014: BuzzFeed breaks the news about Ocean parting ways with 4 Strikes Management and Life or Death PR ahead of his sophomore album. In September, Billboard reports that he has now signed to management with Three Six Zero. 
Nov. 28, 2014: Taking to Tumblr once again, Ocean shares a new song sketch called "Memrise." You can still listen to the lo-fi heater and read the lyrics on his Tumblr page.
Apr. 6, 2015: The internet loses its mind when Ocean updates his website and Tumblr to share this info: "'I got two versions. I got twoooo versions.' #ISSUE1 #ALBUM3 #JULY2015 #BOYSDONTCRY." It's confirmed by a representative for Ocean that fans will finally get his album, along with a zine, in July.
Apr. 23, 2015: TMZ reports that Christopher Edwin Breaux has legally changed his name to Frank Ocean. That's gotta mean something, right?
May 5, 2015: The anticipation builds for this new Frank Ocean magazine when Nabil confirms to The Fader that he did a photo shoot for an interview with Lil B conducted by Ocean. These guys were vibing in the studio at the end of 2014, so it was a sign of things to come.
May 25, 2015: With July only a few months away, French pianist, composer, and arranger Christophe Chassol offers some insight on his work with Ocean during a conversation with Gilles Peterson on BBC. "Ocean invited me to Abbey Road to record on his album. I asked him when I came how he heard about me. He told me his friend Diplo was listening a lot to Indiamore, and they started to listen to it, and they were wondering how I was doing the speech harmonization, so he called me." He later reveals that Rick Rubin was in the studio with them too. You can read a transcript of his talk here.
July 21, 2015: A fake Frank Ocean album cover trolls everyone. Ugh.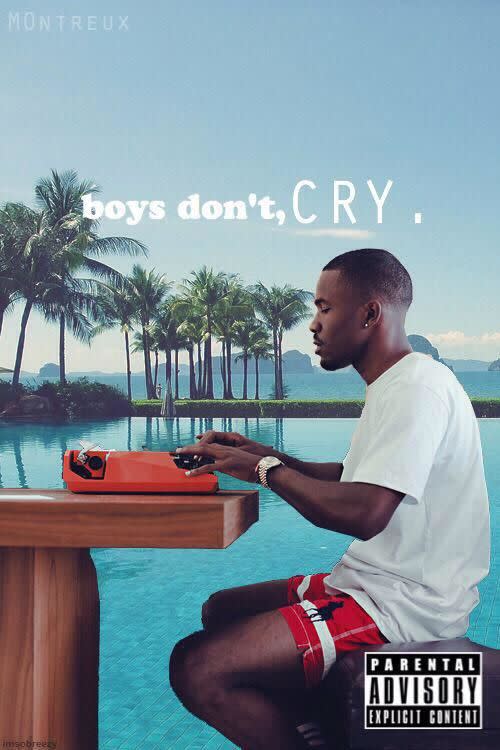 Aug. 1, 2015: July comes and goes with no Frank Ocean album. Naturally, the internet is despondent.
Aug. 8, 2015: Frank Ocean's little brother torments us with an Instagram post of the original Boys Don't Cry photo announcing the album with a caption: "It's finally out! Link in my bio." Clicking on the link leads to Rick Astley's "Never Gonna Give You Up" video, the famous "Rickroll" troll. Gross.
Aug. 16, 2015:  Twitter bugs out when fans notice that Frank Ocean has uploaded a project to Spotify. Many believed it's the album but it's just his 2008 independent mixtape Lonny Breaux. Why must you do this to us, Frank?!
Aug, 22, 2015: Ocean is supposed to headline FYF Fest in Los Angeles, but backs out at the last minute and is replaced by Kanye West. It's dope to see Kanye, of course, but many festival goers beg and plead with the singer to release his album. "We over here starving for your music and you're not here to feed us!" one attendee tells us. We feel you, bruh.
Nov. 27, 2015:A tweet from A-Trak warns fans that a new song reportedly called "White Ferrari" is coming. Soon after, tweets from Vampire Weekend's own Rostam Batmanglij and London nightlife promoter Tremaine Emory only increase the chatter about the song's existence. The connection to Frank Ocean is investigated by a KanyeToThe user who claims he has a friend in contact with him who said to remember the words "White Ferrari." OK. Got it.
Dec. 10, 2015: A mysterious file containing Hudson Mohawke demos winds up on the internet. It's titled "frank oOOOOoocean" and is later re-uploaded as "Hudson Mohawke demos for Frank Ocean (instrumentals) (leak)." KTT users dig into the folder and find that some of the songs are early HudMo songs. No one confirms if they were actually intended for Frank Ocean.
Jan. 7, 2016: Rich the Kid tweets a FaceTime call between him and Frank Ocean. We follow up with Rich the Kid and he says, "Everybody's trying to find him, and he doesn't mess with a lot of people, but obviously he respects my grind because he sees that I'm out here working. That's why we're cool." Rich reveals that they've worked on songs together in the studio.
Feb, 2016:  Frank Ocean is spotted at Madison Square Garden for Kanye West's Yeezy Season 3 debut and listening session for The Life of Pablo. On the day the album drops on Tidal, a new version of "Wolves" features vocals by Ocean.
To date, West's updates to Pablo have moved Ocean part to a separate song called "Frank's Track."
Mar. 29, 2016: Frank Ocean's producer Malay gives an update to Pitchfork about the status of the album: "When he's ready, the world is gonna get it." Malay adds, "He's been working super hard. I feel like he's working harder than he's ever worked in his life. I'm excited for everyone to hear it. I think people are going to be pleasantly surprised, for sure."
Apr. 21, 2016: In the wake of Prince's death, Frank Ocean shares a heartfelt letter about how much the musical icon meant to him. He writes that his presence made him comfortable with his own sexuality.
May 6, 2016: James Blake speaks about how Frank Ocean inspired him to draw from different collaborators for his new album, The Colour in Anything. "[He] was a huge inspiration for this record," James says. "His process, the way he writes, the strength of what he does, who he is. We became very good friends." He also notes that the album is worth the wait: "He is onto something, he really is."
May 13, 2016: We ask Chance the Rapper to give us update on Ocean and he explains why he's been so hard to find lately. "I know he's away making a masterpiece. I think that Frank is very, very focused on his catalog," he says. "Anything that you hear him on, that's a feature was recorded a long time ago…. I don't think Frank is working on anyone's stuff except for his own."
June 2, 2016:The Twitter account Snatched Bops sparks a rumor that Boys Don't Cry will drop on June 3, sending everyone into a frenzy. The source proves is unreliable, but many are willing to believe anything.
July 2, 2016: Frank Ocean's website, our only trustworthy source of updates for Boys Don't Cry, is updated to feature a mysterious library card with a slew of dates stamped on it. At the very bottom in fine print reads "Boys Don't Cry," which could mean the magazine or the album.
July 5, 2016: Frank Ocean stars in the fall 2016 campaign for Calvin Klein. He is joined by Young Thug, James Rodriguez, Kate Moss, and Grace Coddington.
July 9, 2016: A Reddit user digs through the source code of the Calvin Klein website to find a statement that says Frank Ocean has written a novel. That makes sense. He once shared in a letter to his fans that he wanted to write a novel about twins. "Some type of nature versus nurture tale," he wrote. He's also mentioned reading Christopher Isherwood on his Tumblr.
July 10, 2016: Four years since the release of channel ORANGE … and still no release date for Boys Don't Cry. Here's to another four?