Madison Square Garden looks like a mad house. People crowd outside, waiting in subfreezing temperatures. Scalpers walk past and scream, "Tickets! Anyone need tickets?" Inside, lines at a merch booth snake around corners. But none of these guys are here for the New York Knicks. It's all about Kanye West right now.
On Feb. 1, Kanye confirmed Yeezy Season 3—an extravaganza at the Madison Square Garden, where he would play his upcoming album SWISH, which then became WAVES, and then, last night, The Life of Pablo. He would also present his third apparel collection. Contemporary artist Vanessa Beecroft, who Kanye has worked with in the past, was to stage another performance. It promised to be an experience.
"I don't even know what to expect, honestly," one fan said at MSG before the show. 
Another added: "I don't know what's about to happen, but it's gonna be good."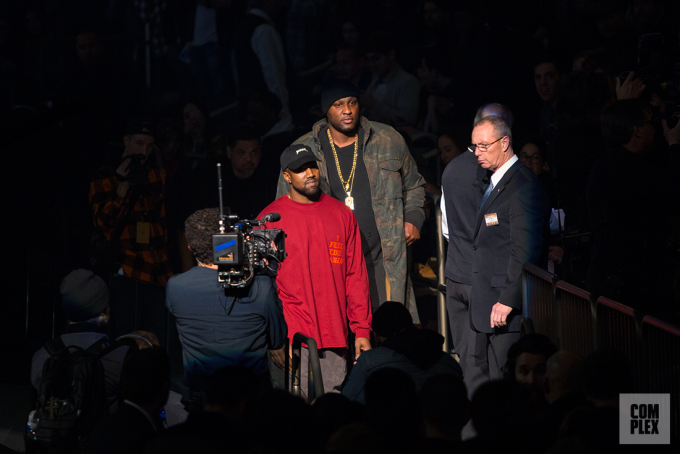 Thirty minutes after the scheduled start time, Kanye walked out, spotlight fixed on him, with a mob of people crowding around him (Pusha T and Travi$ Scott among them), like a boxing champ walking to the ring. Fans hollered and cheered. The energy in the stadium was chilling. Kanye shook hands and hugged friends and family—including Kid Cudi, Wale, Nick Young, Vic Mensa, Big Sean, and 2 Chainz—who came to support him.
Here we were, being treated to new Kanye music by Kanye himself in a massive, and iconic, arena. He kicked things off by playing "Ultra Light Beams," and later songs like "Wolves," "Father Stretch My Hands, Pt. 1 & Pt. 2," "Freestyle 4," and "Famous," featuring Rihanna. But, this wasn't just about his music.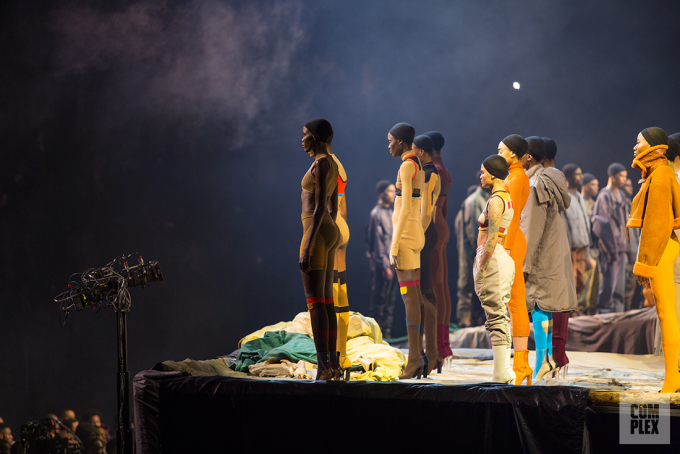 In the middle of the venue were two stages swarmed by the models and 1,200 extras he cast earlier this week. The models on the stage were dressed in pieces from the new collection—a line that included fur jackets, knitted sweaters with ultra long sleeves, shearling lined jackets, boxy short sleeve sweatshirts, and destroyed sweaters in mostly neutrals, but with occasional shocks of color. The extras on the ground wore what appeared to be a mix of Kanye's designs and assorted vintage clothing. Much like the last two Yeezy Season presentations, the models were as still as statues.
On the surface, it appeared as if Kanye's Yeezy Season 3 show was an opportunity to do two things at once—share his new music and the new fashion line. But, it was deeper than that. Hearing the songs in tandem with the fashion show heightened the experience. It was powerful to see a model cry as The Weeknd sang, "I wish I would go ahead and fuck my life up. Can't let them get to me" on "FML," or witness the models, one by one, raise their fists as Kanye rapped "Real Friends."
Kanye defined the synergy between his music and fashion today. In the past, he's expressed frustrations with the fashion industry and the lack of respect he's received as a designer because he's a rapper. But not this time. Here he was, playing his new music to his fans, editors, fashion designers, family and friends. And here he was, showing his new Yeezy Season clothing line to the same fans, editors, fashion designers, family and friends. Frankly, people were here for both. And even if you don't appreciate Kanye's designs, the Yeezy Season 3 presentation itself was an experience you can't really write off.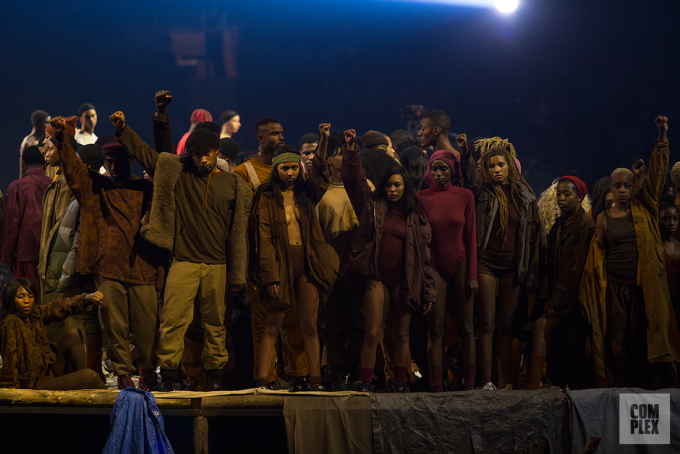 At the end, Kanye, dressed in a black "YEEZUS" hat and red long sleeve TPOL shirt, grabbed the mic. "Tell me how y'all feel. Did I deliver on my promise?" He paused. "Tell me how y'all feel about the clothes this season." Another pause.
"You know, y'all might think because I'm a celebrity, I have money, and I rap, this is easy to do," he said. "One of the hardest things to do was to find the talented people that worked on the collection to believe in my vision enough to come roll with a rapper. It feels so good to see all of you, all my brothers, all my music family, my wife, her sisters, and all of New York City standing behind the crazy ni*gga from the interviews."
Kanye went on to thank adidas, Jay Z and Tidal, and his family—all dressed in white looks designed by Balmain's Olivier Rousteing, with jackets by British designer Katie Eary. He also thanked Carine Roitfeld for being "a real bitch."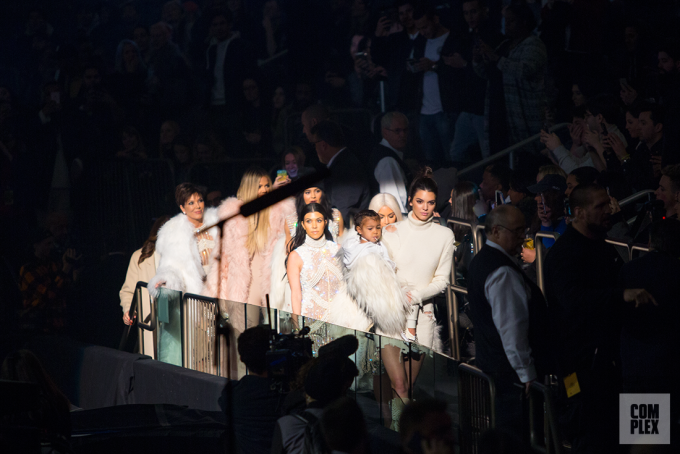 During past appearances and concerts, Kanye has been known for his streams of consciousness. But, this time was different. "It's been a hard struggle…and I feel so happy," he said. "I feel so much joy to be able to actually follow my dreams without people shitting on me and being given an opportunity to create as an artist."
It was another win at the Garden.