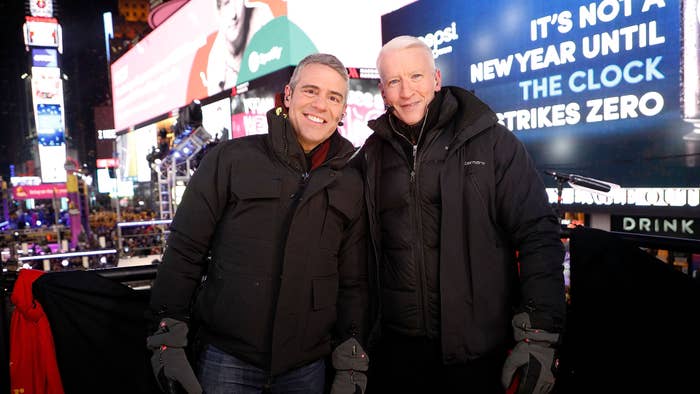 CNN's coverage of New Year's Eve could look very different this time around. 
According to Variety, network CEO and chairman Chris Licht announced at a town hall discussion with CNN employees on Tuesday that anchors and correspondents cannot drink on camera this NYE. Or off camera, in fact.
Licht seemingly implied that the sight of Anderson Cooper battling uncontrollable laughter or a viral, loosened-up Don Lemon resulted in a loss of "respectability" among viewers, and hurt CNN's credibility as a whole. 
In fact, it may be the opposite. 
Licht took over as the new head of CNN earlier this year following the merger between Discovery and parent company WarnerMedia. While his new edict applies to correspondents and anchors, it's unclear if Cooper's usual New Year's Eve co-host Andy Cohen will also need to abide by this same rule. 
Days after the Andys hosted their latest NYE broadcast, Cohen appeared on the Howard Stern Show, where he was unapologetic about his behavior on-air, despite admittedly being "a bit overserved." 
"I won't be shamed for it, I had a blast, Anderson has a blast. We left and we were like 'That was fun, what a fun New Year's Eve,'" he said. "No apologies for my drinking on New Year's Eve, none."