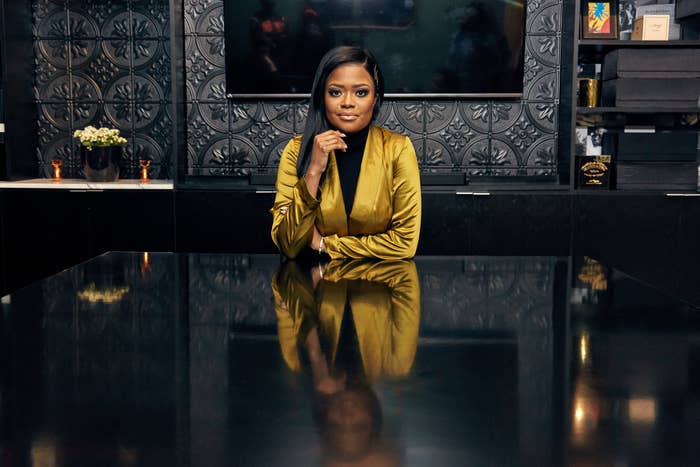 It's the last day of shooting for the new Complex entrepreneurship series Good Looking Out, and Karen Civil is introducing her final guest, Sweet Chick restaurant chain owner John Seymour. In just three days Civil's gone from hosting novice to filming an entire season, and the insane schedule will be over if she can just pronounce Seymour's title, "restaurateur." After running the teleprompter back for three takes, Civil solves the problem: She doesn't belabor over the term, she just puts the script in her own words and keeps the segment moving, which is exactly what she's here for. At the end of the day, Karen Civil gets paid to be herself.
A self-made marketing guru for the hip-hop generation, the Elizabeth, New Jersey native made a name for herself infusing swag into brands and raising visibility for artists. She was the person Hillary Clinton's team called in 2016 when the presidential candidate needed to refresh her dry campaign, and she's also the interlocutor who helped Lil Wayne stay in touch with fans while he was in prison. Civil is in demand because she's the kind of person who can travel between populations, helping them to communicate with each other.
"I'm just me," she explains. "I'm that cool girl who, as I like to say I have that Carson Daly effect, where if you watched TRL, he was able to do interviews with NSYNC, blend right in, and then he would do interviews with Cash Money and blend in there and you just naturally liked him."
The reference to the original TRL reveals just how long Civil has been in love with pop culture. She made her first fansite for the Backstreet Boys as an eighth-grader and it was so good, their record label gave her the chance to meet them. She later interned at Hot 97 and in 2008 launched her own hip-hop site, KarenCivil.com, which was one of the first outlets to cover artists like J. Cole and Nicki Minaj. Civil didn't finish college, but there wasn't a degree then for what she specialized in anyway. She instinctively built her own platform, creating such a presence that when Beats By Dre was developing its marketing department in 2010, they recruited her. Plain and simple, she figured out how to be an influencer before the term was even a thing.
Not to mention, when Lil Wayne was in prison pre-social media boom and needed a way to respond to all the fan letters he was receiving, his team knew exactly who could help. They reached out to Civil, who created the MTV Award-winning site weezythanxyou.com.
"I didn't have a resume, and I need people to understand that. I didn't have a resume when Lil Wayne hired me. I didn't have a resume when Beats by Dre flew me across the country to be their 12th employee. I still don't have a resume!" Civil says, with pride. "They understand the influence, and they understand the curation. They understand what I do. It may not be strategic-looking like other agencies or people who went to school for 10 years, but I know my shit."
Rap Radar host and Sony Music exec Brian "B.Dot" Miller met Civil around 2004, when he was a young journalist freelancing for magazines and she was working with the Diplomats. As someone who's witnessed her come-up, Miller says what sets Civil apart is her knack for positioning.
I didn't have a resume when Lil Wayne hired me. I didn't have a resume when Beats by Dre flew me across the country to be their 12th employee. I still don't have a resume!
"Karen knows how to put herself in the right place at the right time. A lot of people wanna be influencers from the convenience of their phone or their couch, a lotta people don't have the hustle to go out and be with like-minded people," he says. "There's been times when Karen's like, 'Hey, I'm with so-and-so,' and I'm like, 'Get outta here!' Like when she started working with Hillary Clinton, I was like, 'Get the fuck outta here, Karen.' Then I saw a picture and I'm like, 'Oh, wow, okay you really are.' I think the difference is she really knows how to put herself in position to take advantage of the situation."
Though it was pop culture that gave Civil a foot in the door—and in recent years she's contributed to the careers of YG, Nipsey Hussle, and Dave East—she doesn't want to risk stagnation by being confined to it. Always thinking two steps ahead, the burgeoning mogul is now taking cues from one of her favorite icons, Swizz Beatz.
"He has expanded people of color in luxury brand spaces, sometimes you wouldn't think we belong," she says. "He did a Chanel iPhone, he's working with these car companies, he does watches, he's into art... It's like he's opening up our minds to where we belong, and I love that!"
Take a look at Civil's Instagram, and you'll see creative partnerships with Louis Vuitton, Mini Cooper, Google, Tiffany & Co., and more. As her platform expands, Civil realizes that it was being an outsider at one point in her life that has made her an insider now. She recalls eating alone in high school because she didn't fit with any particular group in the cafeteria.
"Now, metaphorically I sit at any table that I want. I can sit with the jocks, I can sit with the gang members, I can sit with the politicians, I can sit with the CEOs. My brand can fit anywhere," Civil triumphantly says.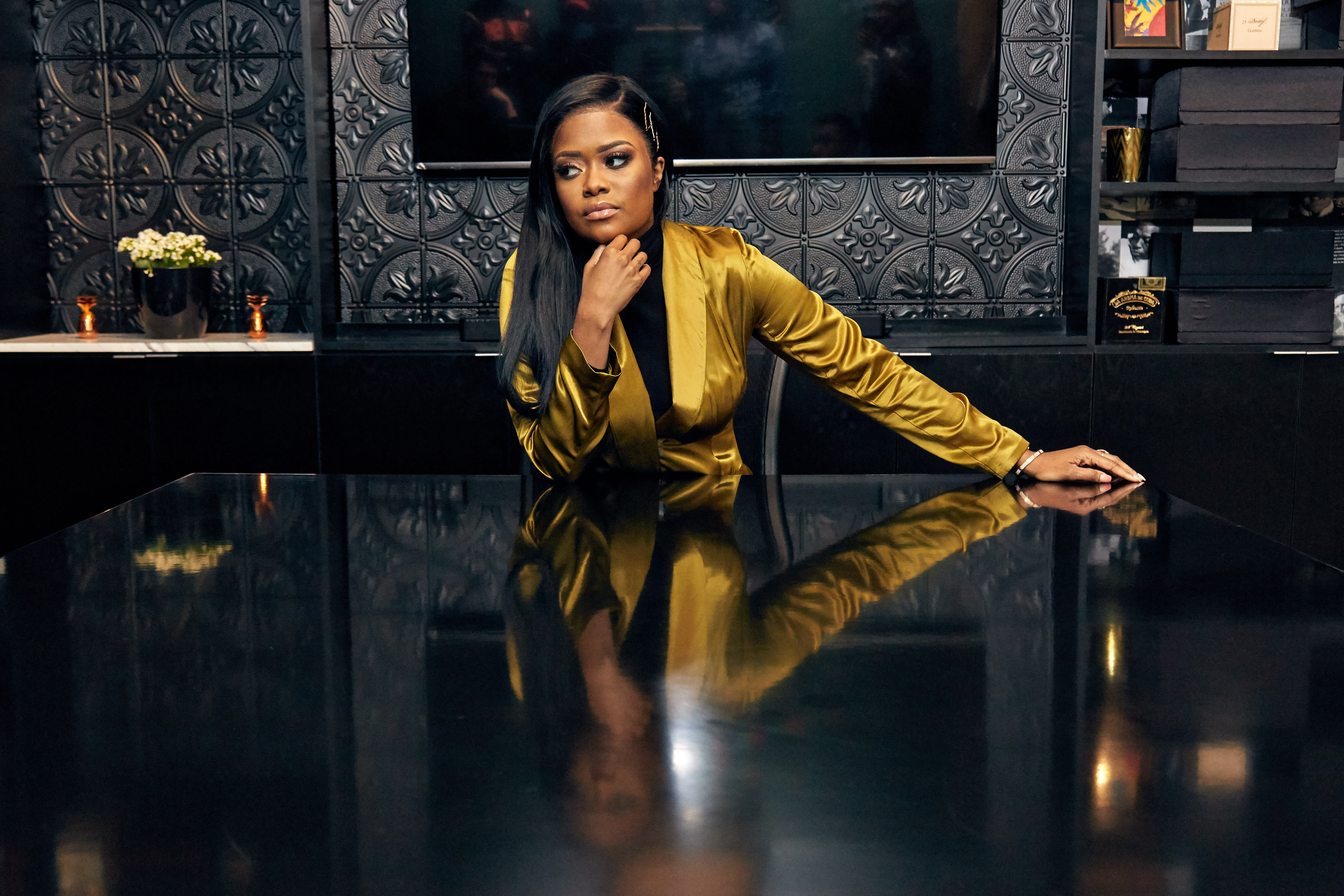 It goes without saying that she gets hit up all the time by people trying to follow in her footsteps, and Civil is not stingy with her knowledge. Her 2015 self-help book, Be You & Live Civil, will be followed by another later this year. In the meantime, she's partnering with Complex to host Good Looking Out, which aims to become the go-to resource for young and hungry entrepreneurs. Airing on YouTube every Wednesday starting May 9th, the series teams Civil with experts at the top of their fields, from Kevin Liles to Gary "Vee" Vaynerchuk, as they dole out the real steps to success. Because Civil is so passionate about wanting to inspire others, she doesn't mind looking out. Besides, she can give you the playbook, but Karen Civil is the secret sauce, and she's already on to the next.
"I don't have to be in a space where people think, okay, you only do hip-hop," she says. "No, I'm in the nutrition space, Amazon is backing it. I'm doing this wonderful show on entrepreneurship with Complex. I'm doing activations with companies you would never think of. Not to say this in a braggadocious way, but I'm not putting myself in a box. The only thing that goes in a box is Chinese food and your sneakers—not me."