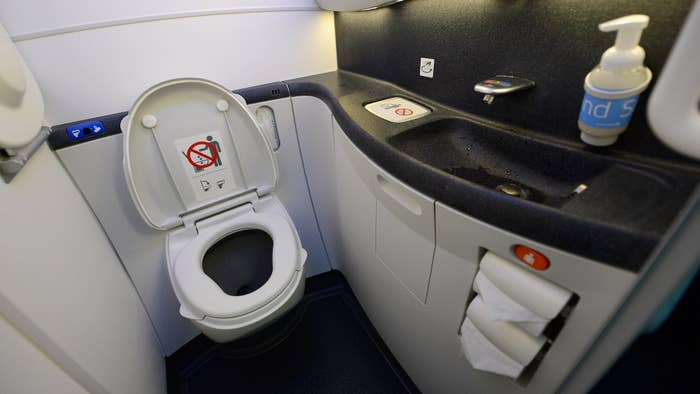 A Michigan school teacher made the responsible decision to quarantine herself in her airplane's bathroom when she tested positive for COVID-19 mid-flight.
Marisa Fotieo spent five hours in that bathroom after taking the rapid test when her throat started feeling sore, according to Today. There were about 150 people on her flight, traveling from Chicago to Reykjavik, Iceland on Dec. 20.
"I just took my rapid test and I brought it into the bathroom, and within what felt like two seconds there were two lines," Fotieo told the outlet, meaning it was positive. "My biggest fear was giving it to [the passengers]."
She filmed her mid-flight quarantine and shared it on TikTok. "Shout out to @Icelandair for my VIP quarantine quarters," she captioned the video.
Flight attendant Ragnhildur "Rocky" Eiríksdóttir "constantly checked" on Fotieo throughout the ride, supplying her with food and drinks. Before departing, the pair followed each other on Instagram, and then Fotieo subsequently isolated herself in a hotel in Iceland.
Fotieo was sadly going to spend Christmas alone, so Eiríksdóttir sent over some flowers, a tiny Christmas tree, and some gifts to open on Christmas morning.  "It was so heartfelt, and she's just an angel," Fotieo told Today of Eiríksdóttir.