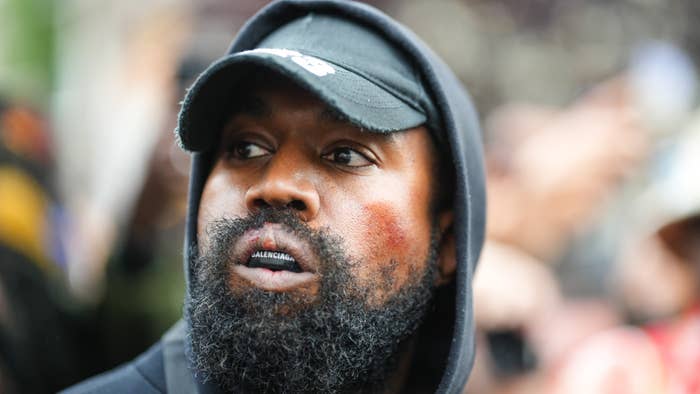 On Oct. 25, Adidas officially announced that it had terminated its deal with Ye. The decision came after a continuous avalanche of controversies surrounding the artist formerly known as Kanye West that began with the debut of a "White Lives Matter" T-shirt during his Yeezy Season 9 show at Paris Fashion Week, and continued with a string of public antisemitic remarks.
"Adidas does not tolerate antisemitism and any other sort of hate speech. Ye's recent comments and actions have been unacceptable, hateful, and dangerous, and they violate the company's values of diversity and inclusion, mutual respect, and fairness," read the official statement released by Adidas.
Further along in the four-paragraph statement, Adidas asserted that while it will cease production of all Yeezy-related products, it remains the "sole owner of all design rights to existing products as well as previous and new colorways under the partnership." Despite maintaining ownership of the designs, Ye still owns the Yeezy trademark, which means Adidas could continue to reproduce his designs, but they wouldn't be able to use the Yeezy branding. While it doesn't seem likely that Adidas will do that any time soon, it does pose the question: Will Adidas continue to produce Yeezy or Yeezy-inspired designs?
"I think what we could see is Adidas keeping those designs in its archive and bringing them out in the future," says Susan Scafidi of Fordham's Fashion Law Institute. "I do think, and this is why it was important for them to claim ownership of those designs, that we will see Adidas designs based on the look and feel of Ye."
Adidas is just one of the many companies severing their ties with Ye following his ongoing antisemetic remarks. Balenciaga, who Ye has supported openly, calling its creative director Demna his "straight husband," and Gap—who just five months ago placed Yeezy Gap Engineered by Balenciaga pop-ups in cities like New York and LA—also stopped working with Ye and discontinued sales of his products. Despite this, Scafidi believes that, from a business perspective, there is still an opportunity for Ye to find success in the fashion world independently. 
"Ye has just graduated from fashion higher education. That is to say, he's just graduated from Gap and Adidas. If he and his team have been smart along the way, and I suspect they have, he's been able to observe up close exactly how all of this is done," says Scafidi. "Is it easy to set up your own supply chains, to find the factories, to figure out the shipping and channels of distribution, to create brick and mortar stores, to create all of that infrastructure? No, it's not easy. But we're talking about Yeezy. If anyone can do it, it would be Ye."
Big corporations like Adidas and Gap will go on without Ye, despite the massive cultural impact that his collaborative relationship had. It's likely that Ye will continue his fashion endeavors independently, something he has long said he strived to do in the first place. Given that Adidas owns the designs and Ye owns the trademark, how will each entity move forward? To make sense of the situation, we spoke with Scafidi, who detailed what Ye can and can't do with his designs, the precedent this situation has on future brand partnerships, and more. Read our full conversation below. 
This interview has been lightly edited and condensed for clarity.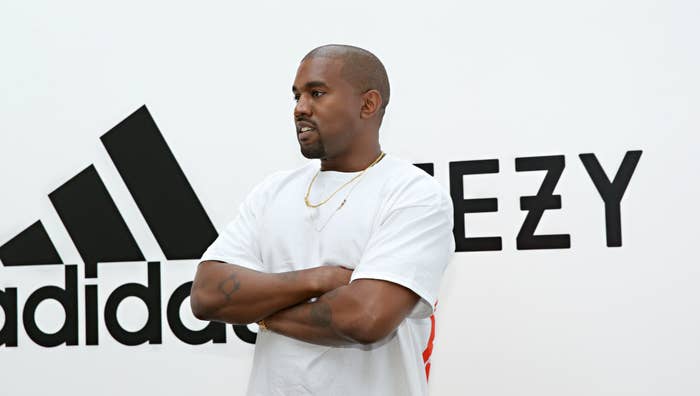 What were your initial thoughts when you saw the contract termination news?

I thought that Adidas, in order to protect the reputation of the company at large, really had to act in this case. Not only because of the things that Ye had said publicly but also because of his actions with Adidas execs and allegedly showing porn videos, that sort of thing. No one action would have necessarily led to these consequences, but between what we could have shrugged off as performance art or commentary, the White Lives Matter T-shirts, and then the very pointed antisemitic remarks and the porn, and the taunting of Adidas claiming that the company really had no choice but to continue to work with him, it all added up to an avalanche of a need to cut ties.
Based on what we know, from a business perspective, what were your thoughts on the deal that he was in with Adidas? Is that normal for those types of deals? Was there anything that struck you as particularly interesting from what's come out about that?

I think the Gap deal was more unusual than the Adidas deal because the Gap deal had the potential for him to invest substantially in Gap if they hit certain numbers and to become a shareholder of several percentage points. I think Adidas was a more, from what we know, straightforward deal. What's unusual about the Adidas deal is its runaway success.
You have an established global brand relying so much on one figure who is not their employee. He's not their creative director. He's not internal to the company. And yet he became, for many people, very much the face of Adidas. So, it's not what's in the contract, it's the way that the collab played out in such a dramatic and impactful way, impactful financially for both Ye and Adidas, and impactful in terms of the design significance and the way that the shoes in particular changed the eye with what we think of as modern streetwear. It was really one for the ages.
In the statement that Adidas put out saying that they were stopping their working relationship with him, it mentions how Adidas owns these designs, but Ye still owns the trademark to them. Is that usually how these types of deals go?

That point is a big deal to Adidas because in a relatively short statement, four paragraphs long, a paragraph is devoted to, "By the way, we still own the designs." So, that to me was a tell in terms of how important this newly created look is to Adidas. But coming back to the question, is this normal?
The short answer is, yes. It is almost universal that each party to a collab will make clear that they own their trademarks going in and they will own their trademarks on the back end as well going out. Retained ownership of trademarks is pretty standard. The question of who owns the designs can be a negotiated point, but it is more common for the larger entity to claim ownership of the designs. Now, that doesn't mean that a smaller designer couldn't go in and request ownership of their design or even to bifurcate that ownership and assign one party ownership of the designs created during the collab and the other party to keep any derivatives of those designs that might come. There's no evidence of this, but it would've been possible for Adidas to own the designs from this collab, but anything else based on the designs, the same style in a new colorway, a jacket to match the shoes, something like that, to be retained by Ye.
So, it just depends on how much the parties engaged in negotiations think this through upfront. When you have a smaller entity coming to a larger one, it's often a designer with a look or a vision coming to a larger, more corporate brand. And so when the designer leaves, they want to leave with their vision, right? They want to leave with their brand intact. So, anything that follows on from that initial collab, any derivative designs is something that a designer might want to think about keeping.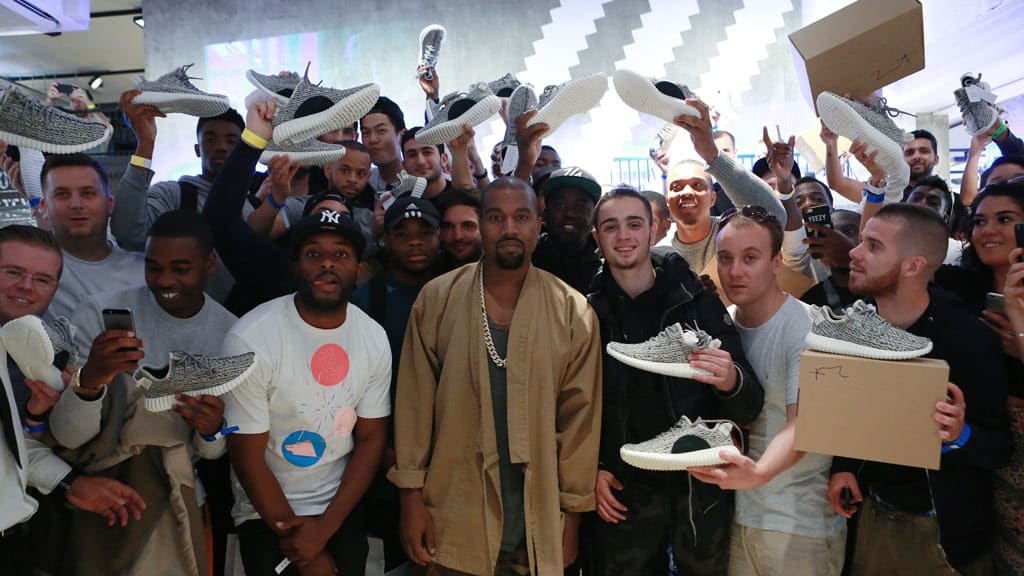 Given what Adidas said in the statement, people are speculating if it will ultimately sell non-Yeezy Yeezys at some point. Given the way the deal ended, is it sensible for Adidas to do something like that? Do you think it's possible for them to navigate that situation or will these designs never be released again?

I think Adidas would not be wise to immediately bring out non-Yeezy Yeezys, lookalike designs without the Yeezy logo on there. I think it wouldn't be perceived as authentic by the sneaker community to do that. I think what we could see is Adidas keeping those designs in its archive and bringing them out in the future. I do think, and this is why it was important for them to claim ownership of those designs, that we will see Adidas designs based on the look and feel of Ye.
When it comes to what Ye produces moving forward, can his future designs be derivative of what exists currently? Will he have to start completely from scratch? Will he face legal ramifications if he doesn't? What type of challenges are involved in that?

He's going to have to be super careful given that Adidas has already sent the warning that they're claiming ownership of those designs. He's going to have to be very careful to make sure that new designs under the Yeezy brand are sufficiently different from the old ones that were part of the Adidas collab, so that Adidas doesn't feel like it has grounds on which to sue. So, I feel that the Adidas statement was a claim of the designs and a warning to Ye not to come too close, not to think that he can produce those designs without Adidas. They want to make sure that they push him as far away as possible from the aesthetic that they believe they own.
So, Adidas owns these designs, but as you said before, Ye introduced this aesthetic to the brand. What is the benefit of these types of deals to the individual creator when it seems like a big piece of the creative output is being taken and owned by the bigger brand?

It's the know-how. It's the distribution channels. It's the advertising. It's all of the infrastructure. So, the designer brings the creative spark, but the established corporation brings everything else. It's the spark plug and the engine.
Is it possible for someone like Ye or any independent designer that finds themselves out of a deal like this, given the volume and the scale that these things need to be produced, to do something like this independently?

Well, Ye has just graduated from fashion higher education. That is to say, he's just graduated from Gap and Adidas. If he and his team have been smart along the way, and I suspect they have, he's been able to observe up close exactly how all of this is done. Is it easy to set up your own supply chains, to find the factories, to figure out the shipping and channels of distribution, to create brick and mortar stores, to create all of that infrastructure? No, it's not easy. But we're talking about Yeezy. If anyone can do it, it would be Ye.
Just to clarify this, is there any way for Ye to regain the ownership to these designs from Adidas? Is there any sort of legal way that that's possible?

That would be a contract question. If we were in France, for example, then the assumption would be that the creator owns the designs. But under US law, it would really have to go deep in the contract and see what it says. I suspect that that's part of why Adidas put the relationship under review. Adidas was reviewing the contracts and seeing what it could and could not keep. And remember, the Adidas team that worked with Ye didn't vaporize when the relationship ended. There are still people at Adidas who worked on those designs. And so they've really absorbed that aesthetic. I would not be surprised if that team is kept intact to create something with a streetwear vibe that is more organic to Adidas or works with other individuals in a collaborative way. 
Is there a chance he is still getting royalties from his Adidas or Gap deals?

That's a contract matter, but my guess is that they would still owe him royalties for any existing property he was to sell through. I could be mistaken here, but I believe that Gap originally planned to sell through the remaining product, and then after yet another round of comments came out it was going to just pull all Yeezy Gap products. But in a typical situation, anything that's already been produced or is in the pipeline and is sold under the Yeezy name should result in royalties going to Ye.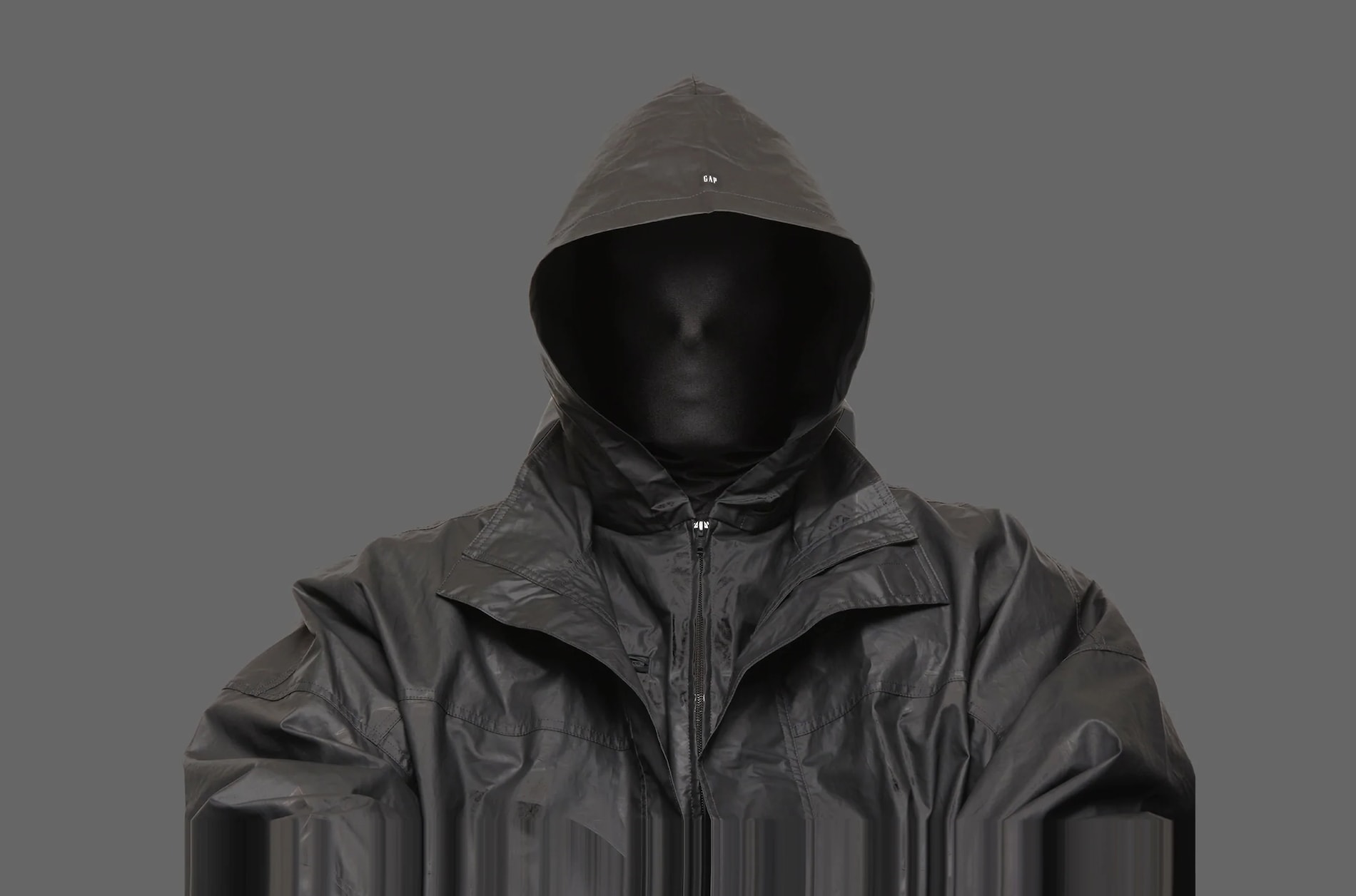 Regarding the Gap deal, he posted on social media about his non-compete. A hoodie is much more simplistic than a unique sneaker design. Is there anything stopping him from making these hoodies that he was making with the Gap in the same sort of color palette?

I suspect the noncompete is more about working in the realm of clothing and footwear generally. So, in the case of Gap, that's clothing with either the Yeezy name, his personal name, Ye, or Kanye, or Donda, or Pablo, or any of the names associated with him working in that class of goods and less about the specific designs. That would be most typical.
You mentioned that the Gap deal was particularly intriguing to you. What about that deal is interesting to you?

Well, when it was first announced, it was really about Ye taking a brand that had been an American standard back in the '80s and '90s that had gone quiet and infusing the existing brand with his own DNA. It was extraordinary because he was going to infuse Gap with the essence of Yeezy and, if things went well, there was every reason to believe that he was going to be able to own 2 or 3 percent of Gap. And that's enormous. He also said he wanted a seat on the board. Now, it didn't seem like that was forthcoming, but he wanted to be in the room where it happens. He was setting himself up to be exactly that kind of fashion mogul, to influence what everyday folks in America wear every day as opposed to just owning high fashion or owning designer elite fashion. He really wanted to be the next standard. That was what was so interesting. It was the stock deal. It was the idea that he was going to not own all of Gap, but functionally be the head controlling the body.
Ye brought this cool factor and cultural relevance back to Gap. Now that he's out of the equation, what do you think we'll see happen with a company like Gap which is still struggling financially, but was being propped up a bit by this project?

Yeah, this project brought a new kind of excitement to Gap that had eluded Gap for a long time. Gap has tried with very well respected designers and strategies to bring itself back to that kind of excitement and relevance and has not succeeded. So, I can't predict what will be next for Gap. I hope that they are looking for a less volatile collab that will take all of their existing infrastructure and make it exciting again. But I don't know what that's going to be and I doubt that they know what that's going to be yet. 
Strictly looking at the business side of it, do you think that the fallout of Ye's deals with Gap and Adidas will impact contracts between creators and brands in the future? Do you think that these designers will fight harder to retain ownership of their work when signing these types of deals? Is that even possible when you're going up with a major brand?

I think there will be an impact on both sides. Brands already put moral clauses in their contracts when they do collabs with designers. They can be kind of broad, but they indicate that if the designer does anything that reflects poorly on the brand, then the brand can terminate the partnership. I think that as much as those might have been simple boilerplate in the past, after watching what has happened with Ye and Gap and Adidas, I think brands will at the very least reread what their standard language is and make sure it empowers them to act if something goes south. Now, we already saw brands taking a second look at those clauses almost a decade ago after John Galliano had his allegedly drug and alcohol fueled antisemetic meltdown. There's already some awareness. Covid also made everyone go back and look at their force majeure clauses and see what would happen if they had to excuse them from performance in the case of some kind of war or global pandemic. Now, everyone will go back and look at their morals clauses and say, "Hey, if we're doing a collab, how do we get out of it?" 
From the designer perspective, what I see, and what I hope, is that designers who want to engage in collabs with big brands will think about who owns the designs. Because that's something that designers, when they're excited and rushing into a deal, might not think about. They'll think about keeping their names. There's more awareness of that now than there was in the past. They don't want to walk away without their names, but they might also think about wanting to walk away with at least some right to their designs. So, that might be a broader lesson for emerging designers who are watching all of this go down.
Let's say Adidas eventually decides to start selling some of this product that was created during its time with Ye. The product is obviously connected to him. I'm sure that people, no matter what, will still relate it to Ye. Does that pose any issues legally? Can Ye or Ye's team see that and be like, "We're not in a contract, but you're still using me to sell this?"

Yes, but it would be a big lift for the team to make that claim. The way, in theory, it could happen is that Ye could look at those designs and make a trade dress claim. A trade dress claim is for something like the Hermes Birkin or Converse Chuck Taylor. The shape of a product is so iconic that even without any other labels or logos, the consumer can recognize it. So, it's possible that Ye's team could try to make a trade dress claim and say, "Look, whatever Adidas is claiming about the, the contractual basis of the ownership of the designs, those designs are so associated with Yeezy and with Ye that even without a Yeezy label, they scream Yeezy to the consumer."
So, that trademark argument could allow a claim that Yeezy owned the designs. That's part of what Adidas is trying to ward off. Now again, it would be heavy lifting if there is contractual language saying that Adidas owns the designs and it's heavy lifting anyway, to make a trade dress claim because you really have to be able to show that it's not just that you have a cool design, but you have truly an iconic design that has "secondary meaning" in the minds of the consumer. That is to say the consumer recognizes it as the equivalent of a label. So, it's possible, but I don't think it is likely.