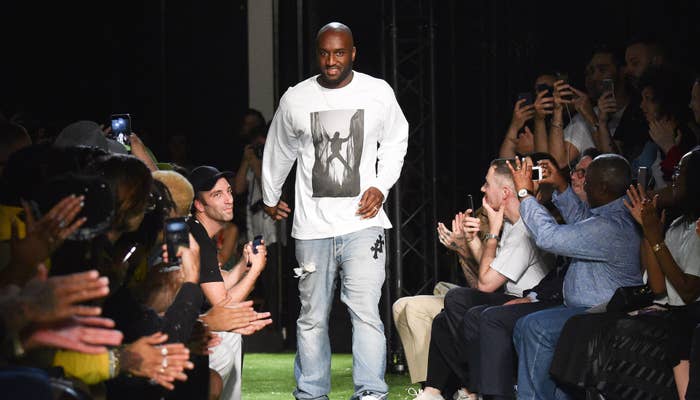 When Virgil Abloh presented his Fall/Winter 2019 collection for Louis Vuitton, he designed a runway set inspired by the streets of New York City's Lower East Side. Fully built out with walk-up apartments and storefronts, Abloh added a touch of authenticity by inviting several graffiti writers to paint the venue. He flew in lauded graffiti pioneer Futura, who spray painted a metal store gate live as models walked the runway. Alife's founder Rob Cristofaro briefly returned to his roots as the Bronx graffiti writer "Jest," leaving cutty tags on garbage cans and stoops that guests like Takashi Murakami sat on. Of course, cryptic scrawls from Abloh's longtime graffiti confidant Jim Joe were also on set and spray painted on the roof of the show's venue. There were even throw-ups courtesy of Lewy BTM, a prolific graffiti bomber who was one of the only vandals to ever paint their name on the side of the Brooklyn Bridge. 
This grand exhibition of graffiti that crossed generations occurred just steps from the Louvre. Now, that show has aged to become one of Abloh's most powerful testaments for his love of graffiti. But it was just one of many great moments where Abloh co-signed the underground throughout his illustrious career. When Virgil Abloh tragically passed away at the age of 41 this weekend from cardiac angiosarcoma, the world did not just lose one of the most talented contemporary menswear designers of this generation. What they also lost was a tasteful curator who followed in the footsteps of gallerists that celebrated graffiti in the early years such as Patti Astor and Yaki Kornblit. Abloh was a creative who used his high position to not only give a larger platform to diversity but to also spotlight artists and niche subcultures that have traditionally thrived on the margins of society. 
"I'm just reflecting my teenage self in an adult body. But, hip-hop is important to that. The elements of hip hop, graffiti, are important. That's how we expressed, visually, this culture," Abloh told Complex in an interview when discussing his collaboration with the Chicago-born artist Reggieknow last year. "But too often, streetwear is just focused on the clothing. But there's so many stories that can be told. Whether it's Futura, or with Reg, it was always my intention that more kids today need to know the seminal figures who they might've missed because a lot of them are low key."
Abloh was never shy to embrace the underground subcultures that inspired him. In many interviews, he has proudly reminisced on how his adolescent interests in skateboarding, graffiti, and '90s hip-hop influenced his work as a designer. He wore those badges with pride and never lost sight of preserving boyhood throughout his collections at Louis Vuitton. "'Forever 17' easily could be the title of my next Louis Vuitton show" he shared in an Instagram post this May with sketches of "Louis" drawn in a graffiti style. And during these last two years, while Abloh battled a major health crisis, he never stopped opening doors for talented artists and outcasts who lived on the periphery. 
He made Lucien Clarke the first skateboarder to ever be sponsored by Louis Vuitton. He tapped the graffiti writer Earsnot and skateboarder Beatrice Domond to design a trunk for Louis Vuitton's 200th anniversary. He commissioned Jim Joe to design LV suits and Keepalls for his last collection. He gave MF Doom his flowers by asking Yasiin Bey (Mos Def) to perform a verse commemorating "Microphone Mayonnaise" during his Fall/Winter 2021 show. He even reached out to Reggieknow, a Black creative who helped build a hip-hop scene in Chicago in the '90s, to bring the spirit of his Dem Dare flyers to Paris by creating unique characters for his Spring/Summer 2021 collection. Whether it was dedicating an Off-White runway show to the New York City graffiti legend Dondi White or putting the spotlight on Futura's iconic "Pointman" characters on the runway of Paris Fashion Week, Abloh never stopped celebrating these artists and subcultures that made him the hyper creative genius he lived to be.
"That's what happens when you diversify fashion," Abloh told Complex last year. "All of a sudden, things look different and they have different stories. And I'm more proud of the Black creativity that exists in these subcultures, which make brands relevant, and we're now in a position to create."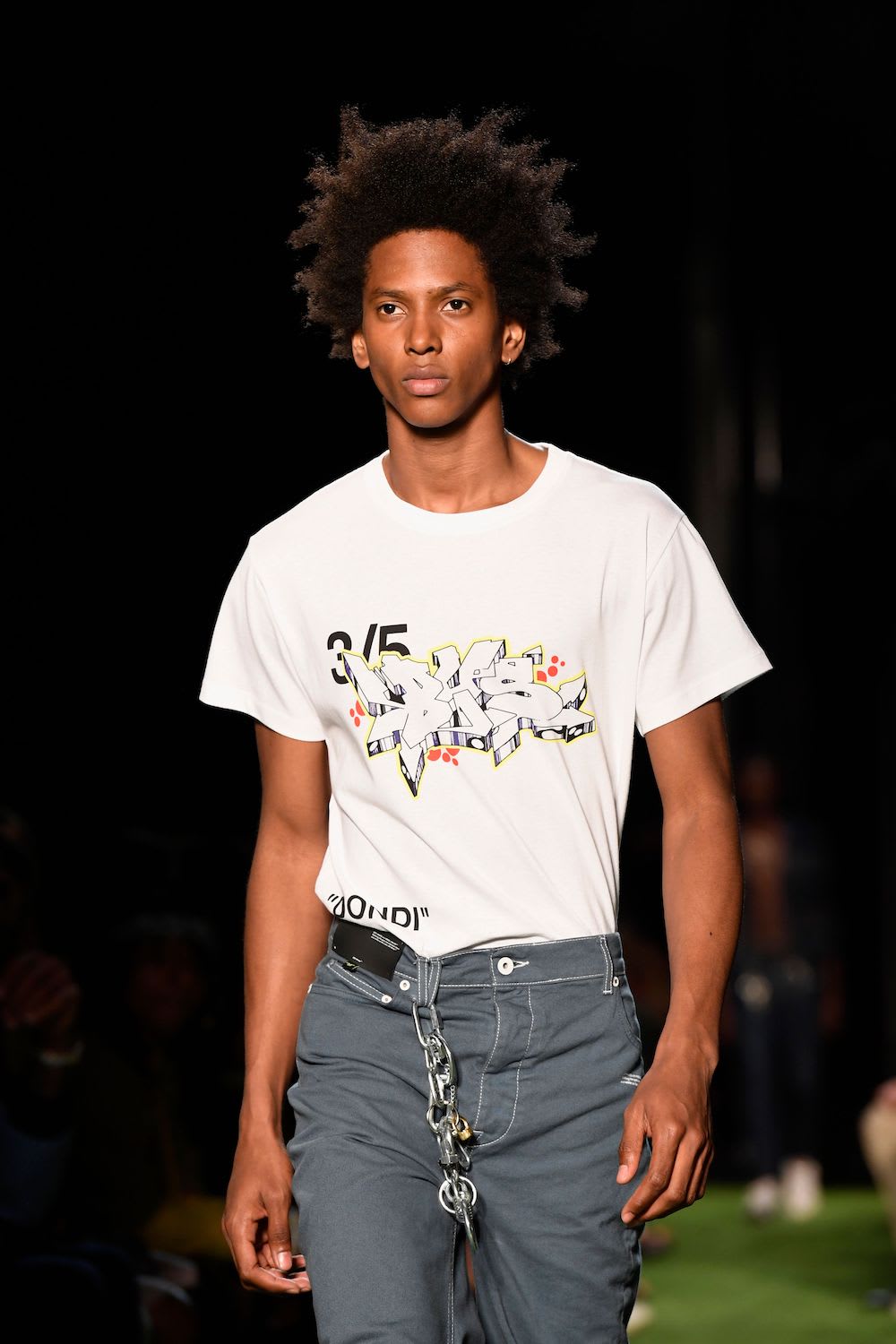 Abloh's eye for impactful collaboration never came off as disingenuous. Today, many designers and brands chase trends or rush to collaborate with artists who suddenly became the flavor of the month. At this point, it's not subversive to collaborate with an artist like Kaws, whose work has been as overly merchandised as any Disney character at this point. But it's safe to jump on artists like that. Abloh on the other hand, was about taking risks on creatives whose works were either overlooked or forgotten. He always followed his heart and that's why his co-signs seemed like they came out of left field. But that was the beauty of it. It encouraged his voracious fanbase to widen their perspectives and to seek out more than what the industry has fed them. From simply wearing a hat covered with IRAK, the graffiti crew, at a high-profile fashion event, to inviting Italian subway graffiti vandals like Zoow24 to tag a Nike x Off-White Dunk billboard, Abloh likely introduced thousands of his followers to underground artists who they may have never been exposed to otherwise.
Naturally, Abloh's passion to highlight niche subcultures like graffiti and skateboarding was never fully embraced by the communities that represented them. Go on any social media post surrounding Abloh's involvement with those two worlds and you'll likely see several comments lamenting how the designer was a "culture vulture." It's a label that has followed Abloh throughout his entire career and one that has also been slapped on to streetwear brands such as Supreme for taking a similar approach. But it was clear that Abloh had a reverence for these subcultures long before he became a high-profile designer. In an old video filmed a year before he was discovered by Don C and Kanye West, Abloh gives a tour of Chicago's Bucktown neighborhood, highlighting the famous skateboard shop Uprise and picking up T-Kid's autobiography at a bookstore to wax poetic about his love for late '70s and early '80s graffiti. Virgil may have constantly pulled inspirations that veered on the lines of copying or appropriation of these subcultures to some. But his love for it was anything but fake. 
And unlike others who have tapped in, Abloh didn't stop at just paying homage or sneaking in a subtle reference. He went above and beyond to highlight the creatives and artists who influenced him. There was 'Coming of Age' in 2019, a gallery exhibition that he organized which was presented in six different countries and highlighted some of his favorite artists at the time—the show included the likes of Toy Machine's Ed Templeton and rising visual artists such as Julian Klinecewicz. Instead of just releasing a collaborative collection with the underground graffiti artist Katsu this year, Abloh put together a runway show for the collaboration in Shanghai, developed an iPhone video game with him, and even exhibited his sculptures in an Off-White store in Paris. Musicians such as the British drum and bass pioneer Goldie, weren't just a part of the soundtrack of his final runway show. Abloh also spotlighted his pioneering record label Metalheadz in his show notes, stamped the label's logo on a Louis Vuitton record trunk, and dressed the artist in a look for the show. Abloh clearly wasn't into these collaborations just for a fleeting moment of street cred or profit. He believed in the people he worked with and fully supported them. 
And that's why his loss is such a tragic one for streetwear and the subcultures that have built its foundation. At the end of the day, there is no other designer who has ever climbed to the top of the ladder and waved a flag for these movements like Abloh did. A first-generation Ghanian immigrant from Rockford, Illinois, who says he learned how to draw by tracing out the graffiti of Dondi White and who got into fashion through skateboard brands like Alien Workshop, Abloh treated graffiti bombers (who some consider criminals) with the dignity that the mainstream world has refused to give them. Down to his last show in Miami, Earsnot was sitting in the front row and skateboarder Stevie Williams walked the runway. Abloh destroyed the fictional barriers that have always existed between high class and low class cultures. And hopefully, it'll stay that way long after his passing.