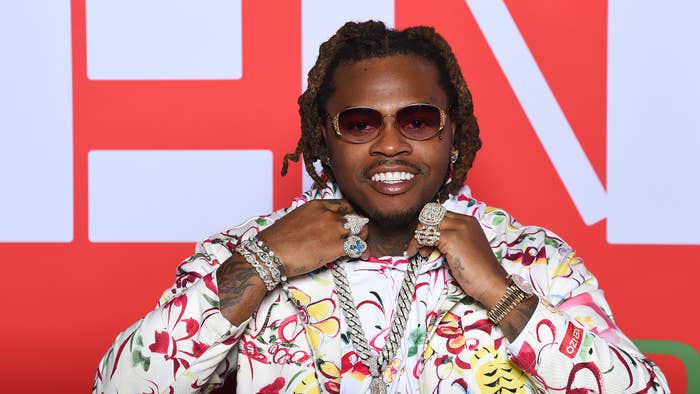 In case anyone still isn't aware of what "🅿️" is, Gunna is making sure to push the iconography by marking it across different parts of his body.
The latest P-related accessory the YSL rapper has acquired is a teal-colored diamond that's been put on one of his teeth. The unique stone was provided by Angel City Jewelers' Isaac Bokhoor and installed by Thomas Connelly, a popular luxury veneer and grill specialist.
Additional close-up shots of the piece show it glistening on Gunna's upper right canine tooth. Rolling Stone reports that the procedure cost roughly $100,000.
The process of getting the P-shaped diamond into the DS4 rapper's mouth actually involved Connelly installing it onto a porcelain tooth first, then putting it in Gunna's mouth alongside a set of veneers.
Last month, Gunna also showed off his new "P" emoji tatt that he got on his arm paying homage to the viral trend.
As a quick crash course for the uninitiated, Gunna explained to Complex that "P" is malleable and can have several different meanings.
"P don't just mean player. P means paper, too. You can be pushing this P with paper," he said. "If you're in this shit and it's rented, then you're kicking P. But if you buy this shit and you own it, then you're really pushing P. You're spending your hard-earned money. Like, you're pushing it. You're standing on this shit. You're spending millions on it. You're pushing it."