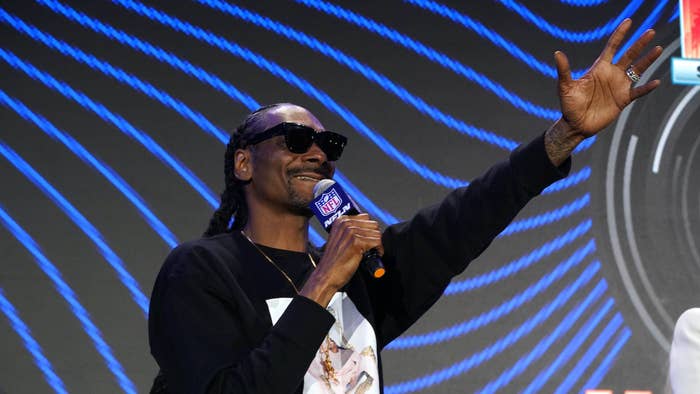 Snoop Dogg has had a big week.
The Long Beach rapper is celebrating the momentous occasion with a new chain, featuring a pendant from the cover of his newest album, B.O.D.R. (Bacc on Death Row), which released on Friday. He's set to wear the new piece during his Pepsi Super Bowl LVI Halftime Show, with the chain and pendant containing over 250 grams of gold and over 13 carats of natural VS diamonds, per the jeweler.
Uncle Snoop's pendant is from the B.O.D.R. cover—a rendering of the animated dog version of himself sitting in a chair and rolling a blunt. Surrounding the pendant are the words Death Row Records encrusted in diamonds, a nod to him now owning the famous label and B.O.D.R. being Death Row's first release under his ownership.
Snoop also teased what he could be wearing during his Super Bowl performance, sharing a clip of him in a zip-up jacket that has a photo of his face on the front.
Last month, Snoop also gifted Eli Manning his own Death Row chain. "Eli, I would like to present to you this Death Row chain for being so Hip Hop and being so Hip," Snoop said during the MNF on ESPN: Peyton & Eli show on Jan. 3. "That's yours, baby. When I see you, you got that. I'm going to put that around your neck. Happy 41st birthday Eli."
"Thank you," Eli responded. "I will look good in that."