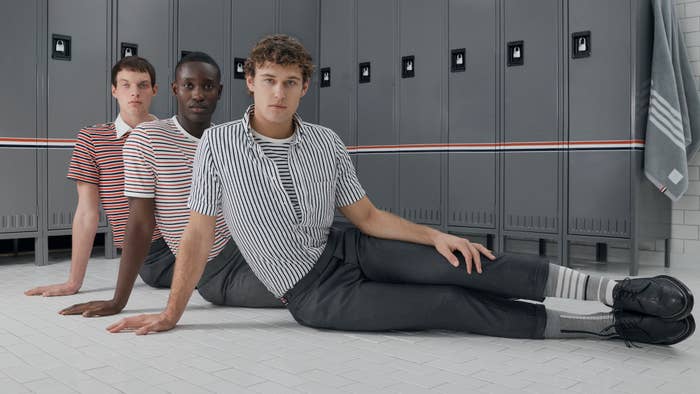 Nordstrom continues its New Concepts initiative with an exclusive collaboration with Thom Browne.
The Seattle-based retailer launched the 30-piece capsule on Thursday, offering a range of ready-to-wear accessories, and lifestyle products that explore "the athletic aesthetics inherent to Thom Browne." The collection presents everything from wool sports coats, and cotton sweatpants to tweed baseball caps and striped polo shirts to a wool/leather bomber jacket and a gym towel. 
"I have to say, I feel like collaborations are getting a little overdone, and the only times I ever even entertain the idea of collaboration is if it's something that's really interesting to me—and I think, in turn, interesting to the customer," Browne said in a statement. "So, for me, it stands out in that it really is not a traditional collaboration; it's a collaboration at a level that is a lot more intellectual and not purely commercial. The approach to this collaboration is done well and intelligently. It really elevates the collections within Nordstrom stores."
You can check out the Concepts 009: Thom Browne campaign images, shot by Luis Alberto Rodriguez, below. The capsule is available now through May 3 at Nordstrom's website, as well as the Nordstrom Men's Store NYC, Nordstrom Downtown Seattle, Nordstrom at The Grove in Los Angeles, Nordstrom Aventura Mall in Miami, Nordstrom South Coast Plaza in Costa Mesa, Calif., Nordstrom Michigan Avenue in Chicago, Nordstrom NorthPark Center in Dallas, and Nordstrom Pacific Centre in Vancouver, B.C.