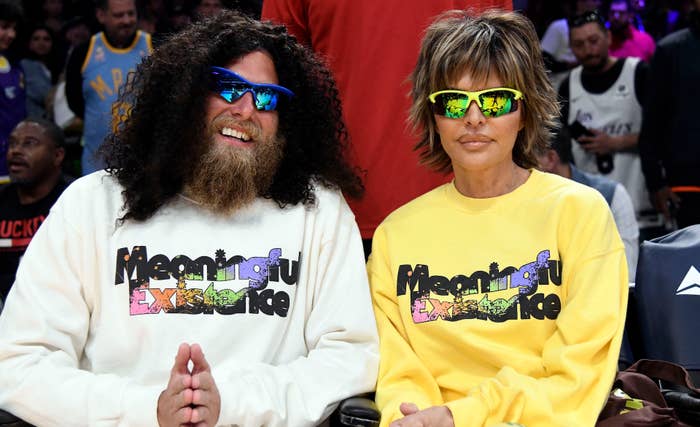 Jonah Hill has formed a new brand called Meaningful Existence, which insists that it seeks to "spread joy throughout the universe by monetizing happiness" and is "definitely not a cult." 
The 39-year-old actor/director teased the launch alongside Real Housewives star Lisa Rinna at a recent Lakers game. The two appeared courtside at L.A.'s April 7 game against the Suns wearing matching sweats adorned with the company's logo. Hill, in a Weird Al–adjacent wig, embodied the alter ego at the center of Meaningful Existence: Prophet Ezekiel Profit, a "renowned spiritual guru, master of finance, and world-class conch blower." (Seems like a decent place to mention Jonah is set to play hippie legend Jerry Garcia in a Grateful Dead biopic from Martin Scorsese.)
Spend any time on the official Instagram account or website and the deeply satirical nature of the endeavor is abundantly clear. Consider its About Us page:
"Meaningful Existence is the lifestyle and wellness COMMUNITY founded, run, and ruled by Prophet Ezekiel Profit. Based on the teachings of Profit, WE HAVE one simple goal: to spread joy throughout the universe by Monetizing Happiness. Here at Meaningful Existence, we believe that no one is born into happiness. You have to work and earn money, and then buy it. In a complicated world full of stress and doubt, we're here to show you how much simpler things can really be when you allow us to take Complete Unrelenting Control.
Get a look at some of the trippy IG posts:
Right now the only item on the site is the preorderable "Rebirth T" for $40, bearing the brand's name on the front and the motto "Complete Unrelenting Control" on the back. It's said to be "based on the cloth that Prophet Ezekiel Profit was swaddled in at birth to mimic the soft, safe feeling he felt as a young baby" and—great news—"Profit is hand blessing each piece for optimum joy." Can't put a price on that. Or can you, when every item "is priced at the amount of happiness you deserve"?
Get involved with the Meaningful Existence mission here, and see some Rebirth T product shots below.