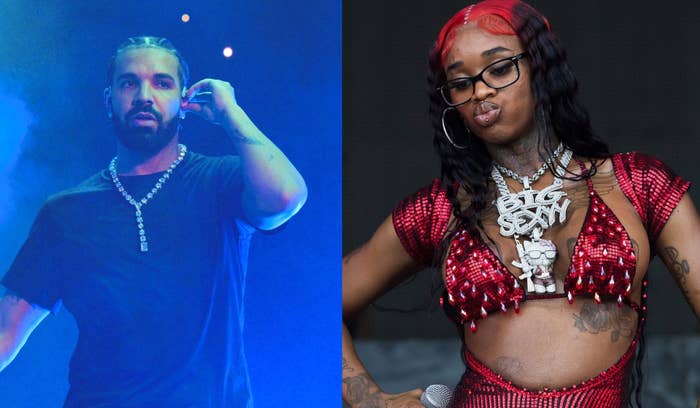 After cozying up to Drake at the OVO head's It's All a Blur Tour stop in Brooklyn in July and going on to perform at subsequent shows, Sexyy Red has received a Cartier watch from Drizzy.
The rising rapper took to Instagram on Sunday to unveil the diamond-encrusted piece.
"Ice me out Drake, turn me up Drake!" she said in a video. "Stop fucking playing wit me man. You see that shit?"
Sexyy Red captioned the post, "Thank you Drakeeeeeeee ice me df out den. big boss sht I appreciate dat big dawg."
Drake's gift arrives two months after Sexyy teased a forthcoming collaboration with the 6 God while at Rolling Loud.
"We be fucking—I'm just playing, that's my peoples," she said during the Miami festival. We got a song coming out. I mean, supposed to be but I did some little shit on his song. He sent me a beat and I had rapped for him or whatever. He was fucking with it so we gon' see if he drop dat bitch."
Days later, during Drake's It's All A Blur Tour stop in Brooklyn, the Toronto rapper posted photos of him and Sexyy Red. One featured Drizzy planting a kiss on Red's cheek with a caption that read, "Just met my rightful wife @sexyyred." He posted another photo in which he gave her a second kiss during the show.
Shortly after, Sexyy announced she would open for Drake and 21 Savage on the remainder of their tour dates. Scanning YouTube, social media, and concert-tracking sites like Songkick and setlist.fm, it's unclear how many nights she's ended up performing with them. There's still time though, as It's All a Blur wraps Oct. 9 in Columbus, Ohio after two hometown Toronto shows on Oct. 6 and 7.