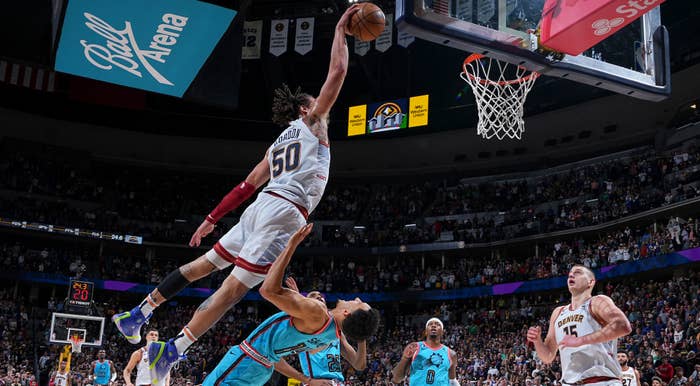 Fresh off helping lead the Denver Nuggets to the franchise's first NBA championship, Aaron Gordon is celebrating the signature dunk of his career with a new diamond pendant.
As reported by TMZ Sports, the Nuggets forward recently enlisted Buckz The Jeweler to commemorate Gordon's Dec. 2022 dunk over Phoenix Suns guard Landry Shamet.
The piece, which is comprised of 6.54 carats of VS1 diamonds, features a mini Gordon dunking over a mini Shamet while holding the Larry O'Brien Trophy.
"This pendant took me and my team 504 hours to bring every last detail to life," Buckz told TMZ Sports. "I knew I had to capture that all-time great moment on a pendant."
According to Buckz, the pendant which retail around $20,000, but he gave it to Gordon for free as a thank you for hiring the jeweler to craft him a $18,000 gold grill last year.
Gordon's iconic dunk took place during a game against the Suns last December. With 25 seconds left in overtime, Gordon soared over Shamet for a posterizing slam, which helped lead Denver to a 128-125 win over Phoenix.