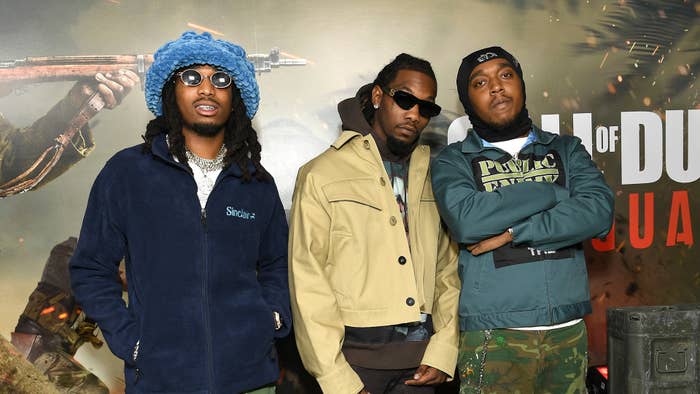 Over the past few months, fans have speculated (and been shot down by a rep) that Migos have broken up, but now Quavo has gifted Takeoff with a chain featuring all three members.
As pointed out by TMZ, celebrity jeweler Elliot Eliantte was commissioned by Quavo to make a flashy chain that features images of the trio. Both Offset and Takeoff got similar pieces last year, with their own face in the middle on each respective chain, for their birthdays.
In the comments showing off the impressive new piece, Takeoff added, "Don't play ya self 😂 🤟🏾 🚀."
Quavo reportedly put down $350,000 for the chain, which arrives amid rumors of their split.
The speculation regarding the fate of Migos surfaced earlier this year when it appeared Offset and his wife Cardi B unfollowed his bandmates on Instagram. Quavo also unfollowed Offset, while Takeoff appeared to still be following both Cardi and Set. Then the single and video "Hotel Lobby" by Quavo and Takeoff—under the actual family members' new moniker Unc and Phew—hit. When asked by paparazzi what was going on with Migos, Quavo appeared to dodge the question. Lil Yachty was pressed about it by DJ Akademiks and gave a pretty non-committal answer, saying he simply doesn't know. 
To further fan the flames, the trio dropped out of the 2022 edition of the Governors Ball Music Festival this month. However, a representative for Migos denied speculation they're breaking up and said it simply happened because Quavo is currently working on a film.