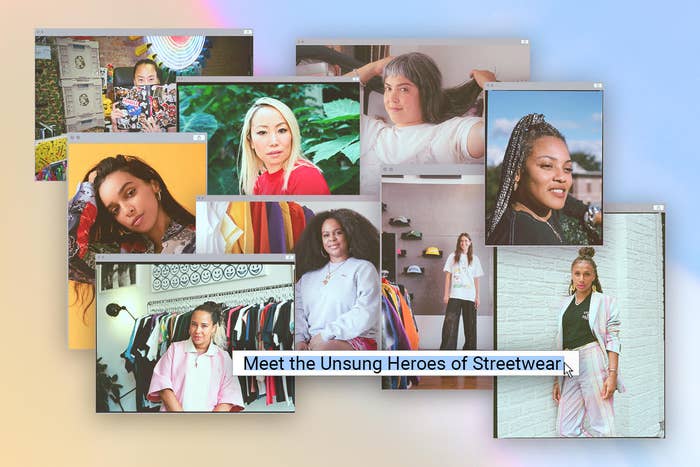 It's a fact: Streetwear is male-dominated. But here's another fact: Women have always worked behind the scenes in streetwear to make things happen.
Because they aren't the faces of the brands, you don't hear about them often—or maybe they're too busy actually working and don't have time to self-promote. But that's the purpose of this piece, to shine a light on some of the women you probably haven't heard of and show all the ways they contribute to some of your favorite brands. 
For example, there's Mary Ann Fusco, who opened Union in 1989 with James Jebbia and helped form Supreme's identity early on. And there's Erin Magee, who has her own streetwear line, MadeMe, but spends most of her time as head of development, special projects, and production, at Supreme. Or you might be a big fan of Union Los Angeles' visuals. Know that they were directed and realized by Beth Gibbs, who co-owns Union LA alongside her husband, Chris Gibbs. And if you've noticed a shift in product at RSVP Gallery, you can thank its buyer Sara Merabet, who has brought on more elevated brands like Dior, Marni, and Doublet over the past couple of seasons. 
Here, we speak to Gibbs, Merabet, and other women about their career paths, challenges they faced, and advice they have for other women wanting to make a mark in the space. 
Beth Gibbs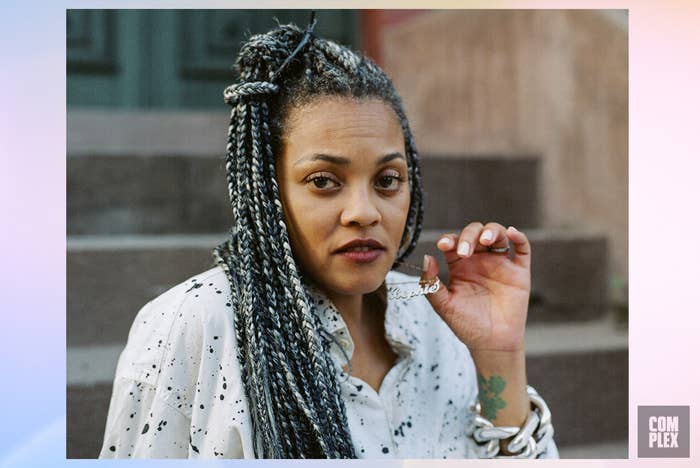 Co-owner and creative director of Union / designer and founder of Bephie / costume designer

To the mainstream, Beth Gibbs may be fairly unknown. But those who know know. For decades, she's been entrenched in streetwear. When she was a teenager, she met Supreme founder James Jebbia and later worked at Supreme and Stussy's flagship stores in New York. Today, she's the creative director and co-owner of Union alongside her husband, Chris. She's also a costume designer (she recently worked on the film Native Son starring Ashton Sanders) and designs a women's streetwear brand called Bephie. 
Gibbs has mostly worked behind the scenes, but ask anyone in the industry and they'll tell you her influence and impact have been immeasurable. In her role at Union, she's created most of the visuals for the store and its in-house label (recently, she directed the video campaign for the Union x Jordan 2.0 collection). She's also been an important dot connector (she was the one who introduced Chris to Jebbia and, later, to his now-silent partner who helped him buy Union from Eddie Cruz, for instance) and has championed several young artists and brands you've seen at Union.  
When Gibbs was coming up, she was one of the few women in streetwear. She wasn't always respected or treated equally by her male peers, and sometimes even by women. "The women weren't always so helpful because they were protecting their space," she says. But over the years, she's learned to own her voice. "At this point in my life, I feel like I've worked hard enough and I really understand. I deserve to have my voice," she explains. "That's why I'm so confident about what I'm saying. I'm not saying things that I haven't actually experienced. I think that's really important to your confidence—getting to that place where you're like, 'I need to speak up, because I know what I'm talking about.'"



 "Three, five, 10 years from now, I hope we don't have to have articles and stories about women in streetwear, and we just become people who work in this industry... I hope this is the end of that era." - Beth Gibbs
"To a certain degree, it's hard because most women are told that's not acceptable," she adds. "I'm passionate, and sometimes people say, 'You're angry. You're yelling. You're aggressive,' because they're not used to seeing that. People tell me I'm aggressive all the time, but I've learned to be OK with that. I'm not aggressive to the point where I'm trying to hurt people. I feel like if you're not going to speak up, and pull anyone else up with you, then you're wasting space." 
Her focus now is to represent for women, specifically Black women and women of color, who are often still underrepresented in streetwear. "We need more people of color to be in positions that we don't typically see them in," she says. "That's why I've become very vocal and do interviews, because I found that there were just a lot of people in these places that were not talking about anything but themselves. We need people that are down to break the rules—but not just break the rules for themselves. It's important to bring other people into the fold." That's why she decided to be a costume designer, she says. That's also why she launched Bephie, and why her team is all women. 
Gibbs is optimistic about the future, and thinks there are a lot of opportunities for young women to start their own brands. Still, she hopes they won't just be "women in streetwear" or "women's streetwear brands" anymore. "Three, five, 10 years from now, I hope we don't have to have articles and stories about women in streetwear, and we just become people who work in this industry," she says. "It doesn't have to be so specific, so separate, because it's not. I hope this is the end of that era." —Karizza Sanchez
Minya Oh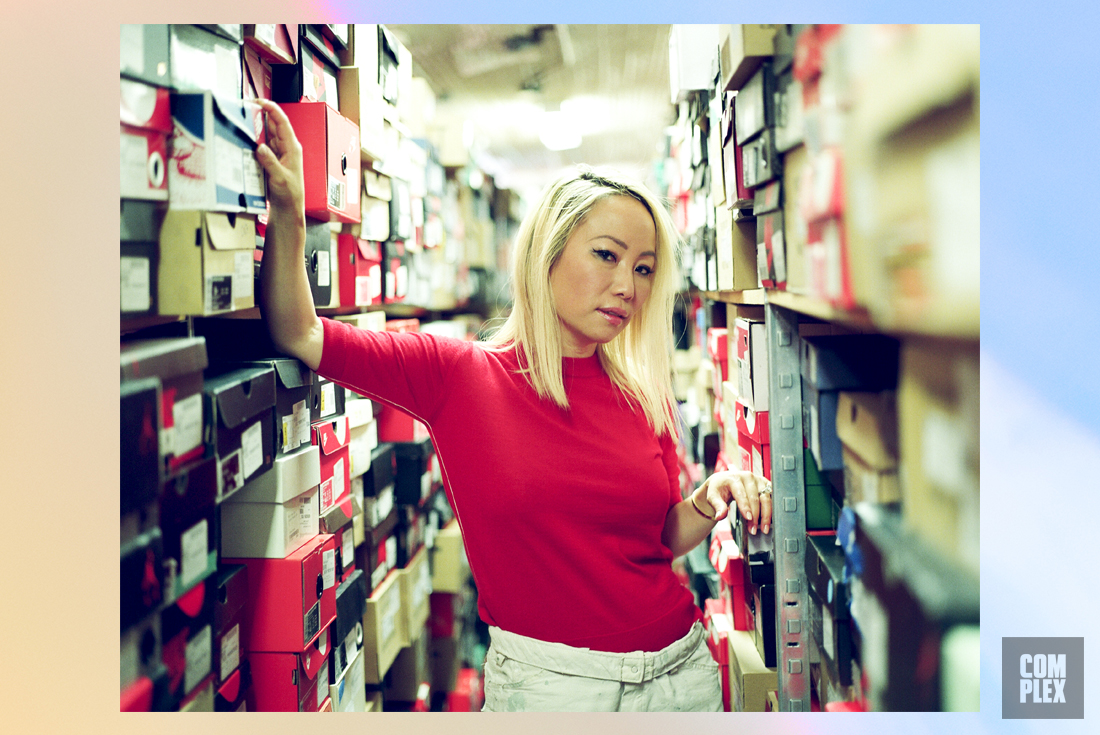 Style director at Stadium Goods/hip-hop journalist
Most may know Minya Oh as Miss Info, rap journalist and radio personality. For over two decades, she helped reshape hip-hop journalism. There were the meticulously researched investigative reports, like her piece on The Tunnel for Vibe; the iconic album reviews (she famously awarded Nas' Illmatic five mics for The Source); the scoops only she could've gotten (in 2007, Jim Jones told Oh that the Diplomats were putting Cam'ron "on punishment," which was the first time anyone publicly acknowledged tension within the group); and missinfo.tv, which was at the center of the rap blog universe. The list goes on. But since leaving Hot 97, where she was news director for over 10 years, in 2015, she's shifted her gears. Today, she's the style director at Stadium Goods. 
"Over the years, even though documenting hip-hop music was my day job, I've always kept a mad passion for design, streetwear, and high-low fashion," says Oh, a Chicago native. "Shopping, hoarding, writing, watching, and debating." Coming up, Oh was exposed to and wore what she calls "independent, outspoken, innovative" streetwear brands that were "for-us-by-us in a real way"—Cross Colours, Triple 5 Soul, 2 Black Guys, PNB Nation, 5001 Flavors, and Alphanumeric—and was inspired by pioneers like Triple 5 Soul's Camella Ehlke, Label founder Laura Whitcomb, Misa Hylton, June Ambrose, stylist Sonya Magett, and Nija Battle, who designed furs for the biggest hip-hop stars at the time. 
"I knew after I had my son in 2015 that I wanted to try new things, using the same stories of hip-hop culture that I had always documented," Oh adds. "It may seem like there wouldn't be much crossover in streetwear, but that is so wrong. The best and truest parts of streetwear culture are steeped in the stories of the people, the places, and the moments that made those styles stick. There is no hype worth wearing if it doesn't come from something real." 



"Nobody wants to be a 40-something-year-old rap mom sneakerhead, but let me tell you—I feel like only now do I finally know who I am." - Minya Oh
As style director, Oh works with Stadium Goods' brand and marketing team on upcoming collaborations and in-house design, handles in-store launch events with various artists, and is always (every day, in fact) gauging everyone's—rappers, athletes, art collectors, etc.—must-have sneaker. "I think [Stadium Goods co-founders] Jed [Stiller] and JDM [John McPheters, to whom Oh is now married] might describe [my role] as a combination of taste-testing, gut-checking, and big-picture planning," she says. 
Being a woman, Oh says, very much influences what projects she decides to take on, how she carries herself, who her mentors and mentees are, and ultimately what she considers success. But more than anything, her career and sense of self have been shaped by both her gender and age. "If I had to be a young woman hounded by a real-time feedback loop of my worthiness, attractiveness, economic status, social status, specialness, and normalness, I wouldn't have tried any of the things that broke me and made me who I am today," she explains. "Yes, there were daily injuries of racism and sexism that I met along the way. There were radio co-workers who ridiculed my ethnicity on the air, men in the rap industry who threatened me with violence, and the regular unknown sexual predators that almost every woman I know has also encountered. But even those cuts were able to heal in a way that I think is different now. Nobody wants to be a 40-something-year-old rap mom sneakerhead, but let me tell you—I feel like only now do I finally know who I am, what looks good on me, what's more important than looking good, what I'm willing to take, what I absolutely will not take, and what I will fight you for." 
Oh's advice for young women who want to work in streetwear is simple: "People are moving into streetwear from so many different disciplines," she says. "The difference in their longevity depends on whether they see their work as a trend or a craft. Craft means there's skill and practice supporting it. Also, absorb fashion history and dig deeper so that you can develop intuition and personal preference." 
"But more than that," she adds, "don't make everything a performance. Your joy, your pain, your mistakes, your friendships, your discoveries don't exist to be judged by others. They have to count for you first and best. Protect your right to be a work in progress, but don't use that as an excuse to stay in place." —Karizza Sanchez
Estelle Bailey-Babenzien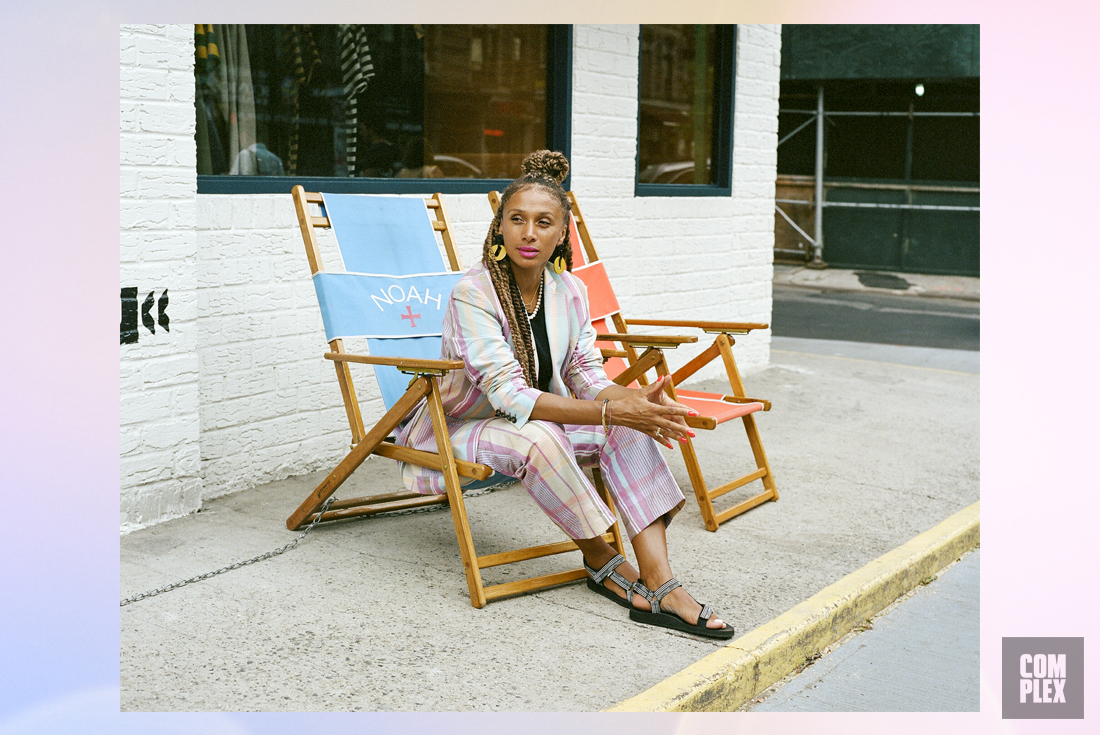 Co-owner, Noah / experiential, visual, and interior designer
For some, when they think of Noah, they think Brendon Babenzien, the founder/designer and former Supreme creative director. But here's another name you should know: Estelle Bailey-Babenzien. Alongside her husband, Bailey-Babenzien is a co-owner of Noah; designs the interior aesthetic of the brand's stores (she also worked on Melody Ehsani's New York shop, The Crabby Shack, and more); and is heavily involved with the brand messaging, other creative areas, like the lookbooks and Noah's Instagram, and the general ethos and growth of Noah. 
"Brendon's an established designer. His legacy at Supreme is undeniable. It makes sense he is the face of the brand" she says. "People probably don't realize my involvement, and that's OK. I'm not in this for the glory; we just want to fulfill our purpose."
Born in England, Bailey-Babenzien got her degree in fashion at the prestigious Central Saint Martins. She moved to New York in 1999 and, at first, found herself working in the music industry as an assistant to Dominique Trenier, the founder of Cheeba Sounds, who discovered Maxwell, managed and signed D'Angelo and Mark Ronson, and managed her own artists. But after a few years, she realized the music industry wasn't for her. "It was really male-dominated. I didn't like the way women were being treated; women were working so hard and not being taken seriously. I was like, 'This is completely draining me,'" she says. So she transitioned back into fashion and began doing visual merchandising for brands like Donna Karan and Victoria's Secret and then later interior and furniture design. "I've always loved creating experiences, design, clothing, and brand development," she says. "I wanted to continue to pursue that passion." 



"I still have to fight to get respect, even within my own company sometimes." - Estelle Bailey-Babenzien
In 2015, she and Babenzien relaunched Noah, the first iteration of which was introduced in 2002. "Brendon definitely does the most important job at Noah because he incubated this brand years ago," she says. "But together, we brought it back. It's his vision, in terms of the aesthetic and clothing, but in terms of having a brand with a purpose, wanting to change the way people do business in fashion and doing it our way, that's something we developed together." 
For Bailey-Babenzien, it's important to break down boundaries and conditioned thinking about gender. She's also committed, she says, to supporting and working with other women. "I really noticed that men have a club," she explains. "And it's hard for women to be respected in any industry. I still have to fight to get respect, even within my own company sometimes. And I feel like women, in general, have to compete with each other to get a seat at the table—at the men's table—because there's usually only one. That's really damaging to work culture. But I know when women work to intentionally put each other on and lift each other up, instead of competing, it becomes easier because we don't have to repeat or prove ourselves as many times to be respected. The table becomes more gender-balanced. It's a domino effect and a work in progress. We have a long way to go, but it's exciting to see change happening." 
Take Noah, for instance. It's a men's fashion brand (the Babenziens don't like to limit Noah to the term "streetwear"), but its lookbooks always feature women. Its staff is diverse—women work in various roles—and plenty of women wear the clothes. "One of the important things about how we design and develop the brand and stores is that it's welcoming to everybody," she says. "You don't go in and feel like, 'Wow, this is just a male-dominated space.'"
"We shouldn't worry about whether we're a man or woman," she adds. "Just go into something thinking you're an individual, you have a voice, because I feel like once you think about your gender limitations, you've very away of them and they can hinder your perspective of how you're going to go forward. If you notice that that's a hindrance in the person you're talking to, then address it. But I want women to not be limited and know that their influence is valuable. It's important. It's powerful." —Karizza Sanchez
Jessica Gonsalves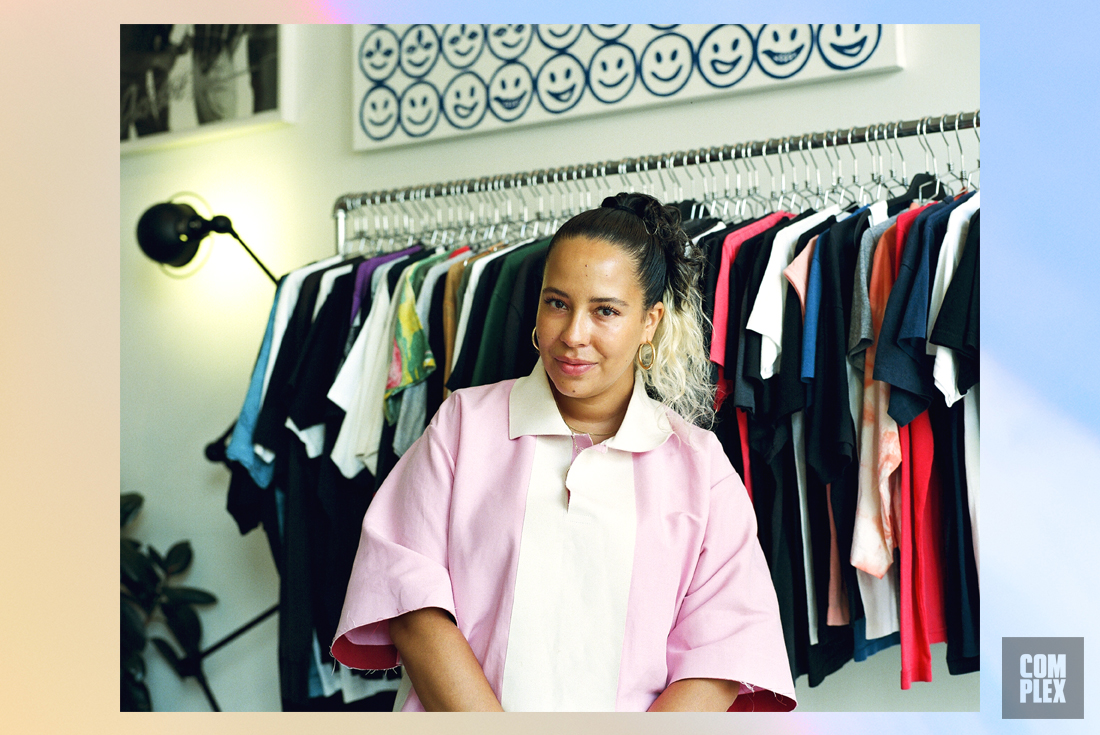 Co-owner, Procell Vintage
Jessica Gonsalves moved to New York from Massachusetts in 2002 to attend New York University's Stern School of Business. When she wasn't taking classes, she was interning with fashion brands like Yves Saint Laurent or working as a shop girl on Manhattan's Lower East Side at Lola y Maria, a store that sold pieces from emerging Latinx designers. That's where she became immersed in New York's growing streetwear scene.  
"What was going on in the Lower East Side at the time was crazy," says Gonsalves. "Alife was less than a block away on Rivington. Sugar Headquarters was across the street. Brian [Procell's] first shop, Coat of Arms, was up the street on Clinton. It wasn't like I was super-super into streetwear. But if you were young and living in New York and going out, streetwear was definitely a part of your life."
After graduating from college, Gonsalves got a job at a post-production company as a producer. She was responsible for looking over budgets, timelines, and fixing any issues clients or creatives had. "You're like the mom of the job," says Gonsalves. "Most producers on those jobs are women, so I felt empowered from the get-go in that environment as a keeper of information."
Skills she learned as a producer helped her bring her then-boyfriend Brian Procell's vision for a vintage store to life—they are now engaged. They came across an empty space on Delancey Street that had been vacant for a while, and after a successful project with Opening Ceremony, they felt ready to sign a lease. Procell opened in 2012 and has become a go-to destination for its selection of rare, interesting vintage. Gonsalves handles the business, and Procell is the creative director. To keep things afloat while they developed the store, she maintained her job as a producer until 2016.



"Brian always likes to make a joke that, without me, he'd just be running a flea market stall." - Jessica gonsalves 
"Brian always likes to make a joke that, without me, he'd just be running a flea market stall," says Gonsalves. "I think the business wouldn't have been able to grow without me being there and saying, 'This is what we need to be paid, and this is the timeline.' Brian doesn't really do any of that, nor does he care to. That's why we're a good match." 
With Gonsalves' business savvy and Procell's curation, they've been able to expand. In 2017, they opened a gallery space next door to host activations and exhibitions. They also run a consulting business that grants fashion brands access to Procell's archives.
Gonsalves says although Brian is the face of the brand, and a man, she's never felt like people acknowledged him over her.
"Everyone knows if you want to get something done, you have to talk to me," says Gonsalves. "I'm not a backseat person. So I think being a woman hasn't really affected me in one way or the other. If you want to go to a meeting or have a phone call, command the room and let people know your opinion is as valuable as anyone else's without having to say that."  —Aria Hughes
Sara Merabet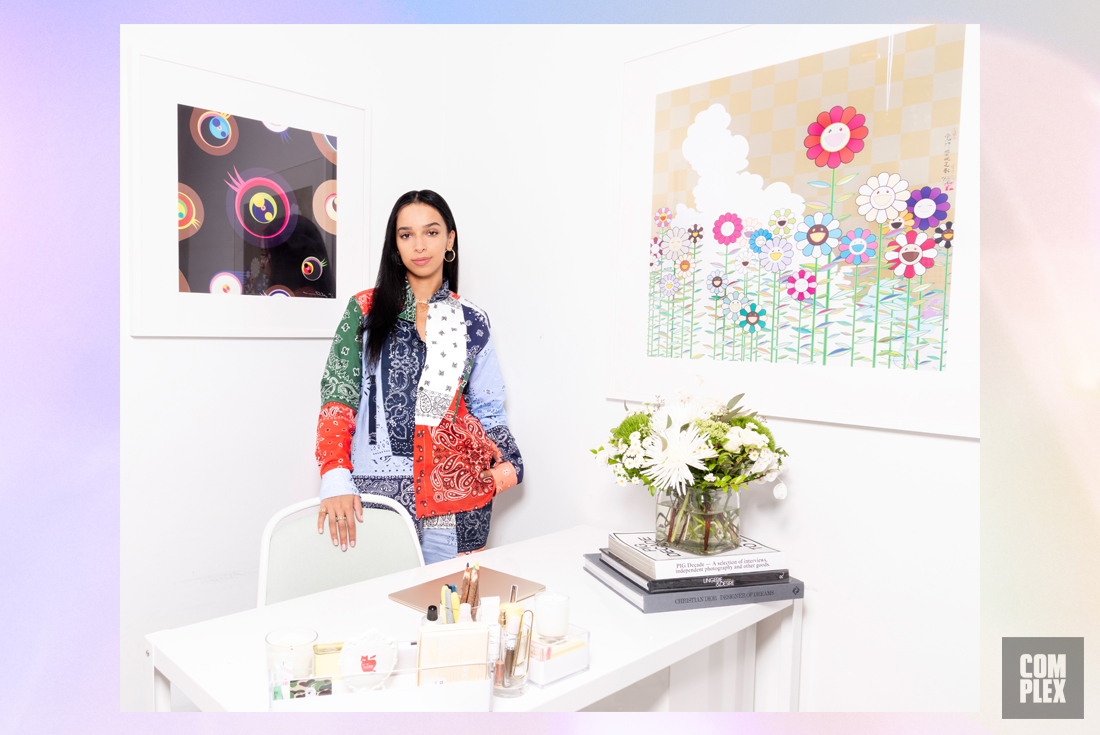 Buyer, RSVP Gallery
Sara Merabet remembers going to RSVP Gallery in Chicago when she was 18 years old for a Kid Cudi meet-and-greet. She thought the store was beautiful, but at the time, even though she was interested in streetwear brands like Bape, Married to the Mob, and Dimepiece, she never considered working there. But shortly after graduating from high school, she received a message on social media from Easy Otabor, RSVP Gallery's store manager at the time, who was looking for a sales associate. Merabet was planning on studying law, but decided not to. "I thought, 'Do I want to pursue law, or do I want to pursue fashion?" says Merabet. "I had always known about RSVP Gallery, and it seemed like too good of an opportunity to say no. And here I am now."
Merabet, who had no retail experience when she was hired, has spent the last six years working her way up the ranks at RSVP Gallery. She started as an intern, became a sales associate, moved up to store manager, and was promoted to buyer in June 2017. The 26-year-old buys for both the Los Angeles and Chicago locations and attributes her climb to being observant, prepared, and vocal. "I approached the job like, 'Hey, I've been watching you guys do this for X amount of years, but this is what I can bring to the table.'"



"Streetwear is definitely a male-driven industry, but I strongly believe there are opportunities for women to grow within this community." - Sara merabet
But her rise didn't come without challenges. She remembers initially feeling intimidated by being the only female sales associate in a store that sold mostly menswear, but she eventually viewed it as a positive thing. "I never really felt like being a woman was hindering in any way," says Merabet. "I just felt like I had a different outlook on everything that they were offering, and customers appreciated it."
When she became a buyer, she had to learn about budgeting, filling out orders, understanding market trends, and researching new brands. "I ask for everyone's opinion, but we don't have a buying team, and 90 percent of the time I'm traveling alone and placing all of the orders myself," says Merabet. "And because I'm young and most buyers are older, I feel like I've had to prove myself."
Merabet says when she became a buyer, she wanted to take more risks and move away from the simple silhouettes RSVP Gallery was carrying. She's brought in brands like Doublet and Reese Cooper, and recently picked up Dior, Marni, and Lanvin. "You've got to find a balance between offering people what they want without getting too lost in current trends. You want to be able to set yourself apart a little bit, but it's a lot of trial and error," says Merabet.
Her advice to women aiming to work in streetwear is to go after whatever you want. "Streetwear is definitely a male-driven industry, but I strongly believe there are opportunities for women to grow within this community," says Merabet. "And if it's something you want to pursue, just do it. Know what you are talking about. Know what you are doing. And make sure you bring your skillset to the table and let them know you are there." —Aria Hughes
Jascmeen Bush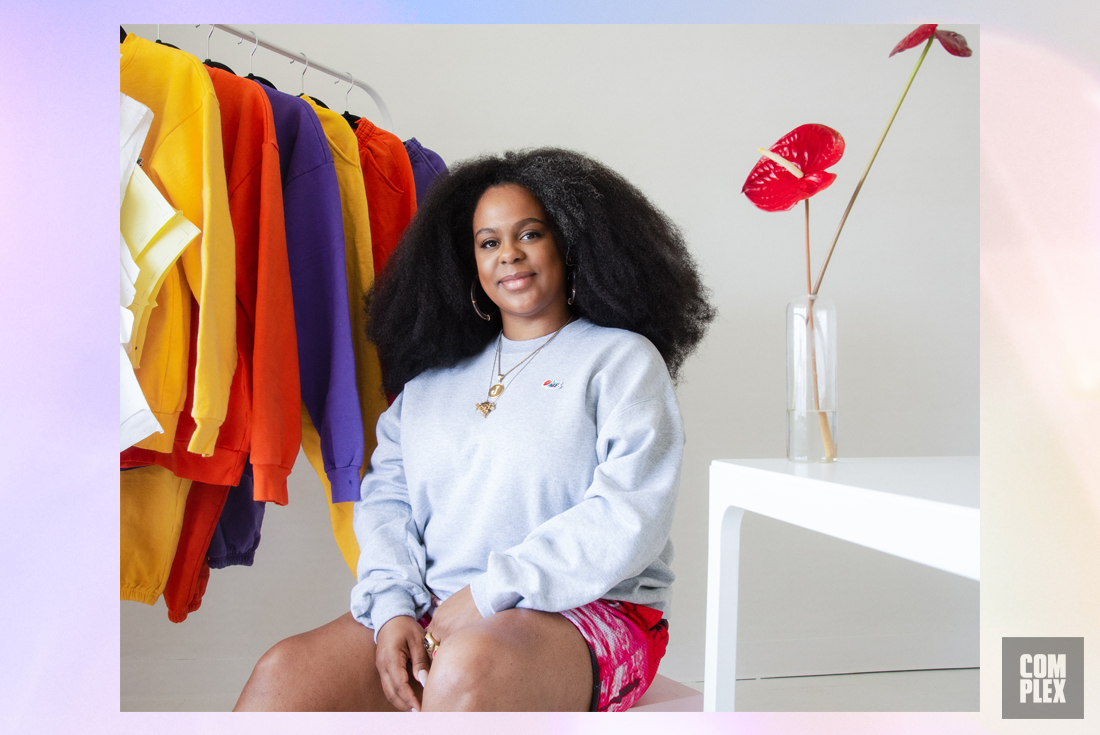 Content strategist, Melody Ehsani
When Jascmeen Bush moved from the Bay Area to Los Angeles in 2010, she wanted to be a stylist but was forced to support herself with a retail job she was desperate to escape. She tried out writing, and after garnering attention with snappy blog posts for sites like Man Repeller, Hypebeast, Racked, and Hello Giggles, she was able to quit her retail job and pursue her passion. But she quickly realized she needed to widen her lens. 
"The thing is, with anything that you feel is your passion, you don't want to overdo it," says Bush. "And in the beginning, I was overdoing it. I was writing everywhere and anywhere, so when I started freelancing, I was really, really stretching myself thin." 
To prevent burnout, Bush ventured into marketing and landed a job as director of creative content for Marianna Hewitt, an influencer with a lifestyle blog who co-founded the popular beauty brand Summer Fridays. It was here that she felt like all of the skills she had gained since moving to Los Angeles merged. "I had something to say and I was figuring out how I could say it," says Bush. "Marketing combined all of my experience, from styling and writing to the things I learned in retail. All these things together make for great marketing strategies."



"Know your sh*t, because people are going to assume you don't." - jascmeen bush
Eventually she started to look for jobs at brands she really liked and Melody Ehsani's came to mind. There was a job opening, and she emailed her resume and a mock campaign. Taking this extra step had a purpose. "I don't have that much formal education and my resume is all over the place. I had to show her what I could do." 
Bush was hired within five minutes of meeting Ehsani. "Melody is very much led by her spirit, and she trusted my vibe. We clicked and it's working out."
In the midst of the boys club that is streetwear apparel stores on Fairfax, Melody Ehsani is a colorful by gritty fashion brand created for women by women that's worn by the likes of Beyoncé, Erykah Badu, and Lauryn Hill. Bush looks over social media and marketing. Some days, she's directing a photoshoot and working with stylists, and on others she's communicating with influencers and running events.
"In my role, you have to be ready for anything because we are growing so fast," she says. "There's times when Mel looks at me and she's waiting for me to come with that idea right away. Not only do I need to be good, but I need to be on. Even if she mentions something in passing, the wheels in my head already need to be turning because things happen fast."
Bush believes that being a woman does make things harder, but that you shouldn't let that get in the way. "Know your shit, because people are going to assume you don't. But you don't have to have encyclopedia knowledge of something to be good at it. If you know what season a pair of sneakers are from, that's great, but are you creative?" says Bush. "If you want a job, show them what you could do if they hired you—forget everything else. Yeah, it's going to be harder as a woman. So what? So is everything else. You can do it." —Kish Lal
Mimi Choi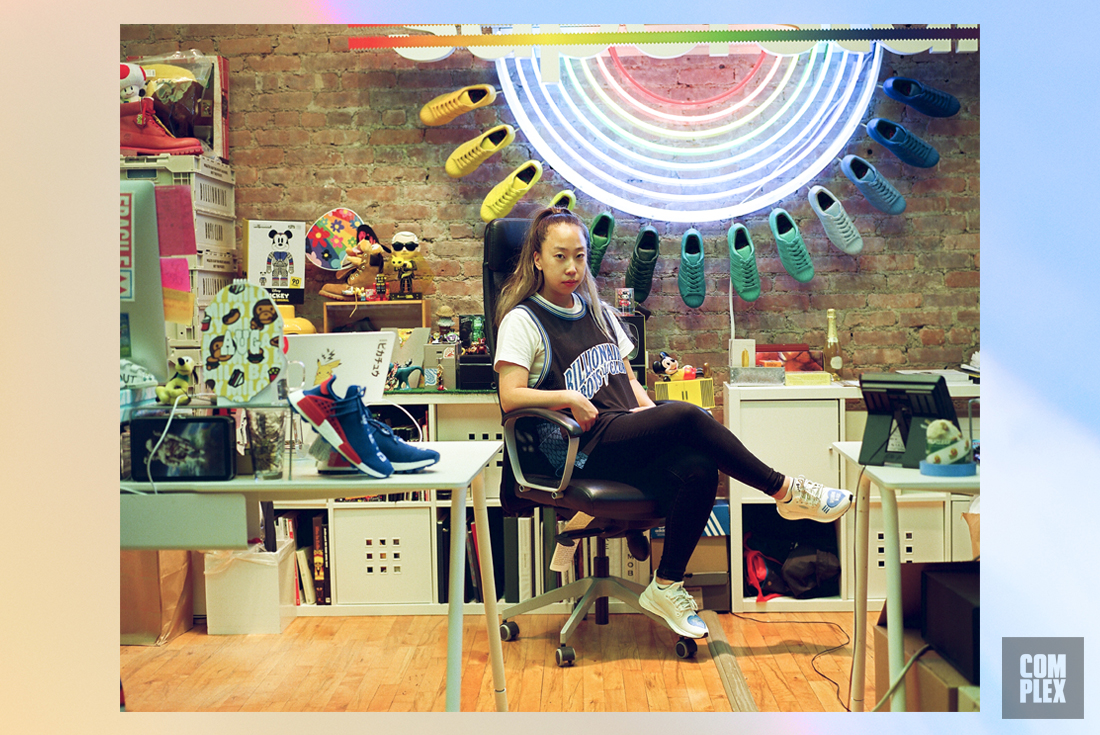 Brand partnerships director, Billionaire Boys Club
For her senior-year thesis project at Parsons, where she was studying fashion design, Mimi Choi decided to design kids' clothing. "I was inspired by Takashi Murakami—I saw his work at the Brooklyn Museum in 2008, and I realized that he did this installation with Pharrell called 'The Simple Things' at Art Basel in Switzerland," she says. But, at the time, she was unsure of who her market was. "I wondered, who is the audience for my vision? Who has the money to buy this?" After some research, she came across two brands she thought fit the bill: Billionaire Boys Club and A Bathing Ape. "They were Japanese [brands], super expensive [for streetwear]... I thought, 'This is interesting,'" she says. Impressed, she decided to apply for an internship at BBC.
She wound up getting the internship in 2010 and, a year later, became a full-time employee. "When I was presented with the opportunity, I contemplated, 'Do I take it? It's not in my field.'" she says. "I was torn about it, but my gut said, 'I like this brand. I want to see where it goes.'" At first, she managed customer service and e-commerce. But since then, she's worked her way up the company, doing product development and special collaborations for the New York flagship (including projects with Takashi Murakami, Star Wars, A Tribe Called Quest, and more) as e-commerce and product development manager and, later, handling press releases, BBC's social channels, newsletters, and photoshoots in her role as director of digital marketing.



"I don't limit myself... I can do everything that men can do." - mimi choi
Today, Choi is the brand partnerships director at BBC, overseeing many of its biggest projects, including its ComplexCon activations, collaborations with the likes of Timberland, and merch and experiential activations like the BBCICECREAM truck for Pharrell's inaugural Something in the Water festival. She also helps to conceptualize and design product and packaging for Pharrell's Adidas special seeding kits. "Within a small company, you have to wear a lot of hats," she says. "Even if I wasn't a PR person, I wrote pitches. I took pictures, did some styling. I did everything under the sun. You have to be able to evolve as the brand evolves."
"I know everyone's always looking for answers and planning how their lives should go, but no one really has all the answers, which is fine," she adds. "You shouldn't feel intimidated by that." 
When Choi started, the staff at the BBC office was small—there were only two other people on the team. There also weren't any other women (BBC now has one other woman in a team of seven), and the female presence in streetwear in general was minimal. Still, she says she never saw being a woman as a disadvantage. "Women, in general, need more exposure," she says. "But I have two older brothers, so it just felt like I was working with a bunch of brothers, and it's comforting. I've never stepped back and said, 'I'm the only girl here.' I don't limit myself. Sometimes there are things I can't do and I'll ask for help, but I can still lift a box. I can do everything that men can do."  —Karizza Sanchez
Ceilidh MacLeod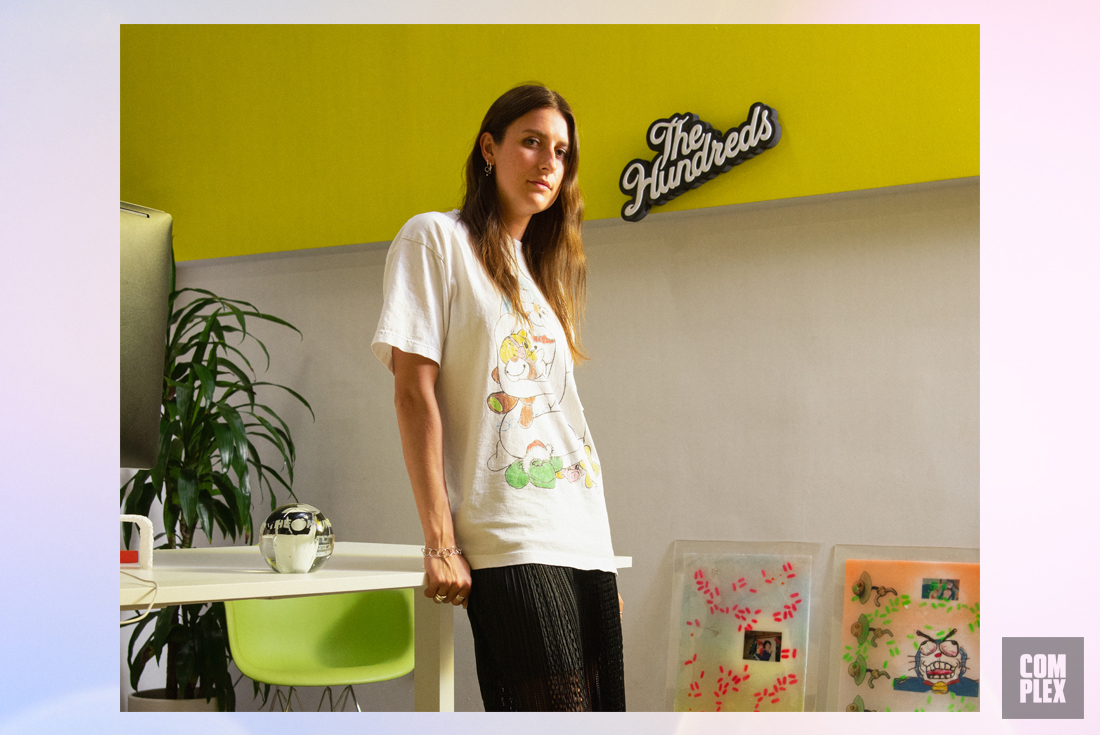 Digital director, The Hundreds
As the digital director of The Hundreds, Ceilidh (pronounced Kay-lee) MacLeod oversees a team responsible for the streetwear brand's digital touchpoints—its email newsletters, e-commerce site, digital ads, customer service, and social media accounts—and is responsible for increasing revenue on these platforms. "When I met Ben [Shenassafar] and Bobby [Kim], they knew how to create a community, but needed someone with the skill set to grow the online business," says MacLeod.
MacLeod was that person, and she gained this expertise through digital advertising jobs at a Vancouver startup she describes as Facebook for realtors, and Shoes.com. At both of these companies, she was tasked with quickly acquiring as many customers as possible and realized she was good at it. At Shoes.com, for example, she brought in $15 million in ad revenue.



"Don't be afraid to put yourself in a room where you're uncomfortable and around people who aren't like you." - Ceilidh MacLeod
MacLeod didn't plan on getting into the digital marketing space, but she did study business at the University of British Columbia's Sauder School of Business in Vancouver. Prior to that, she lived in South Africa and remote areas of Scotland before moving to Victoria for high school, where she was introduced to streetwear by her then-boyfriend, who gifted MacLeod her first HLZ BLZ and Tens by The Hundreds T-shirts. "I grew up as a tomboy and wanting to be comfortable, and I remember going to business school and seeing everyone wearing suits and making snarky comments because I was wearing a graphic T-shirt," says MacLeod. "It fueled me to want to prove to them that I don't have to wear a suit to be successful."
Ten months into her job at Shoes.com, her boyfriend was offered a position in Los Angeles and she decided to move with him. It came at a time when she began to reconsider what she did. "It was all about acquiring as many customers as possible. I started to question if I was adding any value to these people's lives." When she was hired in 2016 by Ben and Bobby, who she met through mutual friends, she was faced with a completely different scenario. "They were taking their time, and telling stories, and gaining customers organically," says MacLeod, who runs her own streetwear line called b.Eautiful. "They were feeding a ton of people into the funnel with these amazing stories and these collaborations. But there was leaks here and there."
MacLeod closed up those leaks by revamping the website, setting up email newsletters, combining The Hundreds' beloved blog and e-commerce site, and retargeting visitors on Instagram. Her changes have worked. She's increased revenue on the site by 30 percent and recently launched a mobile app, which now accounts for 23 percent of their sales. MacLeod, who is currently the only woman executive on The Hundreds team, says she doesn't like to admit gender matters, but she does realize men and women do things differently. Instead of that making her feel out of place, she pushes herself to join the conversations, even if they are male-dominated. 
"It can be intimidating to be the only girl in a room of guys, but we need to merge. We need girls to understand guys and guys to understand girls," says MacLeod. "Don't be afraid to put yourself in a room where you're uncomfortable and around people who aren't like you." —Aria Hughes
Ariel Roman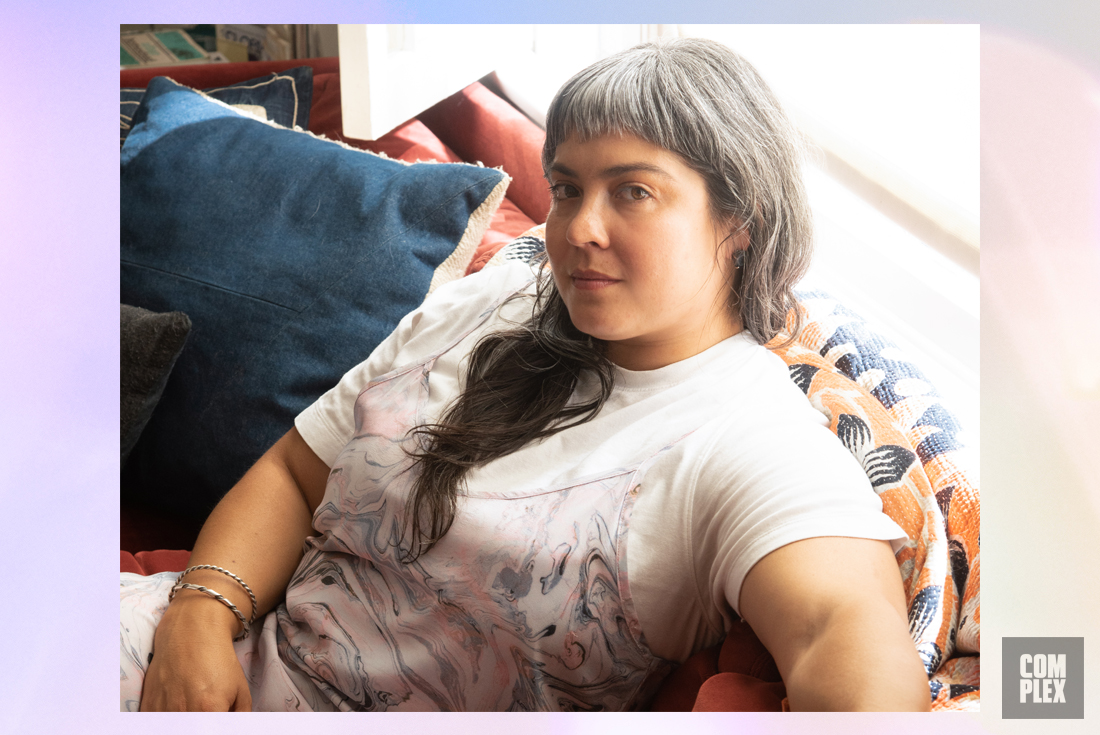 Illustrator and art director, Noon Goons and Bephie
Ariel Roman studied print making at California College of the Arts, but customization, illustration, and designing clothes weren't about forging a career. They were just what you did.
"Growing up with parents who were involved in the punk scene, I remember learning about Vivienne Westwood when I was in middle school," Roman, an art director, says. "All I wanted to do was save up my pennies and buy her bondage pants. But my mom was like, 'Ariel, you're punk. You don't lust after expensive clothes. If you see something that you like, you make it.'"
This became a guiding force for Roman, who grew up in a creative household. Her mother was a dancer and choreographer; her grandmother was a seamstress; and her father, Cliff Roman, was a member of punk band The Weirdos. After graduating from college, Roman taught art, but eventually ventured into art direction and commercial work.
It was graphics she worked on with her husband, Yego Moravia, for a queer food magazine called Mouthfeel that caught the attention of Sam Jarou, Noon Goons' creative director. "One day, Sam came to my house and was like, 'Do you think Yego would want to design graphics?' And while he was flipping through some of the stuff that he liked, I was like, 'Well, what you're pointing out is actually my work.'" 



"if you send an email and somebody doesn't get back to you, send another one ." - Ariel roman
In 2017, Roman created a collection in partnership with her father and Noon Goons exclusively for Dover Street Market. An homage to her father and The Weirdos, the graphics also draw from Roman's childhood, her father, and of course the punk scene.
She met Beth Gibbs, founder of Bephie and co-owner of Union, through mutual friends, and together they created a capsule collection that spoke to Black female empowerment. "Beth was very specific and came to me and was like, 'I want to make something that talks about exchange of currency and wealth and value—how do we do this through graphics?'" says Roman. This resulted in statements like "I bank on myself," "I am my own greatest asset," and "I buy my own time" placed on earth-tone fabrics. 
Roman advises artists to always stay true to their aesthetic, regardless of the project or client. "If people are hitting you up to do a one-off [collaboration], then you really have to bring yourself and your own style, because they ended up coming to you for a reason," says Roman. "But not everybody is able to really express what they're looking for, so understanding how to build your own brief by interpreting what somebody is telling you can be challenging."
At the same time, Roman suggests that women struggling to their voice be open to collaboration and to tap into their inner entrepreneurial instincts. "Whether or not it's natural for you, it's about self-confidence, saying yes, and getting your face in front of the person or brand you want to work with," she says. "So if you send an email and somebody doesn't get back to you, send another one." —Kish Lal