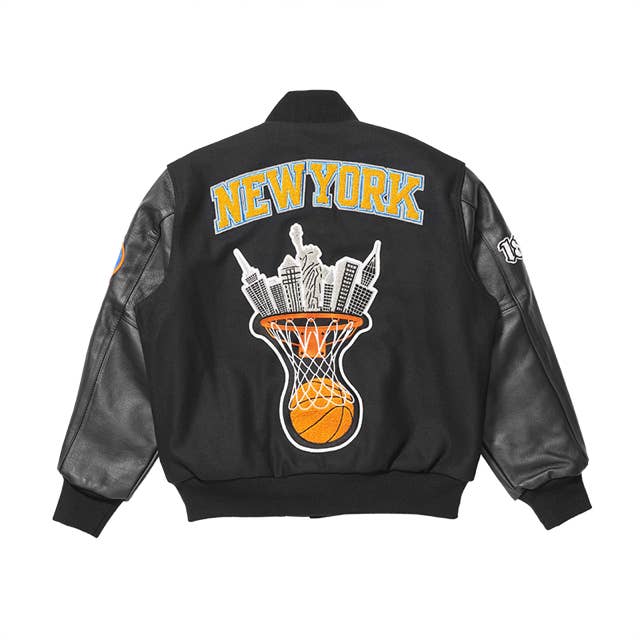 New York Nico—content creator and "unofficial talent scout of New York City"—and Brooklyn vintage store Fantasy Explosion have partnered with 1800 Tequila to design an exclusive varsity jacket that nods to 1800 being the official partner of the New York Knicks and Madison Square Garden.
Ten limited-edition 1800 Tequila x New York Nico x NY Knicks varsity jackets will drop on NTWRK today (Feb. 11), with winners being announced during NTWRK's "Off Court" virtual festival on Feb. 18.
"I've been a Knicks fan since the '90s and used to have some of the illest apparel from that era," Nico told Complex. "It was important to me and Fantasy Explosion to pay respects to some of the designs that we loved from back then."
When it comes to the patches on the jacket, Nico and Fantasy Explosion picked some callbacks to designs they've sourced while also paying tribute to classic New York symbols. "For the back patch, I knew I wanted to have the skyline and the basketball in the net was a callback to some great vintage designs we sourced," he said. "Then we had my logo in the apple on the sleeve which I included to make it my own and the 1800 Tequila logo is also included as our official partner for this and hands down my favorite tequila."
Nico added, "Last but not least, we have 'New York's Biggest Thrill' embroidered on the chest which is a reference to a Knicks tee from the '90s that we were able to source."
As for why Nico and NYC hold the Knicks near and dear to their hearts, Nico explained, "The Knicks are New York's team. There is no better feeling than watching the Knicks play at the Garden. The energy is insane. Even when they lose, it's an unforgettable time."
And as to why the city doesn't fully get behind the Brooklyn Nets? "Because the Knicks are New York's team. We have been through so much together."
Check out more images of the varsity jacket below.