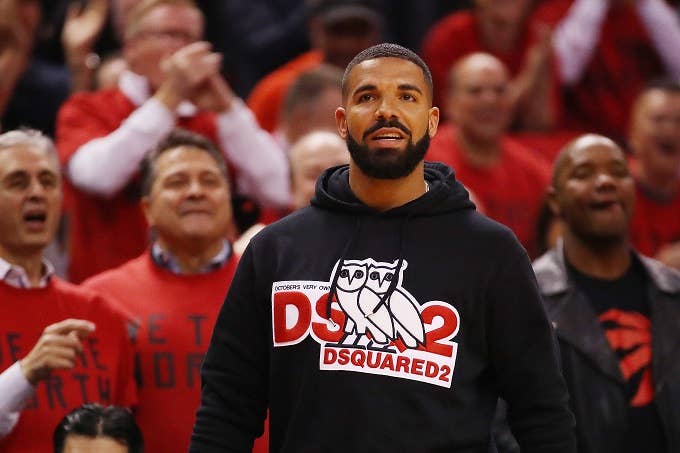 UPDATED 5/22/19 10:05 am. ET: Though an initial report estimated the custom OVO jacket had a price tag around $769,000, a press release from Garrison Bespoke states the 235 handset diamond jacket made with Diamond Foundry diamonds is actually closer to $550,000. 
See original story published on 5/21/19 below.
The Toronto Raptors don't know anything about any curse. Rather than trying to ward off their supposedly jinxed megabooster Drake, the Raptors presented him with a custom-made Raptors/OVO jacket. The custom piece awarded to the team's official ambassador is worth an estimated $769,000.
The jacket was studded with Drizzy's owl logo and the Raptors' slashed basketball sigil. The fabric for the jersey was sourced from a French mill by Toronto's Garrison Bespoke, one of the first examples of "jersey" cloth from 1927. The diamonds are lab-grown and carbon-neutral. 
"This is truly a 1 of 1 piece," Michael Nguyen, the clothier behind the jacket, told The Star. "Both the jersey inside, which Drake himself helped design, and this very special piece of cloth. And the diamonds, of course."
Though the Raptors aren't even the tiniest bit 'stitious, some people can't let go of the idea that showing favor to the rapper is inviting hexes. 
Drake is fully aware of the way that sports fans think of him. After the Raptors sent the Orlando Magic packing, the rapper addressed the press and asked them if they were still thinking about the curse. 
"You want me to talk about the curse or you guys good?" he said after the win.
In spite of that, Drake has used the curse to his advantage. He wore 76ers gear to put some bad juju on Philly, and Kawhi Leonard obliged with a heart-stopping shot to end their postseason.