2 Chainz Gets Tattoo to Honor Kobe Bryant
2 Chainz decided to pay tribute to Kobe with a tattoo.
Getty
Image via Getty/Noel Vasquez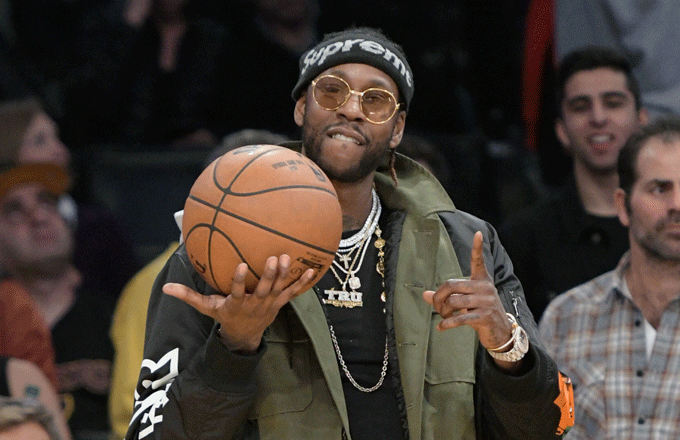 In the wake of Kobe Bryant's death we saw a pair of top-tier athletes, Odell Beckham Jr. and LeBron James, get tattoos that paid tribute to the late Lakers star. The idea of getting ink to show that level of respect has officially expanded to include high-profile musicians, as 2 Chainz recently revealed his own Kobe-themed tattoo on Instagram. 
The route that he opted to go was getting Kobe's No. 24 etched onto his inner legs at Cultural Image Tattoo in Los Angeles. As you can see, he got both lower limbs involved by getting "2" on the right and "4" on the left. The shorts he wore were a nice touch, too:
On the day that Bryant died, Jan. 26, the Grammy-winning rapper posted a string of images showing himself and Bryant conversing, high-fiving, and posing. A picture that showed both Kobe and his late daughter, Gianna, was captioned, "Heart broken and speechless 🙏🏿 😢😢if you know me you know this killing me right now Rest In Peace Bean and Gigi Bryant and prayers to Vanessa and the Bryant family and the rest of the families involved."
2 Chainz also appeared to express support for the logo change movement that initially had steam following Bryant's death. Note the caption for this post says "Getting this tatted." It was put up the day after Bryant's death, which would appear to confirm that his recent ink wasn't impulsive:
In addition to 2 Chainz, OBJ, LeBron, and whatever famous person opts to do this in the future, the Los Angeles Times(citing SoCal tattoo artists) say there's been a high demand for ink memoralizing Bryant in the weeks since his death.