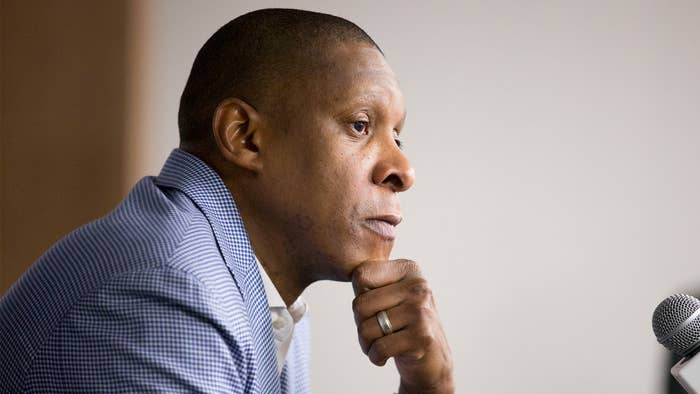 Rumours swirled for the past month or so, reached a crescendo over the past week, and in the end the biggest domino didn't fall.
Kyle Lowry looked emotional as he left the court after the game against the Denver Nuggets a night before the trade deadline. He seemed to acknowledge the Raptors fans watching at home when the camera focused on his walk into the locker room and the Zoom session with reporters that followed lasted well beyond any media session he's accommodated before. It felt like the end and yet it wasn't, a pump fake even DeMar DeRozan would be proud of.
Masai Ujiri, Bobby Webster, and co. had a clear price for the greatest player in franchise history and refused to settle for anything short of it. According to reports, the Sixers, Lakers, and Heat all came calling but both sides had drawn their line in the sand and neither was willing to move past it. Ujiri has trusted his gut instinct this long, why stop now?
"In the heat of the moment I was surprised because, to be honest, I've viewed him as somebody that can go out and put a stamp on what you can do this year," Ujiri said. "Teams that I saw, I know that if he goes to those places, I've lived it, I've seen it. And especially these teams. They have a couple of those guys, so, to me, I know what the guy does. I know who he is. And that's the truth. So, yeah, we're going to be skewed in some kind of way and I'm biased in many ways with the players we have and I hope I'm pardoned if I valued him too much, but that's what I believe in today."
One deal of real significance did go down for the Raptors as they sent Norman Powell—in the midst of a career season—to the Portland Trail Blazers for Gary Trent Jr. and Rodney Hood. Trent Jr. recently turned 22 and is a 6-foot-5 guard averaging 15 points a game and has shot 40.1 percent from three-point range over the course of his three-year career. While a capable defender, he lacks the dynamism of a Powell, something this iteration of the Raptors in particular became heavily reliant upon. It is a move for the future and Ujiri explained just as much.
"At the end of the day I know this organization is a winning organization and it's a winning culture we want to build." – Masai Ujiri
It's sad whenever a piece of the championship core moves on and five of the eight core players involved in the championship run are now gone. Powell immersed himself into Toronto's community, keyed some huge playoff swing moments, and was making his case to be part of the future the way Pascal Siakam, Fred VanVleet, and OG Anunoby are. He kept the Raptors alive against the Pacers in the first round during his rookie season, he owned the Milwaukee Bucks, and became a true leader in the locker room and role model for the younger players coming through the system. He never complained about his role, was a thorough professional from Day 1 and expressed his desire to stay a Raptor on what was his final day. Toronto's front office clearly envisioned him being priced out of their range and decided to redeem some value for him. With the previous four (Kawhi Leonard, Danny Green, Marc Gasol, Serge Ibaka) all having moved on without the franchise receiving any transitional assets in return, avoiding that fate once again was important.
"He grew up in our organization and he's a draft pick of ours and that touches you," Ujiri said. "That is not an easy thing to do. The other thing I will say is as much as we try to develop players and make players better, Norm made himself better. You see where his game went and the level he took it to. That is what brought all the popularity and the value out there in what Norm can bring to so many teams."
There are 28 games remaining in the season for the Raptors, and a team eight games under .500 presumably reduced its ceiling in the here and now by failing to address a glaring weakness at the centre position and losing individual shot creation. The team did trade Matt Thomas and Terence Davis for a couple of second-round picks, so it remains to be seen how one roster spot is filled. They are 1.5 games behind the 10th placed Chicago Bulls, a team that made a big splash with the acquisition of All-Star Nikola Vucevic from Orlando to pair alongside Zach LaVine. A team with Lowry will always compete, and the goal will be to secure a playoff spot and fight until you can't fight no more.
But that is all now a precursor to what was always scripted to be the main event: the 2021 offseason. There is no Giannis sweepstakes but the future of the franchise hangs in the balance, nonetheless. After passing on the offers made for Lowry at this deadline, the front office will have to decide between trying to re-sign him or moving him to a contender in a sign-and-trade. There is also the possibility of him walking for nothing, which is when who they use their cap space on will be pivotal in evaluating the decision to balk in this moment.
How much money Trent Jr. commands will be another important factor, but who will be at the forefront of making these decisions will be the biggest question mark. After stating that there were plenty of names in and around the organization that needed to be taken care of at the end of last season, Ujiri stated the time to address his free agency and contract will come this summer.
"Raptors is inside here [points to his heart]—it's in the blood," Ujiri said. "This is what we live, this is what we do. I love doing it, I love it to death and today, it's part of the spirit, it's part of everything we are. You lose some, you win some, we are going to gain some sometimes, sometimes we are going to gain ground, sometimes we are going to lose ground, but at the end of the day I know this organization is a winning organization and it's a winning culture we want to build."
The can's been kicked down the road and this nightmare of a season in Tampa will arrive at its merciful end. With the man who has been the heartbeat of the franchise for the better part of a decade, the Raptors leaned into their soul. Invariably, they will have to put emotion aside and take their shot, and that's when we'll know whether this was a make or miss.