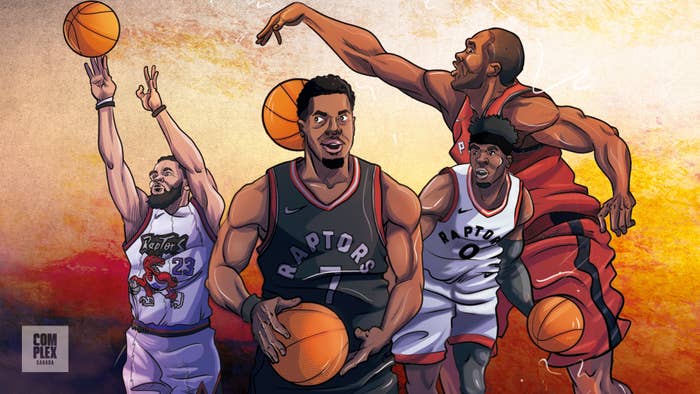 Nothing would fall. Try as they might, and boy did they ever knowing an opportunity to extend the win-streak into the All-Star break was on the line, Toronto just couldn't buy a bucket. As a team, the Raptors shot under 40 percent for the game, were without the services of Marc Gasol and Norman Powell, and their crutch for the majority of this season—their defence—was coming undone by 12 second-chance opportunities all told.
As the cliché goes, it was just one of those nights. And exactly that type of night is the reason why, regardless of the quality of the opposition, reeling off 15 straight wins and not tasting defeat for 30 days is all the more impressive. It takes laser-sharp focus, a commitment to excellence, and resiliency in the face of adversity to keep chugging along so smoothly. Oh, and a little bit of luck along the way doesn't hurt either.
Here are 15 moments from the streak that highlighted each of those facets that will be pillars of the Raptors' success heading into the unofficial second half of the season.
Jan. 15, 2020: Lowry Plays Saviour Versus the Thunder
Jan. 17, 2020: Gasol Can't Miss Against the Wizards
Jan. 18, 2020: VanVleet Returns in Style in Minnesota
Speaking of flamethrowers, Powell has become exactly that for the Raptors this season and one can only hope he's back sooner rather than later after the All-Star break.
With the game still in the balance heading into the fourth quarter against the lowly Hawks, Powell put on a shooting clinic in Atlanta that left the crowd stunned and his teammates cheering on the bench in ecstasy.
Coming off pin-downs to catch-and-shoot, pulling up off the dribble, passing out from under the rim and relocating like Steph Curry, Powell was in that zone that leaves opponents helpless. Showing no mercy for the elderly, Powell's heat check moment came when he called off Serge Ibaka after the centre was looking to set a screen at the top of the arc, sized up Vince Carter in front of him, and nonchalantly tossed in one of his six three-pointers on Martin Luther King Day.
Seventeen of his 27 points came in a fourth quarter to remember.
Jan. 22, 2020: VanVleet Exhibits Growth From 76ers Playoff Series
Jan. 24, 2020: Siakam Shows Madison Square Garden His All-Star Swag
Jan. 26, 2020: Siakam Channels His Inner Mamba on Heartbreaking Day
Six-time All-Star, NBA champion, and on this night, Lowry became the Raptors' all-time leader in assists.
With under eight minutes remaining in the fourth quarter and the game well in hand, Lowry threw a quick hit-ahead pass off an inbounds to Terence Davis who finished with lay-in. No one cheered from the bench more enthusiastically than Siakam and VanVleet, two of the future cornerstones of the franchise. Lowry finished the night with 12 points, 11 assists, eight rebounds, and a ridiculous plus-32. A fitting close to an unforgettable night.
Toronto has been through the ups and the downs with Lowry, and this was another feather in his cap as he cements his legacy as the Greatest Raptor of All-Time.
"I'll celebrate it once I retire but it was awesome," Lowry said after the game. "To be able to get it here tonight in front of the home crowd, in front of Vince, the longevity I've been here, passing a guy like Jose [Calderon] who's one of the best point guards in this franchise's history—one of the greats out there in European basketball, to be able to pass him, it meant a lot."
Jan. 30, 2020: Powell Plays Hero in Cleveland
Jan. 31, 2020: Players Give Their All to Earn Coaches' All-Star Nod
Davis was a football star as a senior at Southaven High School before making the decision to pursue basketball as a career. Toronto is thrilled he did so.
The 22-year-old has racked up career-high after career-high seemingly week after week sometimes, and on this particular Sunday afternoon, he dropped 31 points on 15 shots to send the Bulls packing.
The highlight of the game came at the very end, though, when John Beilein called a timeout with just over a minute remaining and the Bulls trailing by 25. Local star broadcaster Jack Armstrong was absolutely incensed by the decision.
"What are you doing? What strategy are you talking? It's a 25-point blowout, there's a minute-four left, it's Super Bowl Sunday, I wanna get outta here! What strategic adjustment are you making stuck 25? Come on man, this is just… come on, really?"
Beilein has since been relieved of his duties as Cavs head coach.
Trailing by 11 with under three minutes to play, Toronto was in danger of having an 11-game win streak snapped and missing out on a new franchise record. But as this team has shown all season, there's just no quit in them.
Resorting to a full-court press that gave the Pacers the heebie-jeebies, the Raptors came storming back courtesy of big buckets from Siakam and Lowry, before Ibaka provided the finishing touch with the biggest shot of them all: a game-winning three-pointer with 35 seconds remaining from the right side of the arc just beside where the corner line begins for a one-point win.
It has been one of the more underrated storylines of the Raptors season. With Gasol absent due to a hamstring injury, Ibaka stepped up to the plate yet again with 30 points and seven rebounds to help the Raptors to what was then a franchise-record 12-game winning streak.
In 19 starts as the starting centre this season, Ibaka has averaged 19.6 points, 9.1 rebounds, and a block per game while shooting 46.5 percent from three-point range. There are plenty of teams that he could be the full-time starting option for, but his commitment to winning and desire to be a veteran leader for this group has been exemplary.
Feb. 7, 2020: OG Anunoby Shines Bright in Face of Adversity in Indiana
It seemed as though Caris LeVert was just destined to end the Raptors' streak. Pouring in a career-high 37 points including three straight baskets that tied the game with 35.4 seconds remaining, Toronto had to be smarting after letting yet another double-digit lead slip away.
Hanging by a thread after Siakam hit 1-of-2 at the free-throw line, Anunoby was tasked with coming up with the goods matched up against LeVert. First, the Nets guard tried to free himself courtesy a screen from Joe Harris as he went left, no luck. He crossed right, Anunoby stuck right with him. With nowhere else to go, LeVert hoisted a prayer over Anunoby's right arm that caught nothing but air. The Raptors still needed a bit of luck after Harris corralled the offensive board and missed a layup, but it was one of those moments where Anunoby earned Toronto a bit of luck.
Feb. 10, 2020: Rondae Hollis-Jefferson Goes Full Hustle Man Against the Wolves