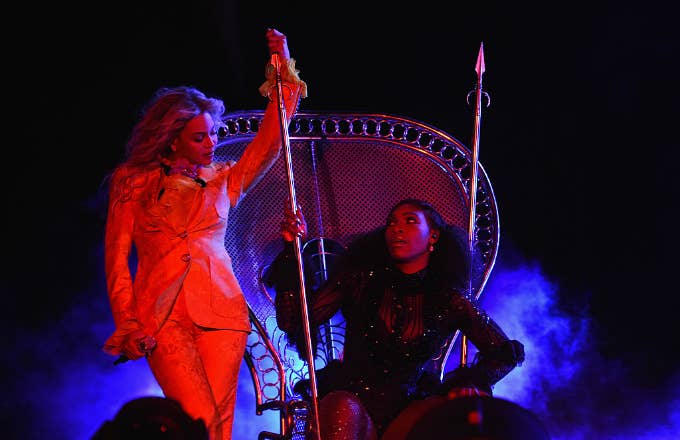 Serena Williams was one of the many highlights of Beyoncé's Lemonade when she served face and twerked in the "Sorry" music video. Now, the GOAT is doing it all again on Lip Sync Battle.
In a video obtained by TMZ, Williams is seen twerking to the song that gave birth to the phrase, "Becky with the good hair." Although it isn't Bey sitting on the throne this time, Williams drops it low and bounces up and down next to the coveted seat. As the title suggests, we can expect Williams to lip sync some of the lyrics as well. 
Williams has had quite a month. She controversially lost to Naomi Osaka at the US Open, where an umpire docked her of a point and accused Williams' coach, Patrick Mouratoglou, of illegally coaching her. Shortly afterward, Australian paper The Herald Sun published a racist cartoon about her. Last week, Australian football players decided to put on blackface to dress up as Serena and Venus Williams. But how many better ways are there to get over a trash month than Beyoncé's music?
Speaking of Lip Sync Battle, Bey probably won't end up joining Williams on the show since she's on the West Coast for her On the Run II tour with JAY-Z. But if it did happen, it wouldn't be the first time Bey came through to show support for a competitor. In 2016, Beyoncé joined Channing Tatum during his performance of "Run The World (Girls)" on the celebrity competition show.
But it'll be a while before fans get to see the full episode with Williams: According to Deadline, the show's fifth season won't premiere until sometime next year.