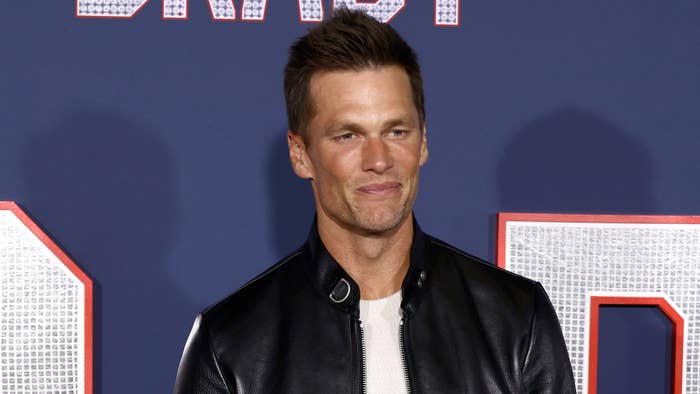 UPDATED 2/7, 12:30 a.m. ET:Brady's previously announced gig as a broadcaster for Fox Sports won't kick off until fall 2024.
"That's great for me. Take some time to really learn, be great at what I really want to do, [and] become great at thinking about the opportunity and making sure I don't rush into anything," the 45-year-old said on FS1's The Herd with Colin Cowherd. "I think when people really bet on me; one thing about my career—whether it's when I was drafted with the Patriots or signing in free agency with the Bucs—I want to be fully committed and I never wanted to let people down. I think my biggest motivator was that."
Brady's agreement to head to Fox Sports as lead analyst was revealed in May 2022 and reportedly amounts to $375 million over 10 years, the largest such contract in sports television history.
"I want to be great at what I do, and that always takes some time, strategizing, learning, growing and evolving," he told Cowherd of the gig on Monday. "I have so many people to rely on and support me in that world, too. It's going to be a great opportunity for me to take some time [to prepare] for my Fox broadcasting job, but also catching up on other parts of my life that need some time and energy."
See original story below.
Tom Brady is retiring, this time "for good."
In a video statement shared to Instagram and Twitter early Wednesday, Brady announced his decision while playfully acknowledging the fact that this isn't the first time he's made such a declaration. This time around, however, Brady says it's indeed the real deal.
"Good morning, guys," he said in the clip, as seen below. "I'll get to the point right away. I'm retiring, for good. I know the process was a pretty big deal last time so when I woke up this morning I figured I'd just press record and let you guys know first. I won't be longwinded. You only get one super emotional retirement essay and I used mine up last year."
From there, Brady thanked his family and friends, as well as others, for helping him live his "absolute dream" during his years of NFL superstardom.
"Thank you guys so much, to every single one of you for supporting me," he said. "My family, my friends, my teammates, my competitors. I could go on forever; there's too many. Thank you guys for allowing me to live my absolute dream. I wouldn't change a thing. I love you all."
Widely referred to as the greatest quarterback in NFL history, the 45-year-old previously announced a short-lived retirement in February of last year. Shortly after that announcement, however, he was confirmed to be returning to the Buccaneers.
Speaking with Mike DeStefano for Complex last April, Brady detailed what went into his decision to un-retire so soon after that initial announcement. As fans might expect, a taste for victory was a driving factor.
"Ultimately, that's why I came back, to win," he said at the time. "There's only one reason to play for me at this point in my career. And that's to win."