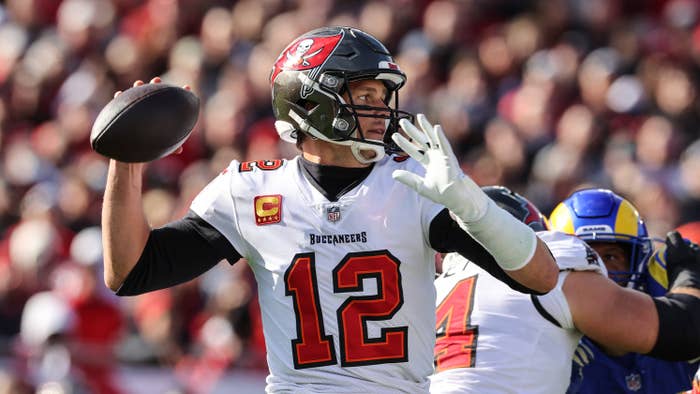 Whether they like him or not, most football fans would likely say that Tom Brady is the greatest NFL player of all time. With a resume that spans over two decades and includes accolades like seven Super Bowl rings and three MVP awards, it's hard to argue. 
At 44 years old, Brady remained in the MVP conversation as the quarterback of the Tampa Bay Buccaneers this past season, which made his announcement back in February even more shocking. On Feb. 1, Brady announced he would be retiring from the game of football citing a desire to spend time with his family as a big deciding factor. Just a month prior, he launched BRADY, a brand bearing his name that sells what he refers to as "life-letics" apparel with the help of Swedish entrepreneur and Skims CEO Jens Grede. Public School co-founder Dao-Yi Chow is the creative director. The launch seemed like a logical way for Brady to transition into his life after football and focus more on his business portfolio. 
"I think the intention was to create a brand that's gonna be around for a long, long time," Brady tells Complex. "You've gotta solve the problems and you've gotta continue to build on your strengths and understand your weaknesses. I think that part of it is gonna really fuel me in the second part of my career after I'm done playing. That's really gonna satisfy the competitive nature in me."
Today, BRADY introduces a collection focused on golf, one of Brady's favorite hobbies. The line of golf apparel aims to mesh durability, technology, and style. With prices ranging from $75 to $195, the release includes traditional items ranging from knit polos constructed of lightweight fabrics to water repellant zip-ups. Supporting the next generation of athletes is a brand pillar for BRADY, and they've enlisted NCAA golfers Cole Hammer and Michael Brennan to star alongside Brady in the latest campaign. Legendary music video director Hype Williams, who shot all of the visuals, is also a part of the star-studded ensemble. 
Clearly, this isn't just another side project Brady has stamped his name on. But as most sports fans already know, 40 days after his first retirement announcement, Brady took to Twitter to make it clear he wouldn't be stepping away from the game yet after all. He's coming back to play another season as the quarterback of the Tampa Bay Buccaneers. But the question is: Why?
"I decided to talk with my family and I said, 'I think I wanna do this one more time if you guys will support that.' And my wife was so supportive of it and she said, 'Look, I want you to be happy. I want you to enjoy it and go out there and win.' Ultimately, that's why I came back, to win," says Brady. "There's only one reason to play for me at this point in my career. And that's to win."
We recently got a chance to speak with Brady for a rare interview to discuss why he decided to not retire, if he thinks he could play until age 50, working with Hype Williams on his new BRADY Golf campaign, and more.
(This interview has been edited and condensed for clarity.)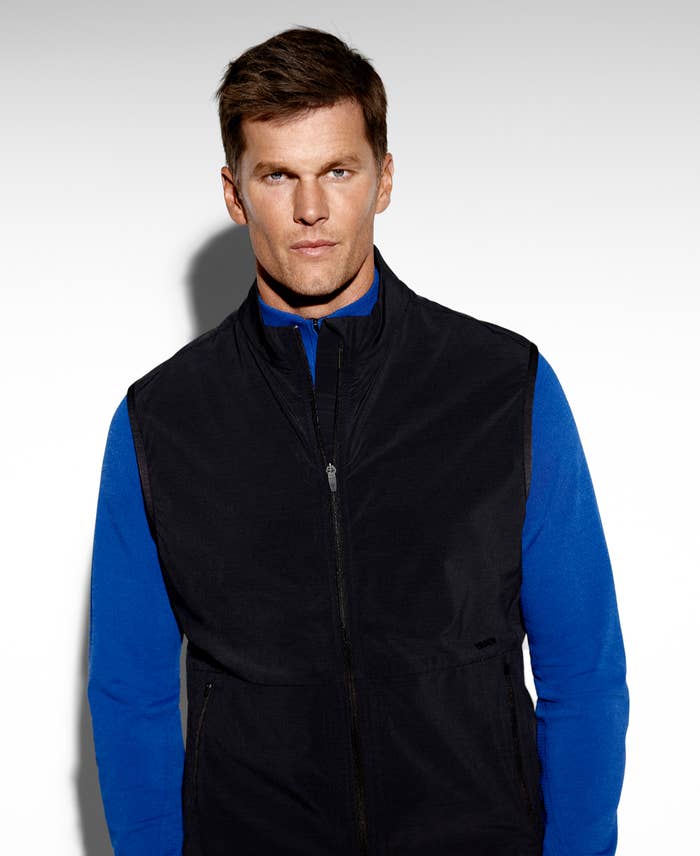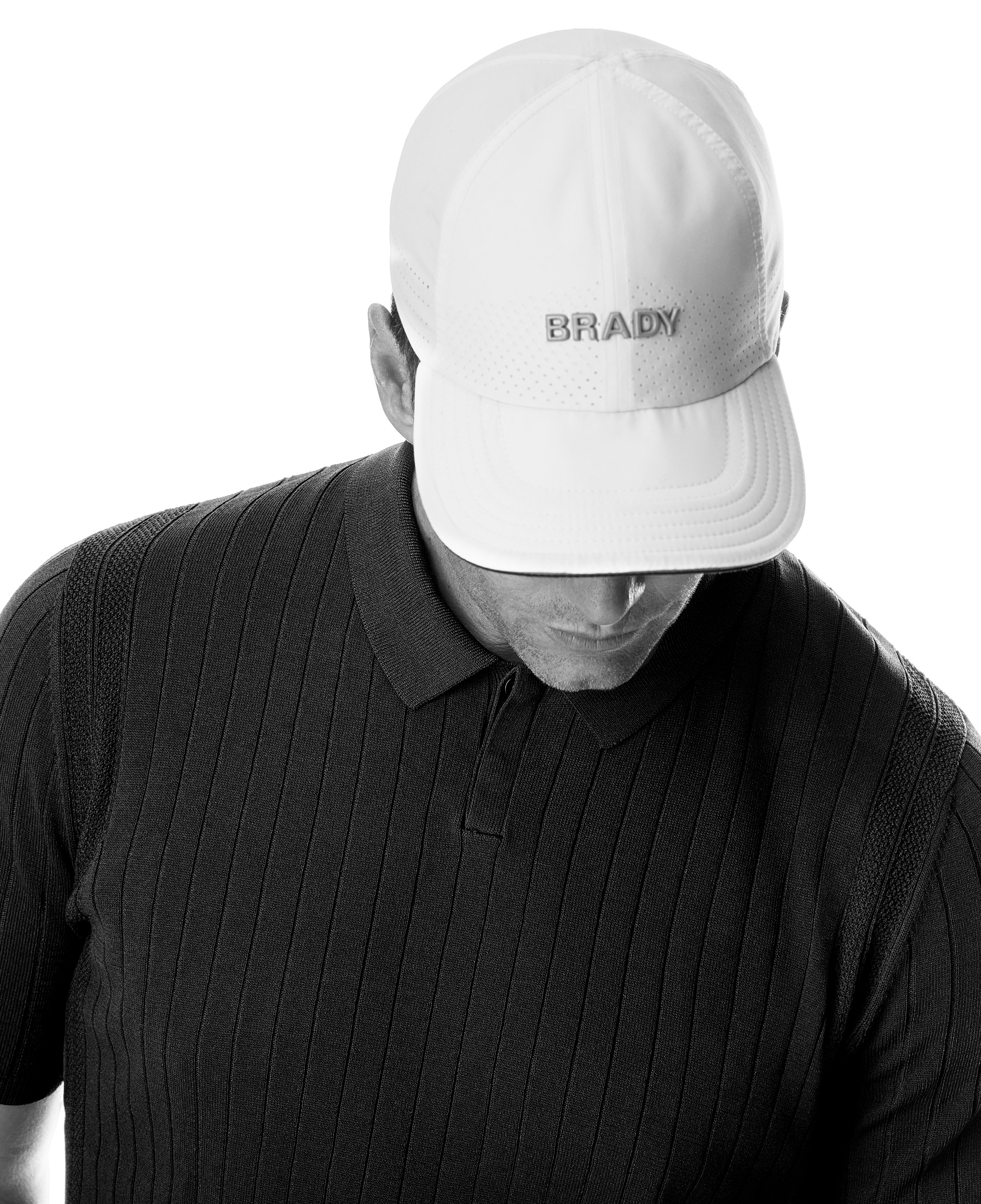 For the campaign, I know you worked with Hype Williams. What was it like working with him and why do you think his creative vision made sense for the brand?

He's done a lot of hard work over the years and I think he's put himself in the middle of popular culture for a long time with a lot of amazing work that he's done. Shooting with him, I was so impressed. I've been on a lot of shoots for 22 years. How he approached it and the mood on the set and his vision for what he wanted was very unique. And in the end, when I saw the way that the pictures came out, I was blown away by his creative vision. He's always been very unique to what he's done. I think he's contributed a lot to a lot of guys' work that I've really respected over the years in music. A lot of these guys have been my friends for a long time, too. I know when Jay-Z has a lot of respect for Hype, for example, that gives me an implicit trust in what he's gonna shoot with me. 
It's funny you mentioned Jay-Z. I spoke with Hype as well and he told me that on the shoot you guys were blasting some Jay-Z deep cuts out of the speakers. I didn't know Tom Brady was such a big Jay-Z fan.

I've run out to "Public Service Announcement" since that album came out, every time I leave the tunnel. Jay's been a friend and obviously he's kind of my era of music. It's been really relevant to me. I've been in locker rooms for a long time. There's lots of different varieties of music that you get to listen to. I gotta get myself in the mood and empower myself to go out there and feel free and to feel energized. And I think his music's always done that for me. In a unique way, I think music shapes a lot of our lives, a lot of our performances. They've been creating music for decades. I still hear music from when I was a kid, whether it's Bob Marley or U2 or Jay-Z, and it has a deep meaning in my life. 
Another aspect of the brand thus far is all the campaigns have highlighted various college athletes. Why is that important for you and how do you think those types of NIL deals will impact college sports moving forward?

I think it's interesting. It came about at the beginning of last year, which was something that was new for Jens and I. This is the first time where people have had the opportunity to work with these "amateur athletes." They could never represent brands and be paid for it. I just remember when I was in college and I was getting the $400 scholarship check every month. But we can help put some money in these kids' pockets and allow them to do something cool while helping  them in a way that I wasn't allowed to be helped when I was in their position. You leave home as a kid, you're just trying to make it. I worked at a golf course. I worked at a beer festival in the summertime. I worked as an intern at a financial services job at one point. I worked as a park ranger. These were things that I had to do because I was a normal college kid. I didn't have any money. So I see my niece, for example, at UCLA, has signed some NIL deals and it's changed her life. So, that part has been really amazing. I feel working with young athletes who have so much ahead of them is great. A lot of the big brands, the big consumer brands, they have the money to pay these athletes to represent their brand. But a lot of these guys, their career is kind of what it is at this point. When you approach a 33 or 34-year-old athlete, he's kind of accomplished the things that he's wanted to accomplish. 
I think from my standpoint, I never felt like BRADY brand was to be like Tom Brady. It was meant to provide the tools to be the best that you could be as an individual. What could you do to better your circumstances in life? How can you grow and mature physically, mentally, emotionally, so that you could be the best person you could be in life? I didn't want it to be a glorification of some football career that I had. It's not that it's not important to me. It's very important, but it's compartmentalized to a place that I'm very proud of it, but I'm also very proud of many other aspects of my life, my relationship with my family and my relationship with my friends. What football brought me more than anything is the most amazing memories and the best relationships. I've met so many guys from all around the country that have had the biggest impact on my life, guys that were younger or older than me from Florida and Texas and Louisiana and California and Washington and New York and New Jersey. They've added so much to my life. Without them, I'm not where I'm at today with the opportunities that I have. I wanna do right by people. And I wanna do right by my friends and my family. And I always wanna represent them the right way. 
These young athletes are trying to look for inspiration in their young careers and look to people who they can say, "Man, I like the way that he did things. I liked his approach." That's more important to me than going, "Man, he's great cause he won some trophies." Yeah, that's great. But the "how" I did it was the most important thing. You gotta work hard, be disciplined, be determined, be humble, be open and curious about learning along the way. Without that, we're not gonna be able to accomplish what our potential is. It's gonna let us down at some point. So, let's work to achieve our best by caring about the people that we're working with and caring about the mission we're trying to partake in together. When you do that, great things can happen.