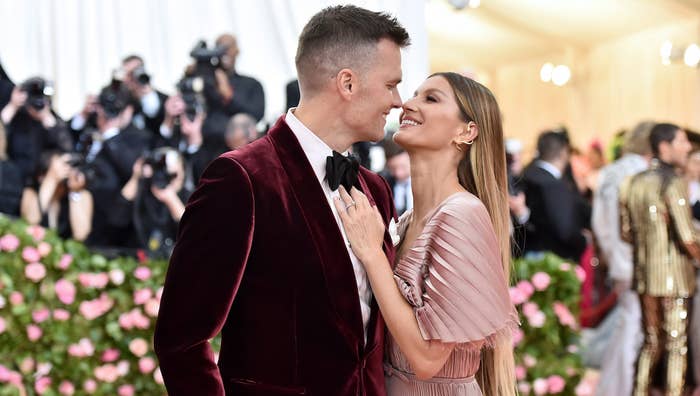 After his recent divorce from his wife of 13 years, Gisele Bündchen, Tom Brady is focusing on family and football.
"I think there are a lot of professionals in life that go through things that they deal with at work and they deal with at home," Brady said on the latest episode of his podcast Lets Go! With Tom Brady. "Obviously, the good news is it's a very amicable situation, and I'm really focused on two things: taking care of my family, and certainly my children, and secondly doing the best job I can to win football games. That's what professionals do."
He continued, "You focus at work when it's time to work, and then when you come home, you focus on the priorities that are at home. All you can do is the best you can do. That's what I'll just continue to do as long as I'm working and as long as I'm being a dad."
The comments come after news broke that the couple had undergone formal divorce proceedings in Florida on Friday. Rumors of a rift between the pair, who were married in 2009 and share two children together, were initially reported by TMZ in September. The outlet claimed Brady and Bündchen were living separately following Brady's publicized and dramatic un-retirement from football. 
"We arrived at this decision to end our marriage after much consideration," Brady wrote in a statement after his divorce became official. "Doing so is, of course, painful and difficult, like it is for many people who go through the same thing every day around the world."
Bündchen also penned her own statement, which read in part: "The decision to end a marriage is never easy but we have grown apart and while it is, of course, difficult to go through something like this, I feel blessed for the time we had together and only wish the best for Tom always."
While on his Let's Go! podcast, Brady echoed these sentiments and said he's just trying to do the best he can do.
"I've dealt with a lot of challenging situations on and off the field over 23 years and a lot of it does play out in front of a lot of people," he said. "Everyone's going through different things, we all have our unique challenges in life and we're all humans and we do the best we can do. I have incredible parents that have always taught me the right way to do things. I wanna be a great father to my children and always try to do things the right way as well."
Listen to the full episode below.