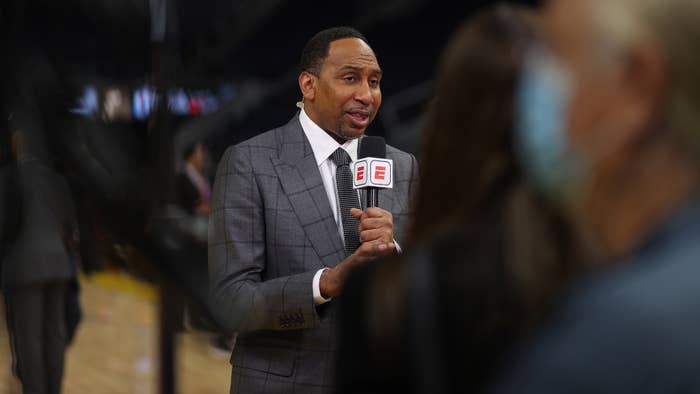 Stephen A. Smith is calling out the circumstances surrounding the alleged leaking of information regarding the potential suspension of Boston Celtics head coach Ime Udoka.
During an ESPN broadcast on Thursday, the First Take commentator spoke both to the nation at large and directly to the Celtics organization.
"Because I got news for you, America. There's plenty of white folks in professional sports that's doing their thing. And I say that not complimentarily," Smith said, as seen in the viral clip below. "I don't see the information out about them. Why we talking about this now?"
Smith specifically took issue with the release of follow-up information, as previously reported, in which it was claimed that news of a possible suspension was linked with an alleged consensual relationship Udoka had with a woman on the team's staff. According to Smith, this is the fault of the Celtics organization.
"What I will say is this, and this is a message to the Boston Celtics, I got a problem with you as an organization … If you're not going to fire him, why the hell do we even know about this story?" He said. "Nobody's bringing that up. I'm going to bring it up. What the hell are you telling us for?"
Elsewhere, Smith said there are "more layers" to this story that have yet to be unfolded. Later in the show, Smith also reiterated the fact that incident of this nature are widespread across sports organizations. And while he isn't arguing for condoning the behavior itself, he did repeatedly point out the consensual nature of these alleged interactions while also highlighting the fact that countless "white dudes" get away participating in the exact same behavior.
"I don't see nothing being out and disseminated to the masses with these white dudes that's doing this stuff," Smith said. "I know plenty of white dudes that was screwing around while they're executives or coaches or anything like that. … I know plenty! I've never seen this publicized."
In summary, Smith added, the Celtics organization's handling of this issue has been "sleazy."