Celtics Coach Ime Udoka Suspended for Entire Season After Engaging in 'Intimate' Relationship With Staffer (UPDATE)
"I am sorry for putting the team in this difficult situation and I accept the team's decision," Udoka shared in a statement. The team also shared its own.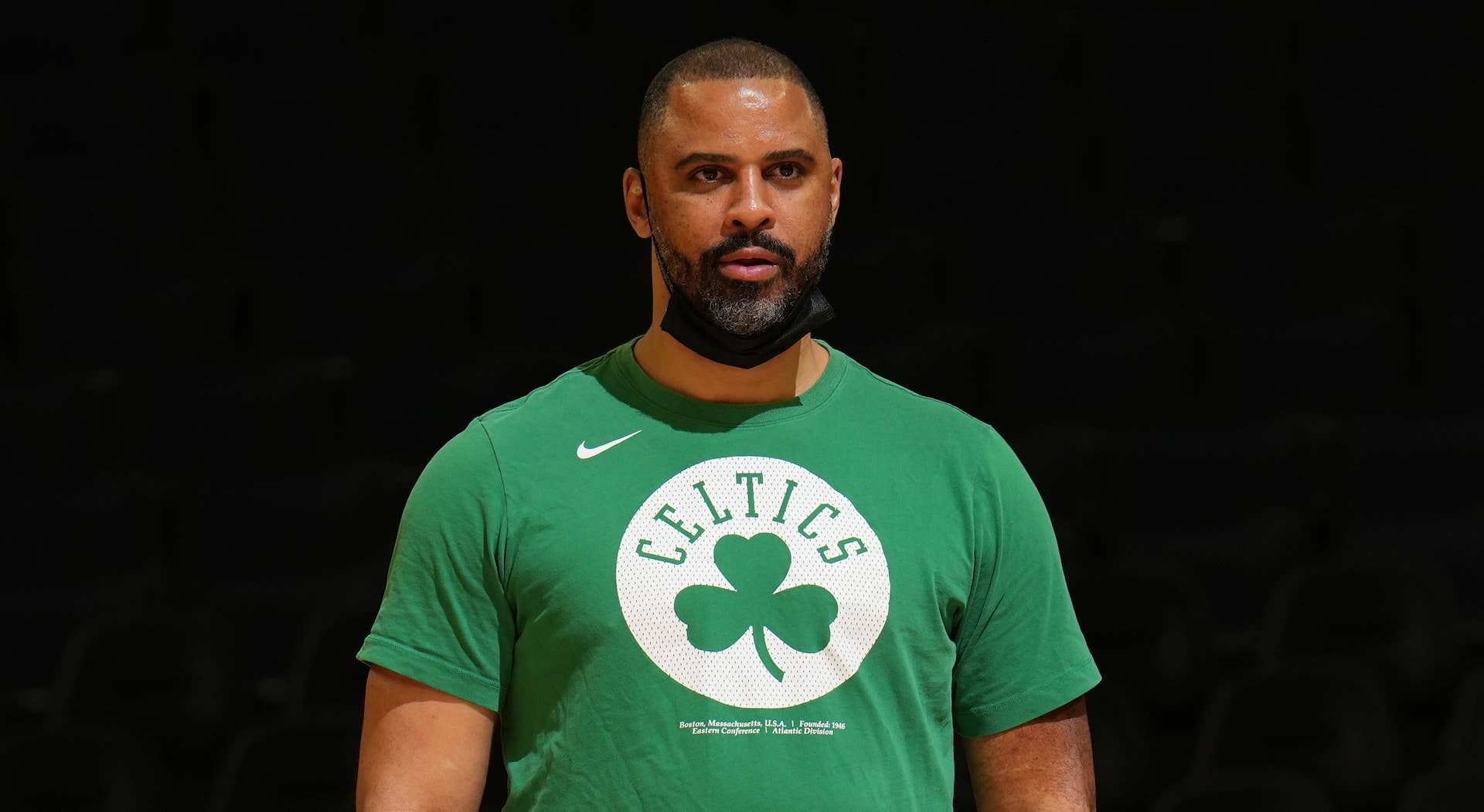 Getty
Image via Getty/Jesse D. Garrabrant/NBAE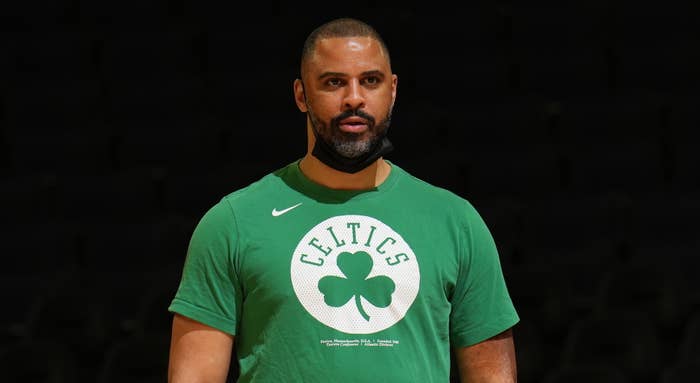 UPDATED 9/23, 10:05 a.m. ET: A new report, again from the Athletic, has provided additional alleged information on the larger situation involving Ime Udoka, who's now been suspended for one season.
Per the report, members of the Celtics organization were first informed of the relationship in question in July of this year and were told it was consensual. Sources cited in the report, however, add that the unnamed woman has more recently alleged that Udoka made "unwanted comments" toward her. These comments, the article further claims, resulted in the initiation of internal discussions.
UPDATED 9/22, 10:20 p.m. ET: Boston's Ime Udoka has been suspended for the full season, and both he and the team have shared statements.
"The Boston Celtics announced today that the team has suspended Head Coach Ime Udoka for the 2022-23 season for violations of team policies," the C's stated. "A decision about his future with the Celtics beyond this season will be made at a later date. The suspension takes effect immediately."
In his own comment, Udoka, 45, said, "I want to apologize to our players, fans, the entire Celtics organization, and my family for letting them down. I am sorry for putting the team in this difficult situation and I accept the team's decision. Out of respect for everyone involved, I will have no further comment."
ESPN's Adrian Wojnarowski says sources reveal assistant coach Joe Mazzulla is now interim head coach.
UPDATED 9/22, 5:12 p.m. ET: Ime Udoka has decided not to resign from his coaching position with the Celtics, Chris Haynes reports.
UPDATED 9/22, 12:15 p.m. ET:According to Chris Mannix of Sports Illustrated, Ime Udoka has given thought to resigning from the Celtics organization. The head coach has yet to make a public address.
Meanwhile, ESPN's Marc J. Spears reports that Allison Feaster, who is the Vice President of Player Development and Organizational Growth of the Celtics, was not the person that Udoka was in a relationship with.
UPDATED 9/22, 10:10 a.m. ET: Udoka is reportedly "facing a suspension for the entire 2022-2023 season," according to ESPN's Adrian Wojnarowski.
UPDATED 9/22, 7:05 a.m. ET: On Thursday, sources were cited in a follow-up report from the Athletic as claiming that Celtics coach Ime Udoka had engaged in an "intimate and consensual relationship" with a woman on the team's staff.
See original story below.
Ime Udoka, the Boston Celtics' head coach, is reportedly on the brink of being disciplined in a to-be-determined manner for violating team guidelines, details about which are also unclear at this point.
ESPN's Adrian Wojnarowski tweeted Wednesday evening, "Boston Celtics coach Ime Udoka is facing possible disciplinary action—including a significant suspension—for an unspecified violation of organizational guidelines. Discussions are ongoing within the Celtics on a final determination."
In a follow-up Woj said the 45-year-old's "job isn't believed to be in jeopardy, but a suspension is looming and a final determination on that length could come as soon as Thursday."
Speaking on SportsCenter, Wojnarowski added, "This is a Celtics matter, I'm told. This is not a league issue, this is an internal Boston look at Udoka and this violation of team guidelines, but certainly jarring for this Celtics organization."
The Boston Globe's Adam Himmelsbach said a league source confirmed Udoka "is facing a likely suspension for a violation of team rules."
Ime Udoka impressively led Boston to the 2022 NBA Finals in his debut season there after seeing the C's to their first Eastern Conference win since 2010. He previously held assistant coaching roles with the Spurs, 76ers, and Nets.
Boston has a media day scheduled for Monday, Sept. 26; training camp kicks off the day after. Their season launches in the TD Garden on Oct. 18 against the Sixers.
"There's now a significant possibility that Udoka won't be on the sidelines for that game given the latest news," Bleacher Report writes.