Paul George Responds to Lakers Fans: 'It's Always Love Here Regardless of the Boos Tonight'
PG-13 heard it from the Staples Center crowd, but dropped 37 points for the win on the team he spurned in free agency this summer.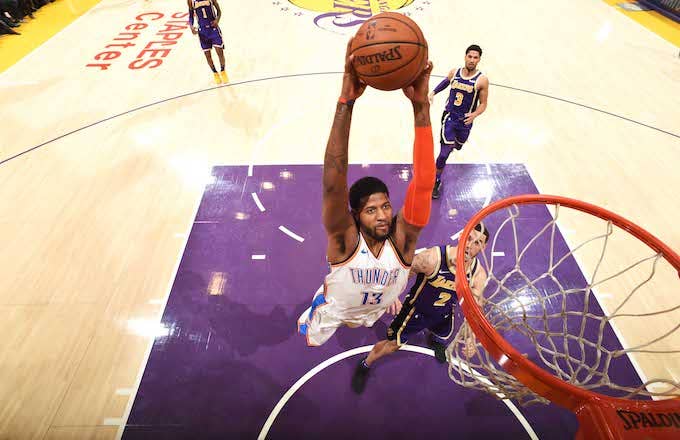 Getty
Image via Getty/Andrew D. Bernstein/NBAE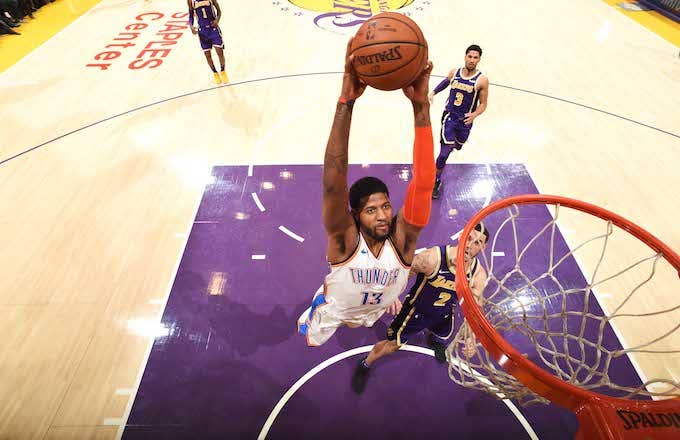 They booed him during player introductions Wednesday night, then booed him even louder when he first caught the ball. Lakers fans came for Paul George on Wednesday night essentially because he opted not to sign with them in free agency this summer, not because he left the team. The most entitled fan base in the NBA acted about how'd you expect, but George didn't stoop to their level when asked about it after the game.
Something to note about the boorish behavior from the Staples Center fans: Russell Westbrook is from Long Beach, California, and—like George—didn't sign with the purple and gold, preferring to sign an extension with the Thunder in the fall of 2017. PG-13 is technically from Palmdale, California, well over an hour away by car and a lot further from what people consider Los Angeles than Long Beach. Yet, listen to the Lakers crowd react to Russ and PG-13 when they're introduced:
In the fourth quarter, as he was shooting free throws, the purple and gold spectators chanted "we don't need you," when trailing the Thunder and while George was scoring a game-high 37 points for what would end up being a 107-100 Thunder win.
The Thunder nabbed George from the Pacers two summer's ago, and he re-upped with them this summer, failing to even meet with the Lakers, while admitting they'd likely have landed him if that Thunder trade hadn't happened. But the booing didn't phase the Thunder star. 
"I'm not the only SoCal kid from this area that didn't play here," George said when asked about the boos on Wednesday night. "But I took it with respect. This is an unbelievable organization. [I have] the utmost respect for everybody in their [front] office, for this city. You know, I'm a SoCal native. It's always love here, regardless of the boos tonight. I mean, it is what it is. I came out here, I played my heart out and I just have fun with it."
You've gotta wonder if Lakers fans even deserve LeBron, or PG-13, or anyone. Except maybe Bean.