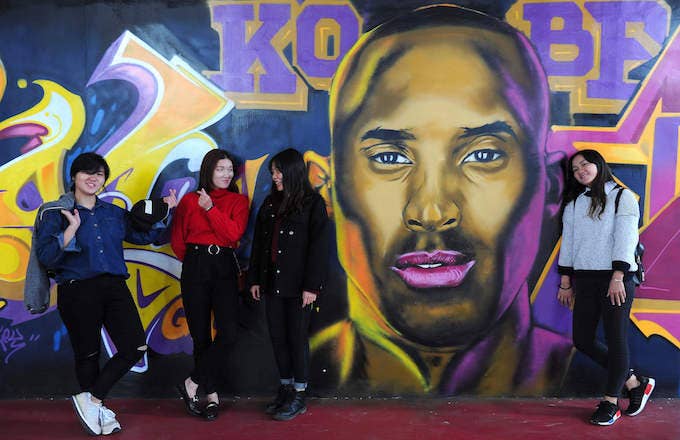 Kobe Bryant's multimedia empire is expanding into young adult fiction with a formal announcement about three books due out next year, via The Hollywood Reporter. The novels are set in a fantasy realm, but there's a twist: Instead of Harry Potters, hobbits, lovelorn vampires, or dystopian combat with bows and arrows, Kobe's protagonists will be athletes. He's creating a fantasy world similar to the one Kobe stans continue to inhabit, and like them it's geared toward the imagination of adolescents.
"I built Granity Studios as a platform to create and share original stories to inspire today's young athletes," said Bryant of the release. "There's surprisingly little content that combines the passion of sports and the traditions of original storytelling. Granity Studios will fill that void." 
Here are the three books coming out in 2019:
--The Wizenard Series: Training Camp, due in March, tells of diverse cast of young male characters and their mysterious coach who breaks down five individual players to build a team;
More titles are expected in 2020, and the books are already set to be adapted for other entertainment mediums. Wizenard is set to hit the stage in a theater performance, and the other two as animated projects, THR reports.
The three titles join Granity Studios' The Punies scripted podcast series, which has begun production on a second season and is already slated for the small screen as an animated series.
"If Harry Potter and the Olympics had a baby, that would be the world we're trying to communicate," Bryant told Sports Illustrated about the novels when they were originally alluded to earlier this year. "There's fantasy—dreamlike, magical elements—but it's a magic kids can experience."
"Our team has worked tirelessly to put together an incredible slate of projects that we believe will change how young athletes learn more about themselves, as well as the sports they play," Bryant added in the new THR release.
The move to fiction, with an aim toward the stage and small screen, continues Bean's post-career move into the entertainment realm. Bryant captured an Oscar for his animated short film Dear Basketball. The Oscar win caused a bit of a stir in the #MeToo era considering a credible assertion of rape against the Lakers star in 2003.