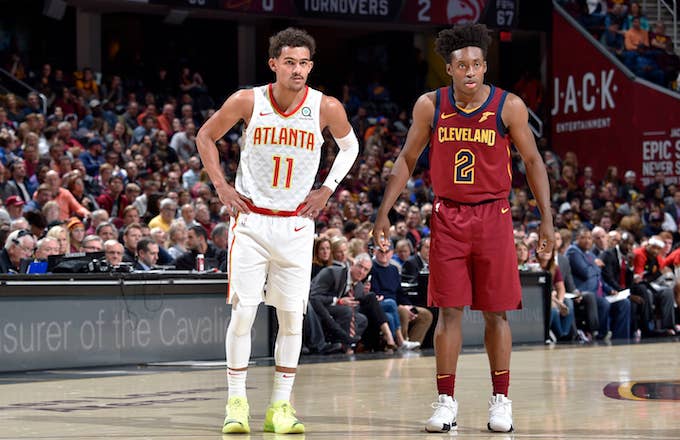 There's been a race in the first few weeks of the 2018-19 NBA season to see which team can implode faster: the Cavs or Timberwolves. Jimmy Butler shot Minney out to an early lead, but J.R. Smith is spearheading Cleveland's comeback. The Cavs are 1-8 so far this season and their lone victory came against a rebuilding Hawks team (rebuilding is code for tanking; Sam Hinkie just refused to talk in code). Perhaps that's why J.R. Smith decided to stick it to Cleveland's own rookie point guard—Collin Sexton—on Saturday when he advocated for Trae Young as rookie of the year:
Smith's tweet falls right in line with the rest of the Cavs, who allegedly think Sexton stinks. But you could say that about almost every veteran in the league with a new rookie teammate. The NBA is hard, and it takes a while for first-year players to adjust. Trae is putting up some really dazzling numbers on some nights, like he did early in his lone season with Oklahoma last year. But the rookie cliff is real, and he's getting a lot more of an opportunity to shine in Atlanta as the coaching staff spends more time watching Duke than their upcoming opponent.
Regardless of how Smith's tweet might vex Sexton, or how little Smith cares, neither is the the rookie of the year frontrunner. Sexton isn't a savior and we don't think Young is either, despite some remarkable stat lines.
J.R. Smith's Twitter advocacy doesn't change anything, but it is solid content and a transparent attempt to get the hell out of town.