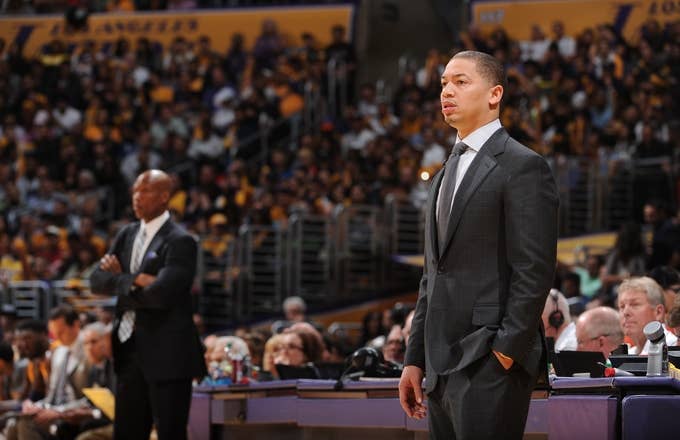 The Los Angeles Lakers are looking to fill the position of head coach, and the Los Angeles Times has learned that Tyronn Lue left "lasting impressions" on the team during his second interview for the role.
Many people, including Stephen A. Smith, believe that the former Cavs coach would be taking his talents to Los Angeles. In addition to being a former Laker (the previous two coaches Luke Walton and Byron Scott also played for the franchise), Lue developed a strong relationship with LeBron James. During his tenure with James, he brought home Cleveland's first NBA championship (2016) and took the team to the finals three years in a row.
However, Lue is not the only person up for the role, as Philadelphia 76ers assistant coach Monty Williams also interviewed for the position. Williams, who met with the Lakers contingent (comprised of several owners and co-owners of the organization), was described as "forthright and very likable during his interview." Jason Kidd, who was fired by the Milwaukee Bucks in 2018, also interviewed for the vacant spot.
The Times reports that, while both Lue and Williams impressed the team, neither was "offered the job and neither was given a timetable on when the Lakers will make their decision."
Since earlier this month, the Lakers have been looking for a new head coach, after it was reported that Luke Walton was let go following the team's 37-45 record this season. Soon after his termination, it was announced that Walton accepted the job as head coach for the Sacramento Kings.