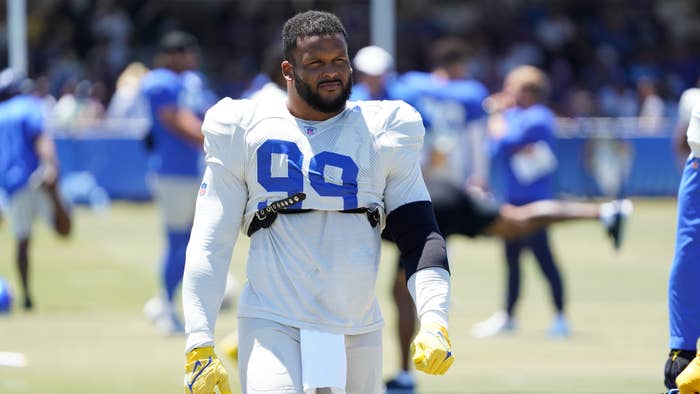 A brawl broke out between Los Angeles Rams and Cincinnati Bengals players during a joint practice on Thursday.
After footage of the incident surfaced online, many were drawn to Rams star defensive lineman Aaron Donald, who somehow managed to get Bengals helmets on each of his hands before swinging at members of the opposing team. 
Sam Greene, staff photojournalist for the Cincinnati Enquirer, captured a photo of the helmets-wielding Donald. 
According to NFL Network insider Tom Pelissero, the teams are responsible for the conduct of their own players during events such as joint practices, so it's "unlikely" the NFL will punish Donald or any other Rams or Bengals players for today's incident.
The joint practice came to an end after several fights erupted between the teams. Rams head coach Sean McVay said he didn't know what caused the two sides to come to blows, while Bengals head coach Zac Taylor declined to comment on the scuffles. 
"I won't get into what happened, it's over, we got two days of work in and everybody's healthy," Taylor said.  
There could be some residual bad blood since the Rams defeated the Bengals 23-20 in Super Bowl LVI earlier this year. They'll go head to head again on Aug. 27 in a preseason game.