Golden Tate on Jalen Ramsey Moving on From His Pregnant Sister: 'He Gonna Have to See Me'
Breanna Tate, sister of Giants wide receiver Golden Tate, was pregnant with Ramsey's second child when he allegedly left.
Getty
Image via Getty/Adam Glanzman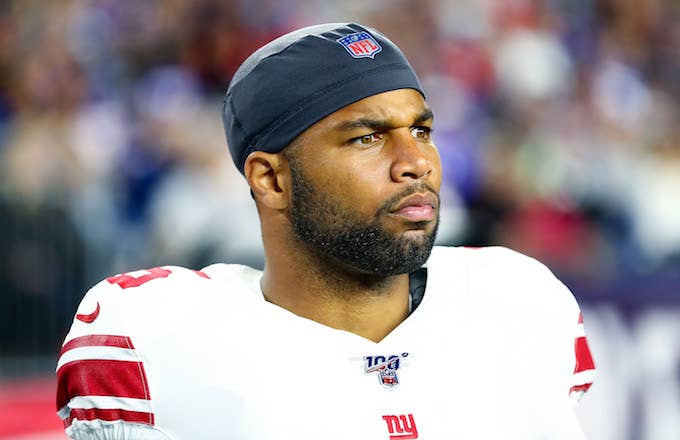 Los Angeles Rams cornerback Jalen Ramsey finally confirmed a rumor on Wednesday that has been going around for a few months concerning whether he had moved on from his last relationship. The proof came in the form of Ramsey posting a photo of himself with new girlfriend Monica Giavanna on Instagram. 
While breakups are the natural course of many relationships, it looks like the ending of Ramsey's relationship with Breanna Tate, who is pregnant, didn't sit well with her brother—New York Giants wide receiver Golden Tate. 
When a Twitter user suggested that if put in Tate's situation, they would "have words with this young fella," Golden didn't dispute the report and said he and Ramsey will see one another. 
What comes of that meeting is up to interpretation. It has been reported as far back as July that Ramsey left Breanna while she was pregnant for a dancer in Las Vegas, but with Jalen now closer to Vegas after being traded by the Jacksonville Jaguars to the Rams last week, the two may have also decided to turn their long-distance fling into something more meaningful. 
In case you're wondering, the Rams and Giants do not play each other this season.