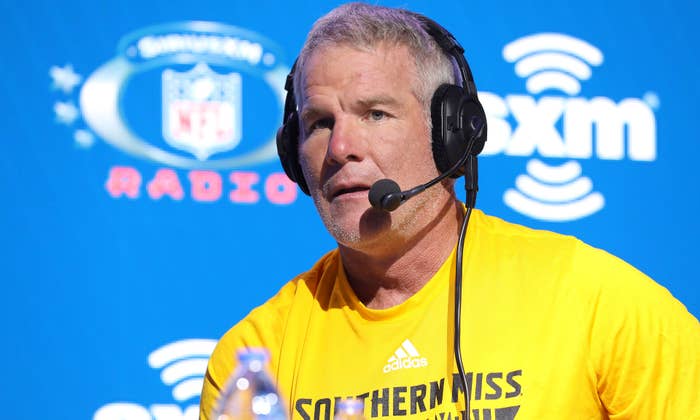 Brett Favre has filed a lawsuit against Pat McAfee and Shannon Sharpe, accusing the two of "making baseless defamatory allegations" regarding the former NFL quarterback's involvement in a Mississippi welfare fund scandal. 
"Shannon Sharpe and Pat McAfee tried to further their careers by making baseless defamatory allegations against Brett Favre," a spokesperson for Favre told the Daily Mail. 
Mississippi auditor Shad White has also been named in the suit for allegedly misleading the public about Favre's association with the scandal. "Everything Auditor White has said about this case is true and is backed by years of audit work by the professionals at the Office of the State Auditor," Fletcher Freeman, spokesperson for White, said in response to the lawsuit. "It's mind-boggling that Mr. Favre wants to have a trial about that question."
John Davis, former director of Mississippi's Department of Human Services, pleaded guilty last year to misusing millions of dollars in federal welfare funds, which allegedly includes putting $5 million toward construction on a new volleyball facility for Favre's alma mater, the University of Southern Mississippi, where his daughter attended and played for the team.
In 2020, Favre was ordered to pay $1.1 million, stemming from speaking fees for appearances that he never made. He received the money from the Mississippi Community Education Center, which was being funded with federal welfare grants. While Favre has repaid the $1.1 million, he has refused to pay the $228,000 in interest, claiming he didn't know where the money was coming from.
The lawsuit cites two alleged instances where McAfee said Favre "tied the hands of the poor people and took money right out of their pockets," and "certainly in the middle of stealing from poor people in Mississippi right now." Sharpe allegedly claimed "[Favre] stole money from the people that really needed that money."
The three-time NFL MVP is seeking an unspecified amount in damages, as well as "compensation for injury to Favre's character and reputation."