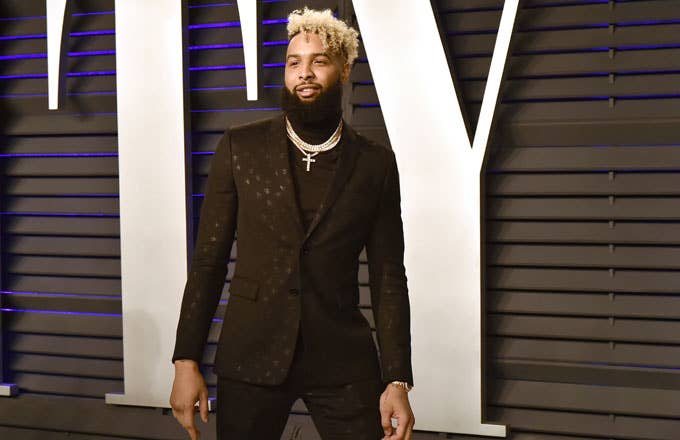 In response to a fan who was on team Beckham, Odell also said he just wanted some "respect on my name" which is certainly a reference to Gettleman stating that the Giants had a "cultural problem" that needed fixing before they could actually be really good.
"I think some people are still missing it," Gettleman said to NJ.com. "Football is the ultimate team game. If all 11 guys aren't doing the right thing, you're not going to be successful.... There's more to it [than] just collecting talent. There is a cultural thing to it that's critical. I have not been on a team that's gone to a Super Bowl that's had a culture problem."
With that out of the way here's what Beckham said:
He also said he wasn't mad about going to Cleveland, but reiterated that he thought his old team's move was "crazy" and "beyond disrespectful":
He later moved on to a lighter note and also probably took a shot at people hopping in his mentions with jeers/insults:
But that wasn't all. OBJ continued to fire off more tweets.
Ask the coach .... I beggged him to go to each and every one of those games actually for my teamatws and to be on the sideline for the home games... he told me "No".... anything else sir. (That's to whoever tweeted askin why I didn't travel while I was hurt....) next
😂🤐 *takes the high road* I'm workin on the best me! That's all I can say
That's alllll, damn when I wanna voice my opinion (like everybody else can do) and back myself up its a problem. Like im suppose to get walked over forever! "Shut up n dribble" no sir not me 😂😂😂

https://t.co/O1kQZKga88
ANYWAYSSSSSS I said what I said and I stand on that !!! 🗣🗣 to all the positive people out there let's keep inspiring each other ! Bless y'all, and LUV forever
My mommma said leave me alone y'all ruinin her bday 😂😂😂