Here Are the Extremely Early Odds for the 2019-20 NBA Championship
Here are the supremely early odds for next year's NBA champions.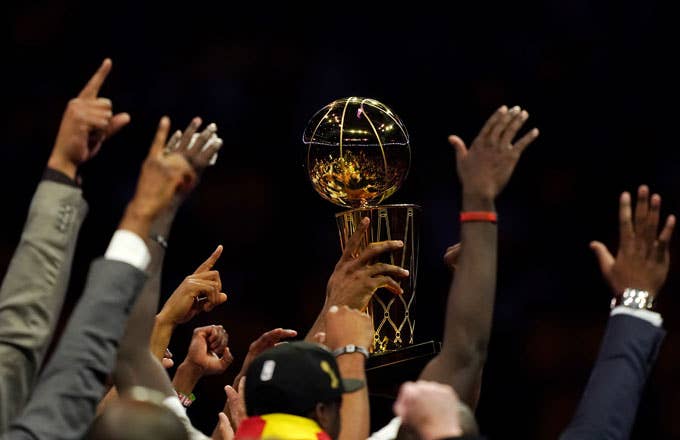 Getty
Image via Getty/Thearon W. Henderson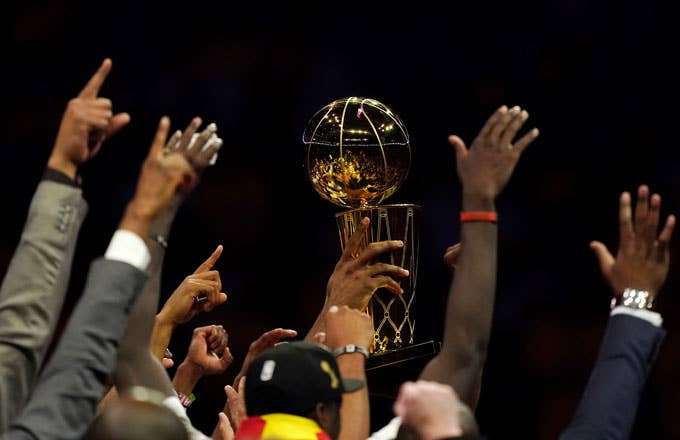 The 2018-19 NBA season is in the books, and the Toronto Raptors are champions. Turns out that acquiring Kawhi Leonard was a pretty good move. It may not have been as predictable as, say, Golden State winning the title again, but the Raps weren't exactly a slouch in the 2017-18 season either, as they won 59 games and had the one-seed. And while some cynics may point out that the series (and season) would've ended as expected if not for a pair of disastrous injuries, it's worth pointing out that its sports and it happens. Especially when you play 8+ months a year every year.
As each major sport has adapted itself into a year-round business, it's no surprise that odds on who will be the 2020 champ is now news, as optimism and gambling degeneracy are once again reborn. And while some astute observers may point out that there's a lot of things scheduled to happen between now and the 2020 Finals, namely:
A draft
Free agency
And an entire f*cking season.
It's still kind of fun to see where experts have each franchise ranked going into the offseason. While you can expect these fractions to fluctuate wildly over the coming months, here were the odds assessing who's most (and least) likely to be hoisting the Larry O'Brien Trophy a year from now—at least prior to Klay Thompson's ACL making headlines. These came from Caesars' sportsbook and, as noted by ESPN, the Warriors' chances understandably already took a hit when it was reported that Kevin Durant would be out for all of next year. They do, however, represent the odds that were given to GS before it was revealed how severe Thompson's injury was:
The most surprising part of that graphic might be the Lakers at No. 2, though Caesars senior oddsmaker Alan Berg said he'd received big enough bets on both of Los Angeles' teams to "make me respect them." Additionally the 9:2 payoff would seem to indicate that there's a lot of people out there putting their money on the Lakers finalizing a deal for Anthony Davis.
"We are treating all these bets as sharp on the basis that it's a very speculative market," Berg said. "With all the powerful free agents who can turn these teams into championship contenders."
You may be thinking odds that don't factor in Klay Thompson are out of date. So here's an updated look at where Superbook puts their chances, in addition to everyone else in the league, after reassessing the health of the roster of this year's runners-up:
Assess and spend your funds as you see fit.