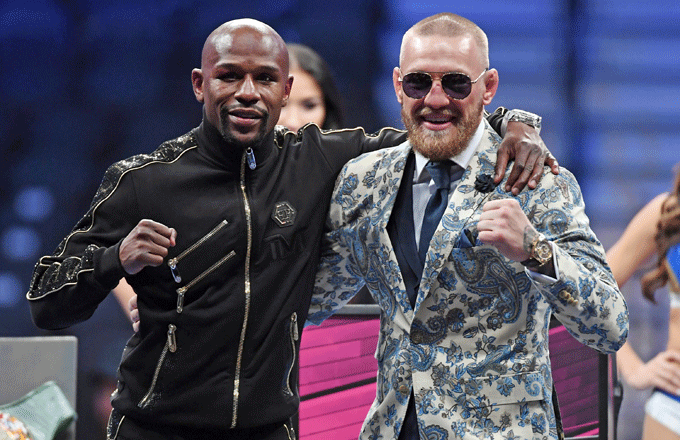 Though he's five days out from ending his 15+ month absence from the Octagon, Conor McGregor still has his mind set on getting back into the boxing ring for a(nother) high profile event that'd be sure to attract a lot of eyeballs and generate a lot of dough. McGregor stated as much on Ariel Helwani's MMA Show during an interview that aired on Monday. 
You can watch the whole thing below, or skip to the boxing stuff at 41:47. Do as you will:
"I'd like to rematch Floyd [Mayweather]," McGregor said, in an effort to once again try and talk that second fight into existence. "I think we should rematch Floyd. I mean, he's flirting with it...he can go and pick someone else, [but] it's not gonna be the same."
As you may remember, Mayweather and McGregor fought in August 2017 in an event that ended with the former besting the latter in a 10th-round TKO. Showtime had announced that the fight was ordered through 4.3 million domestic pay-per-views, and that it brought in revenue exceeding $600 million. In fact, the only fight to do better numbers than those came in 2015 when the long-awaited showdown between Mayweather and Manny Pacquiao finally occurred. 
ESPN adds that UFC president Dana White recently stated he and Mayweather came to a handshake agreement for Floyd to come out of retirement. White further added that he'll soon be speaking to Al Haymon, Mayweather's promoter, in an effort to get something together by the fall. It wasn't clear if White was referencing a future boxing or MMA fight when he made those comments. On that note, McGregor says there had been a verbal agreement to have an MMA component in the previous bout between he and Mayweather, but that that was something he no longer wished to pursue because he knows it won't become a reality.
"It was a great, great experience, and, you know, I look forward to doing it again," McGregor said of boxing Mayweather. "It's going to happen again."
In addition to stating that there had been some sort of negotiations, serious or otherwise, to once again fight Mayweather, McGregor also said he'd be interesting in other boxing bouts, and revealed dialogue had taken place for a fight between he and Pacquiao.
"There was an offer made on [a Pacquiao bout]," McGregor revealed. When asked about what was going on there, he simply said "not just yet."
On Saturday McGregor is set to face Donald "Cowboy" Cerrone in his first UFC fight since Oct. 6, 2018, which also happened to be his only UFC fight since 2016. On that date McGregor was choked out by Khabib Nurmagomedov, which he chalked up to a lack of serious preparation. Take those comments as you will.
"I was drinking all bleeding fight week the last time," he said, while stating he hadn't done that leading up to previous matches. "I just had this venom in me or something. I don't know why.
"I had people holed up in a hotel, from that part of the world. [Dagestan, where Nurmagomedov hails from.] And I would ring and arrange a fight. So they come from the hotel down to the gym and have a full-blown fight, no head guard. I'd win. You know, we'd have a war and I'd win and I'd knock the guy out. And then I'd go off and celebrate, and then I'd come back in three days."
As for whether or not McGregor can use that as an excuse now, the answer is no. He said he hasn't drank in about three or four months, and states his current fight camp has been "flawless." He also says that he expects to pull in $80 million for the upcoming fight:
See how all that works out Saturday.