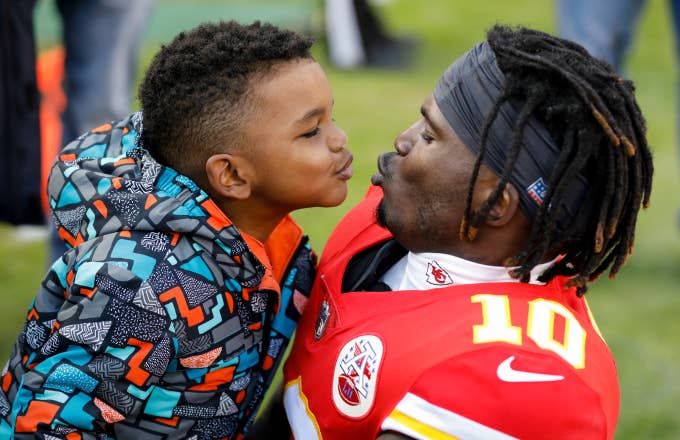 Tyreek Hill answered the first of many tough questions that will be thrown his way this year. 
While talking to the media at the Chiefs' training camp on Saturday, Hill was asked to clarify reports that he punched his son in the chest.
"Punching my son in the chest that would probably refer to me teaching my son how to box," the receiver said. "We do have boxing gloves at our house and our son he likes Iron-Man. So he loves Iron Man and Aquaman and he's like, 'Daddy, daddy come on' all the time. So, that's what it is."
Earlier this year, audio surfaced of Hill's ex-girlfriend, Crystal Espinal, accusing Hill of abusing their 3-year-old. This, along with the child breaking his arm, prompted the local authorities to open a child abuse investigation into both Espinal and Hill. Although authorities were certain a crime took place, Kansas prosecutors confirmed this month that Hill was no longer under investigation and no charges were filed against them. This was echoed by the NFL which decided not to suspend Hill after completing its own investigation. 
"Sometimes things get thrown out of context when feelings get involved and emotions," Hill said to the media. "But, I'm not going to get into all of that right now.

Hill also addressed the crude language that he was heard using in the leaked audio. "I don't want nobody talking to my little sister, my daughter that I have now, my mom like that. It's very disrespectful," He said. "I mean, my mom got onto me, like she thumped me in the ear, like, Come on, man, Reek. Come on, grow up, grow up out of it. So, never again. Like I said I'm growing as a human being, as a person. Never again."