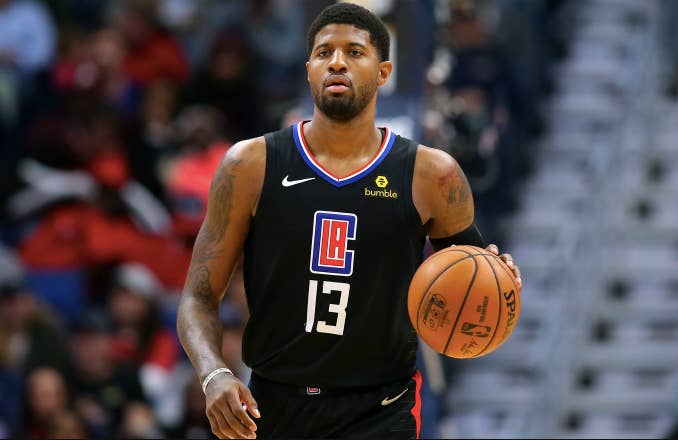 Kawhi Leonard and Paul George teaming up on the Clippers was the most surprising move of free agency. But if George had his way, the two stars would have been teammates years ago.
In a recent interview, George tells ESPN's Ohm Youngmisuk that he was trying to push the Pacers into trading him to San Antonio in 2017 before eventually ending up in Oklahoma City. 
"I wanted to be traded to San Antonio," George said. "We wanted to go to San Antonio first, and we didn't make that happen."
A league insider confirmed to Youngmisuk that Indiana and San Antonio tried to put together a deal that would get George to the Spurs. The Spurs reportedly didn't have enough moveable pieces to entice the Pacers into letting go of the All-Star forward, who eventually went to OKC. But ever since 2017, the possibility of playing with Kawhi has been in the back of George's mind. 
"Since that moment, we were trying to pair up with one another," George said. "We were trying to make it work. [After being traded to Oklahoma City] I had obligations that I wanted to come back to Oklahoma and give it another shot... And then I felt that I needed to move on, I needed to go in another direction and I needed to at that point do what I wanted to do my whole career."
It was also on Kawhi's mind. About "a good four or five days" before the Clippers traded for George, Leonard reportedly reached out to PG hoping that he would be interested in finishing what they started. 
"We met up and we talked. Before the trade, [even] before everything was in talks," George said. "Just seems like it was destined. We were supposed to play together." 
It just so happens that George and Leonard will finally get their wish when the Clippers square off against the Celtics on Wednesday in Los Angeles.