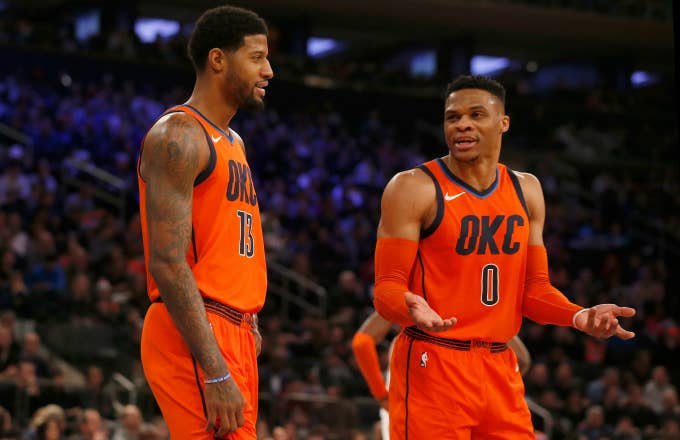 After the Thunder announced the blockbuster deal that would send Paul George to the Clippers to join Kawhi Leonard, the forward took to social media to defend his now-former teammate, Russell Westbrook. 
NBA analyst Jalen Rose kicked it off by tweeting he will "not accepting any Westbrook slander." George followed up by agreeing with the huffing emoji.
Because the common denominators in Kevin Durant's trade three years ago and George are Russ and OKC, fans began to speculate that the same friction that pushed KD away also caused problems with Paul George. This led a few to take to social media to bash Westbrook's perceived locker room presence.
Durant reportedly did not see eye-to-eye with general manager Sam Presti before his departure. This was backed by a story that Sam Presti's team-first mentality stopped OKC from putting up a 5-foot banner of KD in their area. Before Durant's exit, James Harden wanted out of OKC because Presti allegedly "stone-walled" him during contract negotiations. He reportedly only gave Harden an hour to contemplate a contract extension. This led to him exchanging his sixth man role with the team for his superstar spot with the Rockets
For his part, George hasn't said much about the blockbuster trade beside speaking up for his teammate of two years.